Complete packages and direct fit, OE quality products provide ease of installation and peace of mind.
They are some of the most vital components of engine operation and among the easiest and most inexpensive to replace. Yet drivebelts, tensioners, pulleys and hoses don't often come to mind when we think of engine bay maintenance and service. On many modern vehicles, smaller displacement engines and higher temperatures are placing added stress on all components, meaning that installing quality drivebelt kits and replacement hoses has never been more critical. At the same time, wear on these components is gradual, meaning it can be hard to notice until it's too late, that's why regular inspection is critical and when replacement is required, quality products are essential.
Complete kits
Today, technicians have an advantage in that modern drivebelt kits provide them with a complete installation package, ensuring all components including the belt, tensioner, crank, idler, water pump, alternator and A/C compressor are replaced at the same time, eliminating any weak links in the vehicle front accessory drive system and maximizing reliability and performance. Modern, high-quality replacement hoses, also provide aftermarket technicians with the ability to have easy to install products that match or exceed OEM specifications, providing peace of mind for both service centres and their customers. Here, we showcase a number of quality drivebelt kits and replacement hoses currently available through the automotive aftermarket.
Dayco Light-Duty Serpentine Belt Kits

Dayco's line of light-duty serpentine belt kits have been designed for the most popular applications, offering coverage for millions of cars, trucks and light-duty fleet vehicles on the road today. Each OE-quality serpentine belt kit includes all application-specific components needed to complete a front-end accessory drive (FEAD) system repair.
The benefits to replacing all front-end components at the same time is to help prevent comebacks, reduce noise issues and enhance overall system performance. Dayco's line of kits makes it easier than ever—as well as more affordable—to complete a full front-end accessory drive repair at the same time.
Each kit features:
A patented tensioner with flat spring technology for longer product life and quieter performance; durable pulleys with permanently lubricated bearings, extending belt life and reducing vibration, plus a premium, ultra-flexible serpentine belt or self-tensioning ela belt depending on the vehicle application.
The benefits from installing these kits include:
Enhanced performance and extended service, reduction in potential comebacks since all required components are included in the kit. Other advantages include the ability to handle higher workloads and temperatures, and a single part number that simplifies both ordering and stocking.
Rein Ford Transit Connect OE Replacement Hoses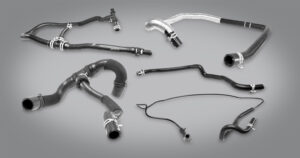 Available from CRP Automotive, are these Rein direct OEM replacement hoses for the 2010-13 Ford Transit Connect. Manufactured by the OEM, these hoses are identical to the Original Equipment hoses installed on these vehicles at the assembly plant.
CRP Automotive offers eight SKUs within their coolant hose program for Ford Transit Connect vehicles, delivering applications for over 150,000 vehicles in operation both in Canada and the U.S.
Rein Automotive's complete coolant hose program includes radiator hoses, engine coolant hoses, heater hoses, and a variety of other hoses found inside the engine bay of today's more technologically complex vehicles. These hoses include all of the branches, clamps, and quick connect fittings needed to complete the job efficiently, making them an ideal solution for technicians and service centres.
Additionally, the Rein Automotive undercar program features easy lookup on CRP's online application catalogue that can be accessed through the CRP Automotive or Rein Automotive brand websites reinautomotive.com or showmetheparts.com.
Gates Complete Serpentine Belt Kits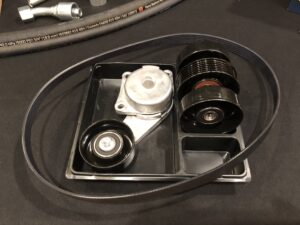 Covering 99 million vehicles in operation, Gates Complete Serpentine Belt kits are designed to provide all the necessary components required for a complete front end accessory drive installation. This is an important consideration, since tensioners wear at the same rate as the belt itself and just replacing the drivebelt won't fix the problem, in fact it will likely make it worse, since a worn tensioner can accelerate belt wear. Providing all components in a single kit, not only ensures the complete system can be replaced, but saves time and labour, adding value for both the service centre and the customer.
These kits come with Gates Micro-V Serpentine belts, as well as related DriveAlign tensioners and idler pulleys where required, plus they also come with lifetime warranty coverage on both parts and labour, provided the installation is performed at a registered service centre.