During AAPEX 2022, Bosch Automotive Aftermarket had a whole host of products and solutions on display.
At Joe's Garage, on the lower level of the Venetian Expo, Bosch featured and conducted demonstrations of its latest diagnostic and ADAS equipment including its DAS 3000 system.
These included Bosch's diagnostic scan tools, circuit analyzers, battery testers, smoke testers for testing leaks, and ADAS equipment. "ADAS is a very big thing for us," explained Scott McKinney, Senior Product Manager, Bosch Automotive Service Solutions, noting that whether a vehicle has a Diagnostic Trouble Code, wheel misalignment, a damaged fascia, mirror or cracked windshield, ADAS calibration testing needs to be performed following repairs.
"From an equipment perspective, the biggest focus for us is safety," stated Justin Fisette, Marketing and PR Specialist for Bosch Automotive Service Solutions, particularly when it comes to looking at battery electric vehicles, including weight considerations and high-voltage electrical systems.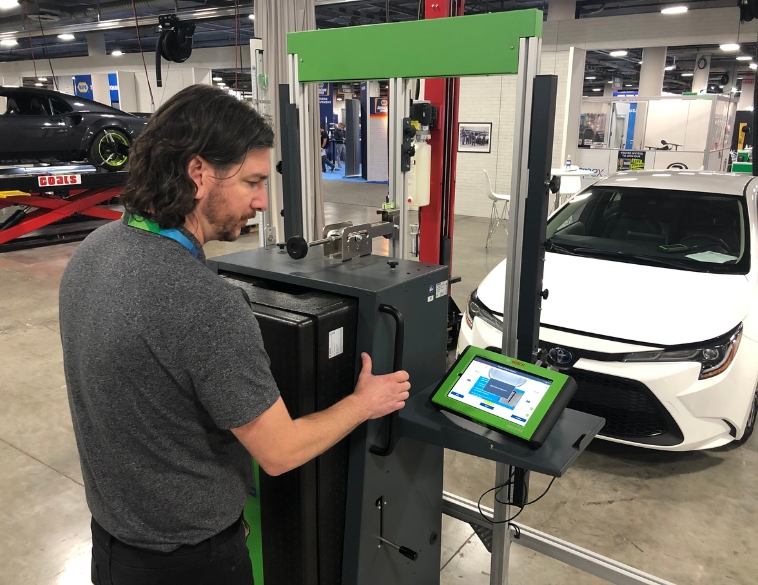 Bosch has a long history of providing specialty tools for both OEMs and the aftermarket, as well as analyzing what technicians need to perform their tasks as efficiently and effectively as possible.
Fisette explained that Bosch's extensive experience with engine management system testing and equipment translates well into the electric vehicle space, where individual motor testing, battery, and cell testing will likely become routine in automotive service bays—all procedures for which Bosch has already developed premium solutions.