Maximizing opportunities in ride control sales, service, and replacement
The impact ride control components have on a vehicle's performance, handling and safety cannot be understated. As Andy Castleman, Brand Manager at KYB Americas notes, valves within a vehicle's struts and dampers control fluid motion which in turn, controls the oscillation of both the tires and the vehicle's body structure. "When the shocks are working as designed," Castleman explains, "the vehicle is in control and able to quickly respond to and recover from steering and braking commands." Yet as the valves wear inside the struts and dampers, they aren't able to control that fluid motion as effectively. This extends wheel travel, meaning it can rise further, reducing the tires' contact patch with the road. Worn struts and shocks tended to be characterized by excessive wallowing or pitching of the vehicle at speed, excessive nose end dive under braking, and the tendency for the front of the vehicle to bounce up and down after a panic stock. 
Test drive
To showcase the condition of a vehicle's ride control components, Castleman suggests the service centre schedules a test drive, with the technician performing some aggressive, albeit controlled manoeuvres. In order to really gauge the difference in performance, choosing the exact same test route in the exact same vehicle is key. 
Additionally, Castleman explains that educational materials, such as videos demonstrating the difference between new and worn ride control, can be highly useful tools in educating consumers on the benefits of replacing struts and shocks.
There is a key strategy in doing it effectively, however. Wes Dickens, Technical Trainer for ZF Aftermarket, notes that it's important for service advisors to take their time explaining ride control operation and wear impact to their customers. "In my experience, this approach doesn't feel like a sales pitch to the customer but rather an opportunity to learn more about their vehicle, at which point they can make an informed decision," says Dickens.
Like Castleman, Dickens stresses the importance of ensuring the service centre's staff understand how struts and shocks really impact vehicle performance and safety. "We support this by offering training online (protech.zf.com) and in person, both at shops and at events," explains Dickens. "Our training sessions not only cover the parts and systems that ZF provides to the aftermarket, but they also go in-depth on technologies that we have worked closely with automotive manufacturers to develop."
Fit and function
When it comes to selecting replacement ride components like struts and shocks there are some factors to consider. Firstly, that the replacement product fits and operates as it should, and secondly that it performs optimally from the moment it's installed. At Concord, Ont.-based strut and shock manufacturer QBAutomotive, Sales and Marketing Consultant Bob Bean notes that the company extensively tests OE and aftermarket competing products for comparison purposes. Every piece of the unit is taken apart and analyzed," Bean explains. "If we find a weakness in a design, we modify it so that an improved unit eliminates that weakness. We know our customers have choices and we want to make sure our product meets those demands."
Today, the concept of value is becoming increasingly important, given high inflation, rising interest rates, plus the cost and scarcity of both new and used vehicles. For aftermarket service providers, this presents a great opportunity to extoll the benefits of quality replacement components for consumers who are increasingly looking to keep their existing vehicles for a longer period of time. Bob Bean explains that this is where ride control manufacturers and distributors can play a key role in providing service providers with quality parts that are A, competitively priced for consumers, and B, are still able to make the shop a profit. Beyond performance and safety, there are also additional benefits. As Andy Castleman at KYB notes, "well-maintained vehicles retain their value"—which in today's economic environment, is an important consideration for both service centres and their customers.
The Complete System
While shocks and struts are a crucial part of overall vehicle dynamics and safety, they can only perform at their best if the rest of the suspension system is also working optimally and vice versa.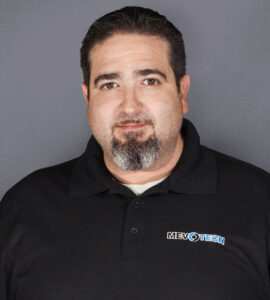 "When one component fails or creates a misalignment, other components in the system may be affected and begin to wear or degrade rapidly," explains Victor Moreira, Technical Services Manager at Mevotech. "When replacing any suspension component, it's important to try and understand why it needs replacing, to make sure underlying issues are not being overlooked." Moreira adds that in more northern and coastal areas of North America, where corrosion can play a big role in degrading suspension components like ball joints and tie-rod ends and in turn, impact steering, and alignment, "it's important to inspect the condition of all the sealing around dust boots and the condition of the dust boots themselves. Water and debris intrusion into these joints can aggressively wear them to a critical point in a very short amount of time."
Additionally, when components are replaced, installing them properly is key to ensuring maximum R/O efficiency, vehicle performance, and longevity, plus it reduces the risk of comebacks or friction with customers. "At Mevotech; we strive to make the technician's job as simple as possible with our Labor Saver program," explains Moreira. "This incorporates design upgrades into the part and includes essential tools right in the box. This not only cuts down on installation time but also helps eliminate some of the frustration technicians face when replacing some of the more challenging components."