The clock was ticking inside the high voltage battery of a Nissan Leaf as more serious problems were just around the corner.
It is obvious that with the bill that was tabled on January 12, 2010, reinforcing the regulations to reach the target of 100% electric car sales in Quebec by 2035, anyone, workshop or technician, involved in the repair of vehicles will have no choice but to prepare themselves to face the new challenge.
It's a bit like when injection molding first appeared in our workshops several years ago. In addition to the safety equipment necessary for their repair, it will be mandatory to tackle the more serious problems on the circuits and inside the high voltage batteries.
2017 Nissan Leaf
I'm sharing my most recent repair done on a 2017 Nissan Leaf that arrived on the tow truck. At first glance, it activates in accessory mode, but we can't get it to go into "Ready" mode.
A first glance at the anomaly codes allowed me to discover that a problem with the battery interlock circuit was at fault. Let's read the very brief charter and the surprise we found.
P31E1 High Voltage Circuit Interlock Error : The Li-Ion battery controller has detected a problem in this circuit, preventing the ready mode.For the first step, we are asked to confirm if there is a code in the HV Bat module. In our case, no, there is not.
High voltage circuit
The next step requires us to deactivate the high voltage circuit, hence the importance of having the necessary equipment and training to perform this step. The next two steps involve checking the integrity of the interlock circuit in the high voltage service plug and the high voltage connector/circuit that goes to the Power Delivery Module. Here, the charter is spoiled. First, to check the service plug, we are made to lower the battery, a step not required. Secondly, there is no mention of checking the interlock circuit in the connector of the PTC Heater.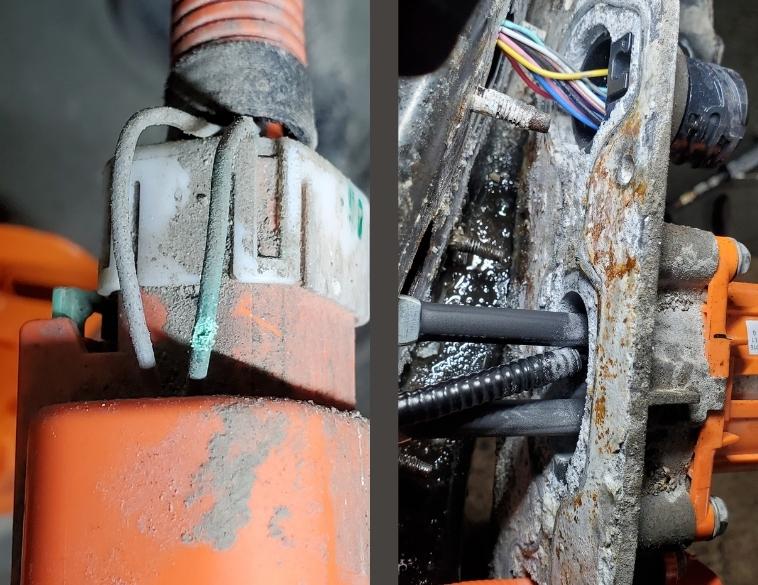 And it was in this last connector that the problem was found. The loop in the interlock wire, which runs back into the connector, was damaged, and corrosion followed the wire to attack the terminals on either side of the connector. This last part pushed me to finally open the high voltage battery, which also requires other safety equipment.
Once the interlock circuit repaired, a quick inspection of the high voltage battery allowed us to see that the aluminum front plate was very corroded. There was even the beginning of infiltration inside the battery, a situation that could have had very serious and costly consequences if we had not seen it.
Interlock circuit intact, battery watertightness found, the little Leaf was able to find the road in ready mode to the great satisfaction of the electromobilist.