President and CEO Orest Sklierenko was on hand at the end of the games to receive a cheque from the Board of Directors of Slapshots for a Cause for $7,000.00! 
The games were fun to watch, especially with no referee on hand to call offsides or penalties!! So, the games did prove interesting to watch for someone with a bit of knowledge about hockey…
Everyone gathered after the games for drinks and food and some plain good old harassment amongst the players! Outgoing Chair, Keith Gordon said his farewells and introduced incoming Chair, Matt Koval whose father Lube supported this event by paying for the ice time since it started. After Lube passed away, his mother Jan agreed to continue to pay for all the ice rental costs… hence the 'Cup' the teams play for is the 'Lube Koval Memorial Cup'. Slapshots was started by Brad Shaddick in 1990! It all started out as a fun time for guys from the industry to get together and play hockey… but then it evolved into something bigger and better as the event began to support the Cancer Society. This year at the Board meeting, and because of the devastating situation in Ukraine, it was decided that this year's cheque should go to the Canada-Ukraine Foundation to help the people of Ukraine through their terrible plight. For the record, all were in favour!
A well-founded donation
Orest Sklierenko was thrilled to receive the cheque from the Board of Directors on behalf of the Canada-Ukraine Foundation and assured everyone the monies would be put to critical humanitarian use for the Ukrainian people. Needless to say, our thoughts and prayers are with them all.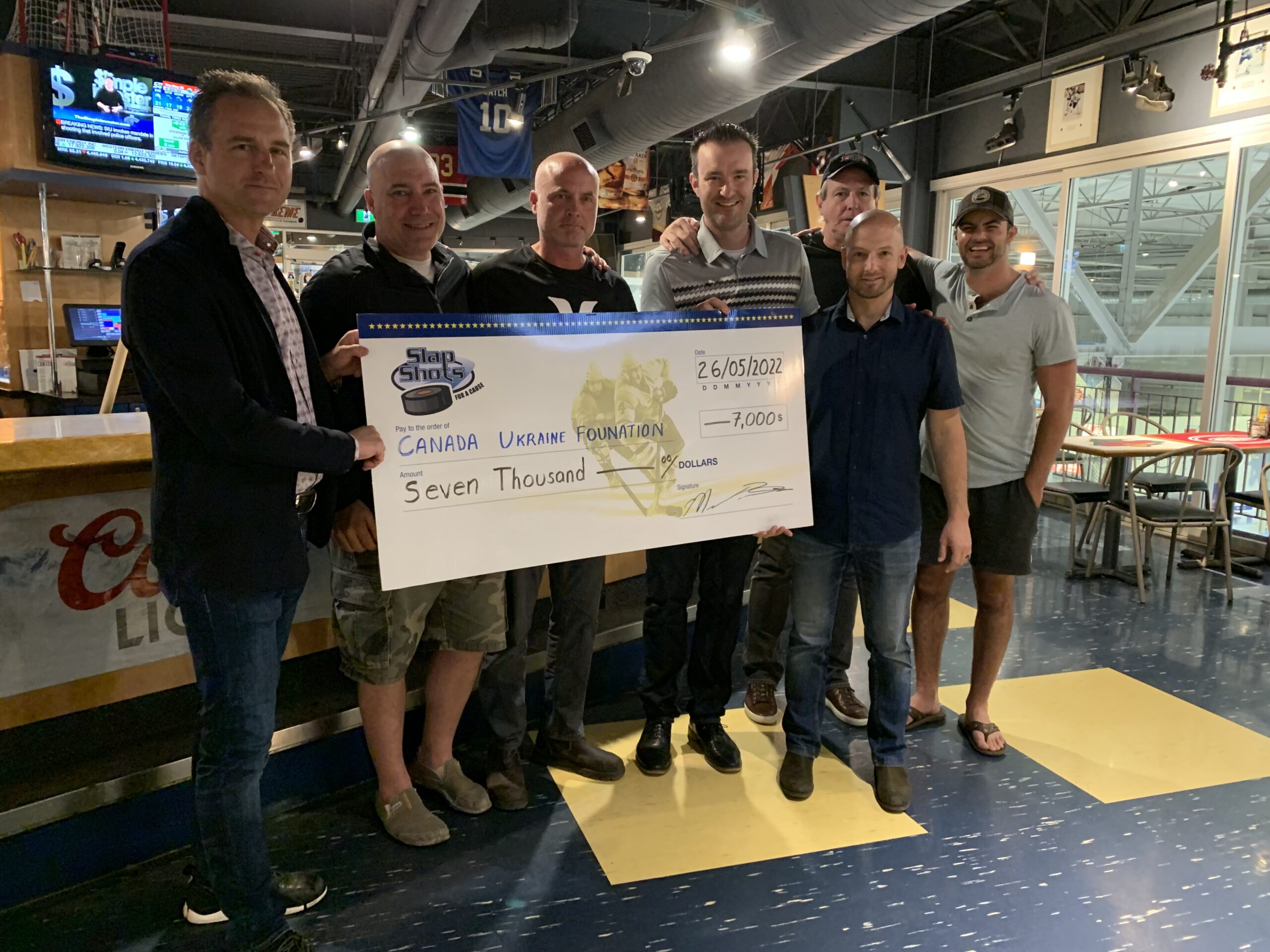 I also spoke with Matt Koval, incoming Chair for Slapshots for a Cause and he said that in the upcoming year it would be his mandate to get more 'hockey players' from the industry involved next year… the word needs to get out much earlier and more effectively. Each year, an amazing amount of emails and texts are sent to gather support for the event. Slapshots is counting on next year to be a banner year with more players involved and therefore a larger amount will be available for a charity!
Brad Shaddick also informed us that they have new blood on the Board with Don Ullman, Mark Potts and Tyler Brown. In addition, Mark Hay is joining the Board of Slapshots and Brad commented that "Mark's daughter Clare was definitely the star player at the tournament." Clare is 13 and wow, what a skater and not afraid to mix it up with the guys!
Helping Ukraine and its people
And Orest Sklierenko, President and CEO of the Canada-Ukraine Foundation had this to say, "We have seen a tremendous outpouring of support from across Canada to help provide aid to Ukraine and its people who are the victims of unprovoked and indiscriminate attacks from Russia. These attacks have led to catastrophic damage to infrastructure, the killing of thousands of civilians including children, and millions of people displaced within and outside Ukraine. This is the largest humanitarian crisis Europe has seen since World War Two. The toll on Ukraine and its people has been devastating and we are grateful to the Aftermarket Industry, the Slapshots Tournament and its participants, and to every Canadian who offers support."
This is an event all 'hockey players' from the industry need to participate in… it's fun, it's rewarding and best of all, you will be helping someone in need. Get involved!
Donations to the Ukraine Humanitarian Appeal can be made by visiting cufoundation.