Lubricants play an integral part in moving toward Net Zero emissions.
With increasing talking of achieving carbon neutrality by mid-decade, both organisations and nations are committed to reducing their environmental footprint. At Shell's lubricants division, several initiatives are underway to help achieve this, including providing both shop customers and consumers with carbon-neutral product offerings.
To get an understanding of what this means, on April 8, a webinar and group discussion, presented by Shop Owner and Tire Review in the U.S. and sponsored by Pennzoil took place and delved into the subject of sustainability within the lubricant industry.
The webinar also focused on how service providers and end-users, can make smart, informed decisions when it comes to purchasing and using products such as motor oil.
Moderated by veteran broadcaster Alan Taylor, Host/Executive Producer, Entertainment Right Now and featuring Suzanne Clerkin, Brand and Communications Lead, North America for Shell Lubricants Marketing, as well as Sean Nguyen, Shell Scientist and Automotive Lubricants Specialist and Jeff Harmening, Manager of the American Petroleum Institute's Engine Oil Licensing Program and Motor Oil Matters, kicked off with an analysis of Shell's recent announcement of achieving Net Zero Emissions by 2050 or sooner.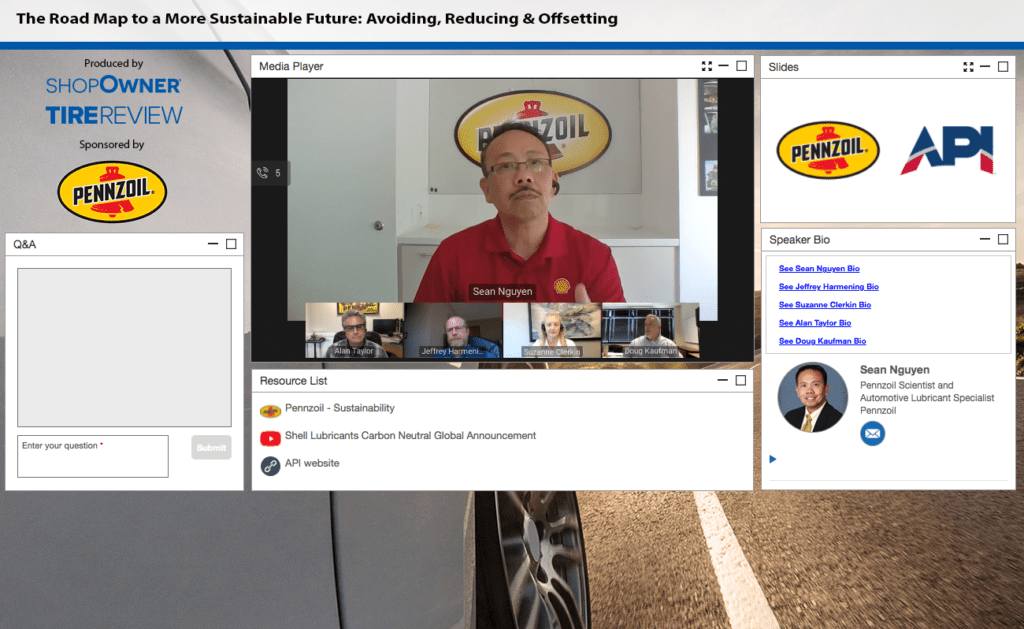 Reducing and offsetting emissions
Suzanne Clerkin said that Shell is looking at ways to avoid, reduce and offset the annual emissions of more than 52 million gallons of advanced synthetic lubricants, which she said, equates to approximately 700,000 tons of carbon dioxide emissions annually, or taking almost 340,000 vehicles off the road for a whole year.
"We know our customers are looking for ways to reduce their net carbon footprint and as the World's leading lubricant supplier, we believe we have an important role to play," said Clerkin.
While she noted that lubricants may not seem an obvious avenue for reducing emissions, Pennzoil has developed a full range of carbon-neutral premium products that allow motorists and their families to make sure their vehicles operate at peak performance while lowering emissions output.
Clerkin also discussed other ways in which Shell is reducing its carbon footprint from new, more eco-friendly forms of packaging (with greater use of recycled resins) as well as relying more on renewable energy sources to supply electricity to lubricant manufacturing facilities.
The company also adopted energy-saving LED lighting, and ensures more efficient ways of transportation and delivery to reduce CO2 emissions within the entire supply chain.
"We have optimized our logistics network and the transportation, resulting in a nearly 10% reducing in carbon dioxide emissions compared to 2018," she said.
Smaller engines, greater protection
At the American Petroleum Institute (API), a commitment to sustainability is a key strategy. Jeff Harmening noted that as internal combustion engine technology has evolved in recent years and we've seen a proliferation in smaller-displacement, higher revving engines with tighter tolerances, as well as the increasing adoption of power adders such as turbochargers and also direct injection to improve efficiency, the need for lubricants that optimize efficiency as well as provide superior wear protection and resistance to varnish and sludge build-up has never been greater.
These developments have essentially led to the current API licensing requirements and the new specifications for motor oils introduced on May 1, 2020, namely API SP and ILSAC (International Lubricant Standardization and Approval Committee) GF-6A and GF-6B.
These new specifications were seven years in the making and in addition to contributing to the development of these new standards, API also operates the licensing program which allows marketers of oils to use the API trademarks on their packaging.
This means that these oils have met specific test standards and are approved by OEMs.
"We are happy to report," said Harmening, "that right up until the end of last month [March 2021] we had over 900 companies licensed and really what is impressive is that 60 % of those companies reside outside of North America, so everybody is getting on board with these newer, lighter, better, more efficient motor oils to serve these modern engines."
For service shops and especially consumers, Harmening stressed the importance of understanding that having these new standards, not only ensures they are purchasing a quality product but that ILSAC GF-6A and GF-6B have their specific labelling, with GF-6A indicating oils that are backwards compatible for older vehicles and GF-6B which are not.
To further help consumers make informed choices the Motor Oil Matters (MOM) information resource is available, where consumers can find out more about the proper viscosity grade and capacity recommendations for their equipment or vehicle as well as an approved service location.
Rigorous testing
To meet the new API standards, motor oils must undergo rigorous testing and as scientist Sean Nguyen remarked, this requires lubricant manufacturers such as Shell/Pennzoil to take an essential role in working with organizations such as API and ILSAC in developing them, as well as conducting extensive testing and fuel trials, in addition to advancing formulation and additive technology.
In Pennzoil's case, five R&D development centres across the planet are constantly at work to ensure that the company remains at the leading edge of lubricant product development and can provide lubricants that meet or exceed standards even before they are required.
Some good examples are Pennzoil's introduction of an API SN+ category motor oil to tackles the issue of low-speed pre-ignition (LSPI) on direct injection engines as well as being the first to market with a SAE 0W-16 motor oil in North America, besides being able to announce that Pennzoil was ready for GF-6 one year in advance of the new standard's introduction.
Regarding GF-6A and GF-6B, oils within each category are given specific API labels, the former receiving the familiar API starburst logo, while GF-6B oils get a new API shield logo.
From a testing perspective, many of the procedures are broadly similar to those previously offered, but GF-6 has introduced a specific timing chain wear test, as well as specific LSPI testing.
Ultimately, the objective is to ensure that motor oils can enhance performance and protect engines under sustained operating conditions, improving engine life and minimizing wear, while at the same time reducing emissions output.
Platinum products
One way of achieving this is by introducing thinner, lower viscosity oils, hence the proliferation of products such as SAE 0W-40, 0W-30, 0W-20 and even 0W-16. Within the Pennzoil family, these products are featured within the Pennzoil Ultra Platinum, Pennzoil Platinum; Pennzoil Platinum High Mileage and Pennzoil Platinum Euro formula oils.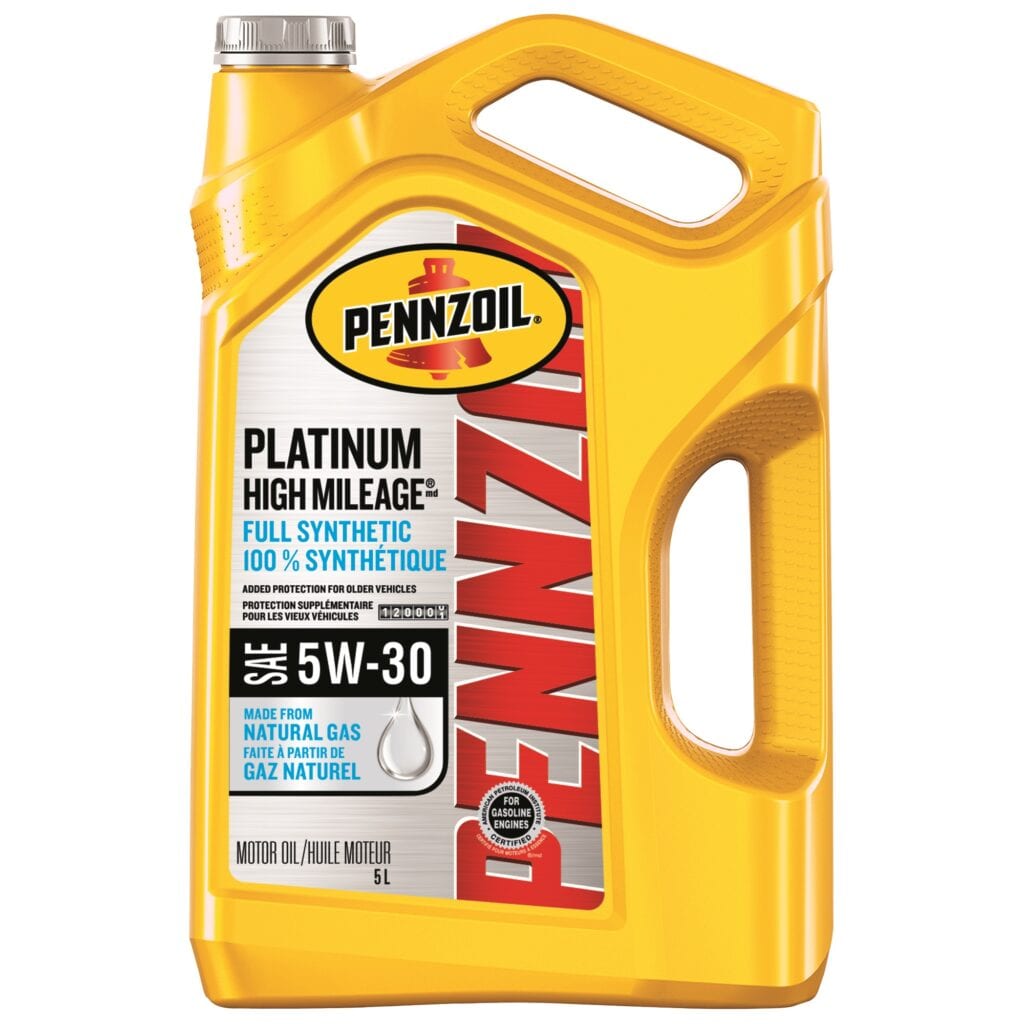 Sean Nguyen noted that these low viscosity oils are "the most efficient way to deliver fuel and energy efficiencies while supporting the current Corporate Average Fuel Economy (CAFE) regulations for higher fuel efficiency standards, as well as reducing emissions and providing longer oil drain intervals."
At the same time, Nguyen said that Pennzoil has been working very closely with vehicle OEMs to develop oils that meet stringent federal fuel economy targets required by Congress.
Ultimately, Nguyen said that by having these new, low viscosity, Platinum products available in the market, consumers have a choice in selecting a much less carbon-intensive product.
A product that offers the twin benefits of superior performance and fuel economy by creating a win-win scenario for the lubricant manufacturer, the distributor, the service provider and ultimately, the consumer.