Ongoing technical training is essential today—especially because vehicles are changing so rapidly. 
With this in mind, we asked several sources about their training programs.
In speaking with Karen Shulhan at DRiV (a division of Tenneco), we inquired about Garage Gurus… the lynchpin of the organization's entire training initiative.
In 2015, Tenneco committed to trying to change the shortage of technicians in our industry and so developed the Garage Gurus program to provide training and try and bolster the industry's lack of technicians.
As part of the Garage Gurus initiative, the company also has technical training centres throughout the U.S. (The first Garage Guru in Canada is scheduled to open in 2021.)
Another plus is their Mobile Training Vans… the technicians and trainers go out to various customers for training purposes. "We also have a very large mobile classroom (available only in the U.S. due to current COVID-19 restrictions) dedicated specifically to Garage Gurus, that some of our larger customers can reserve and we go directly to them. It's more comprehensive than a 'lunch and learn' on the product. We conduct the actual training courses out of this mobile unit," Karen tells us.
Garage Gurus has about 120 training offerings, all available online through the website—garagegurus.tech. The website has just been relaunched to accommodate all items needing to be addressed today. Garage Gurus also has a very robust presence there. The technician is first and foremost—if Tim needs to take a course on ABS braking systems, he can take it whenever he likes. With more and more people looking to do things online, the company has gone ahead and set up a web technology program.
The site is geared toward technicians and those individuals working in repair shops. A Do-it-Yourself individual can also take one of the classes… it's not restricted, but again it's more advanced so really the target audience is the professional technician.
Karen says, "Our mobile training unit and Garage Gurus all have service bays where students will have hands-on instruction and actually learn how to perform the repair on a vehicle.
"The program has many advantages—a person can it take it online at any time and there's a wide range of courses available—you could take something about ABS braking, then jump over to ignition, then maybe head to suspension. For U.S. technicians, we're also certified to have ASE training and test preparation on our site for those seeking their ASE certifications. So not only can you get hands-on training to help you with your day job, but you can also take some prep classes to help you pass the ASE certification exams. Garage Gurus has what the technician needs. (This applies to U.S.-based technicians only).
"It's all about ease and accessibility for the technicians. If you want to do it online, you can. If you want more of a hands-on experience with a person, it's easy to do that at the training centre.
"I don't know of any other program where a technician can go and get this type of training this easily. It's a great program and we get very good feedback from it. We hear that it's extremely valuable and a relatively easy way to help a technician get more and bolster their individual careers," Karen adds. The courses are taught in English, French and Spanish.
Mevotech webinars
With the world moving to a virtual format at a dramatic pace over the past year, we went to Mevotech here in Canada to see what they offered in online training. Each month they feature a new topic, geared for technicians.
Mevotech gave us some great reasons why technicians are looking at their growing monthly webinars… there is a lot of value in these training sessions. They work as follows:
 Webinars are free to attend, and you can register as many people from your shop as possible, organizations or companies who'd like to attend.
All content is presented by the Lead Technical Training Manager—Victor Moreira and Product Specialist—Mac Chastain.
In short 30-minute sessions, these webinars are packed with industry knowledge and best practices.
Topics have been developed based on commonly asked application questions, targeted towards the technician.
All webinars are recorded, and the videos are available for on-demand viewing within 48 hours of each live session. Be sure to sign up (even if the date or time doesn't work) so you get the video link following the live session.
Mevotech has a full schedule for the whole year and if you have questions or are interested in learning more about their Monthly Webinar Series, please email Abby Maccarone at [email protected]
MAHLE Aftermarket
Ted Hughes, Marketing Director at MAHLE US, spoke to us about their technical training programs.
Regarding training, we have the pre-COVID way and the post-COVID way… we had a team of six part-time trainers, retired MAHLE people who knew our parts inside and out, plus one full-time senior training person who coordinates all training sessions.
Of course, that went away in the 'pandemic' world because customers and shops did not want people coming in from elsewhere in the country.
This led us to review the focus of our training programs that have been in place for many years and because of the 'world' we live in now, it reduced the focus on our e-learning platform. So, we now have training for major product lines—engine bearings, gaskets, filtration, thermal management, and our newest program, turbochargers. These are all informational-based and very little 'branded'–it's technical training, but valuable for counter people, outside salespeople and our customers. It's very worthwhile for the technician. Visit learning.mahle.com
We also presented the MAHLE Aftermarket Video Warehouse that works in conjunction with our YouTube channel. The library is a centralized digital platform that includes product and training videos related to all MAHLE Aftermarket products, services and educational tools.
The easy-to-navigate platform is segmented into three key areas—parts, tools and equipment, and e-learning.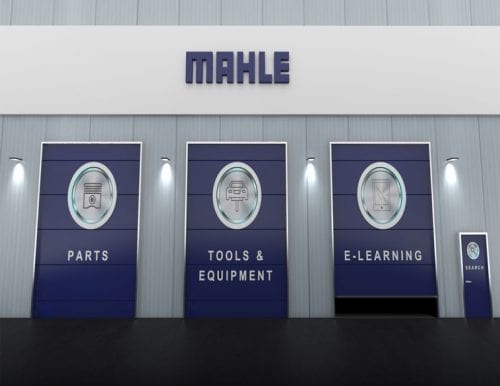 This new page is user-friendly, and you can get info for product information to more hardcore tech training.
When the pandemic first started, we knew immediately that we had to review all our training practices—move out further and further… the platform is going to open the door to live-trainings, webinar-type trainings where we want to get to the point where 'every Tuesday is training day at 3 p.m.'
Our senior trainer sits in front of the camera, fields questions, covers various topics that we see in our 'tech service notes', etc. That's really how we've evolved our training in this new pandemic environment.
Before that, MAHLE's trainers went to customers every month and did technical training in the shops. If it was our direct customer (the WD), then they would be in the field with their outside salespeople and counter people making sure they were up to speed on everything product-related.
The programs are free and for e-learning, registration is required. Each module takes about an hour and incorporates video, narration as well as participation. They are all multi-media files—designed to encourage participants to engage. And if they have questions to go with it, they can ask them.
These modules are also produced in French.
All the modules have a learning portion and a quiz to validate what was learned. When the test is completed for each module, the 'student' receives a certificate—the Doctor of Motors certification. Always, the emphasis is on innovation with new techniques and analogies—that's what it comes down to at MAHLE!
Training at First Brands
We also spoke with Brent Berman, responsible for all technical support within First Brands. Recently he took over all the Raybestos and Centric training as well and so we asked about their technical training
Brent commented that "we've been in a hyper-growth mode at First Brands, but what we have is a good portfolio of trainers across the different brands. Hands-on training is done at the BPI facility and we also have a studio there in which we can develop training in multiple formats. Then the FRAM-Autolite team has brick-and-mortar trainers that they do a lot of events as well as the TRICO technical team. Because the portfolio is so varied, up to this point, what has been done online has been pretty much free."
We repurpose videos for social media like YouTube or our websites, and so the metrics we get on e-learning is significant, but we really can't measure it to say that "75% of the shop owners who took our training courses are now seeing an increase in profitability."
In considering the various modes of training i.e. Raybestos Brakes/Luberfiner/Autolite… brakes, filters, spark plugs—these are products that are turned over very often in the industry.
There is so much info out there about them—so much of this technology is changing and the technician must keep up.
Real hands-on training is always available—even with the strong desire to go online and do distance training—but of course, this has now been amplified because of the pandemic, but still in our trade, everyone will tell you that 'the crown jewel' is always going to be in person, hands-on training—it's visual, tactile learning—and that platform works extremely well for technicians.
The 'second best' (and all our brands have it) is field training. It's a bit more seminar-style like going into a shop or conference room where we can disclose three hours of knowledge with some 'leave-behinds'… not hands-on, but a corporate technical trainer still gets to speak to those in attendance and get the information to them in a small, intimate setting.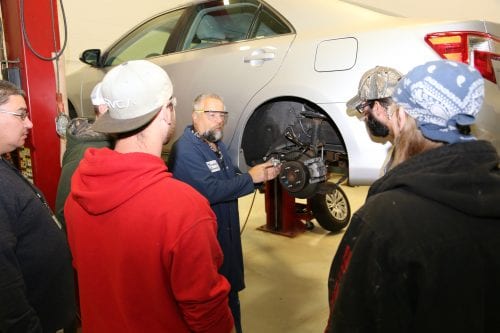 What we see of distance learning is that you lose the tactile part of things and the hands-on, but it is a great platform for very condensed take-aways. We also see that technicians are getting advantages from distance learning as in a question that will come up… "I've got a Ford Escape on the lift and it's got an electronic parking brake and I didn't realize that as soon as the driver turned the key, the electronic parking brake engages whether I want it to or not. How do I disengage that system so I can change the rear brake pads?"
So, for those kinds of questions, we can say, here's the procedure and he gets it fixed!
And those kinds of take-aways get the most use and engagement from the online environment.
The one denominator that's elusive is "Okay, how effective was this for that person's business?" How do you measure that? They are very hard to quantify but someone obviously got something out of it for their business and got the job done!