The aftermarket is a critical segment of the Canadian automotive industry and one uniquely impacted by the unprecedented drop in kilometers driven tracked by DAC in recent months.
In exploring the health of the aftermarket, general surveys that indiscriminately group together parts manufacturers with retailers with body shops lack utility or meaningful outputs. As a result, DAC has partnered again with our friends and colleagues at the Automotive Aftermarket Retailers of Ontario (AARO) to survey their members as to current market conditions and the outlook for the year.
The survey was distributed during the week of Aug 31 – Sept 6 and received a response from more than 100 independent aftermarket installers across the province. Some highlights are presented below: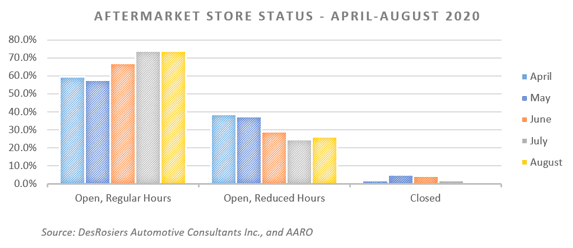 Clear growth has occurred in the number of repair facilities operating on normal hours, climbing to 73.7% for August 2020. Those respondents working reduced hours dropped from 38.5% in April to 26.3% in August, with no respondents noting complete closures for August.
When asked about the change in the dollar value of their sales over 2019, a slim majority of respondents noted a decrease of between 1% and 25%. However, a significant portion of respondents noted sales increases with July especially showing strength. In total, a remarkable 47.2% of respondents indicated that sales were up in July over 2019 levels, a percentage that dipped to 41.1% in August. "Installers in Ontario saw some real strength in July as the province reopened and pent-up demand was released" noted Andrew King, Managing Partner of DAC "although the aftermarket outlook for the Fall is far from clear as uncertainty remains both about public health concerns and the 'stickiness' of changes in structural issues such as working from home, and online shopping."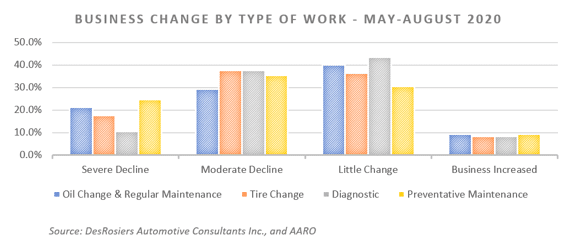 In terms of changes in different types of work, diagnostic work was the most likely to remain unchanged, with 43.5% of respondents noting little change in that category. Moderate to severe declines were most common for the preventative maintenance category at 60.0% combined.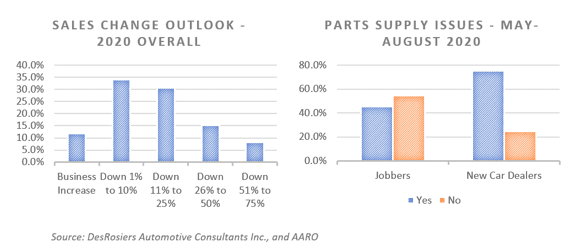 When asked for their outlook for 2020 as a whole, 11.8% of respondents noted an expected business increase. The rest expected decreases – with 34.1% expecting a decrease of 1% to 10%, and a similar portion—30.6%—expected a larger decrease of 11% to 25%. Interestingly respondents also noted significant issues with parts supply over the summer – especially OEM parts – with 75% of respondents indicating problems in this area.
DAC has detailed market size forecasts available for the aftermarket as a whole, for more than 20 individual product areas.