Competitive price points and cost of ownership are just some of the appealing features for fleets.
Affordability and fuel efficiency are often top of mind for fleet managers when it comes to acquiring new assets. Flexibility and capability are also prime considerations. This is why vehicles like the 2024 Kia Seltos represent an attractive proposition.
Since its arrival in Canada as a 2021 model, the Seltos has been a consistent seller. Available all-wheel drive, proven engines and an abundance of safety features have made it a popular choice with both consumers and fleets looking for suitable corporate, managerial and field transportation.
Spencer Watson, National Sales Manager, Fleet Sales for Kia in Canada, notes that a vehicle like the Seltos appeals to fleets due to its relatively low price point ($27,833 for the base LX front-wheel drive model) fuel efficiency and reasonable total cost of ownership. The fact that it's also categorized as an Ultra-Low Emissions Vehicle (ULEV) by the Environmental Protection Agency (EPA) in the U.S., is also likely to make it appeal to fleets, particularly those that are conscious of monitoring their carbon footprint and emissions output.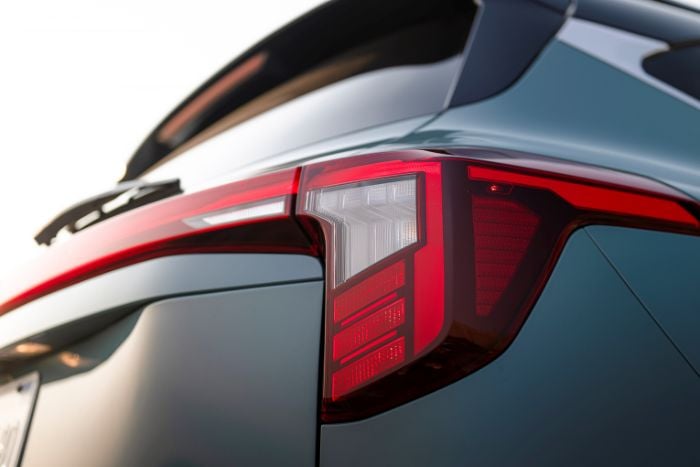 Extensively updated
For the 2024 model year, the Seltos has been extensively updated. The exterior features bolder styling, with a more pronounced "Tiger Nose" grille, a bolder, more chiselled front bumper cover and updated rear styling with rear lights that mimic the design of the front fascia.
Mechanical upgrades run to a more powerful 1.6-litre turbocharged direct-injection four-cylinder engine on the SX and X-Line trim level that now makes 195 horsepower and an equal amount of torque (a 20 hp boost over the previous engine). The GDi four is teamed exclusively with an eight-speed automatic transaxle. The base, normally aspirated 2.0-litre four is rated at 147 hp and 132 lb-ft of torque. It's teamed with Intelligent variable transmission (IVT) and comes standard on the LX, EX and EX Premium trim levels. Fuel economy is also a major selling point, with the Seltos offering 7.6 L/100 km* in combined city/highway driving with some motorists able to get down highway fuel mileage to low as 6.8 L/100 km* (impressive for this class of SUV).
The Seltos is available with three different operating modes—Normal, Smart and Sport. These feature specific calibration settings for suspension, steering, and powertrain/drivetrain, allowing the driver to choose vehicle dynamics specific to their taste and requirements.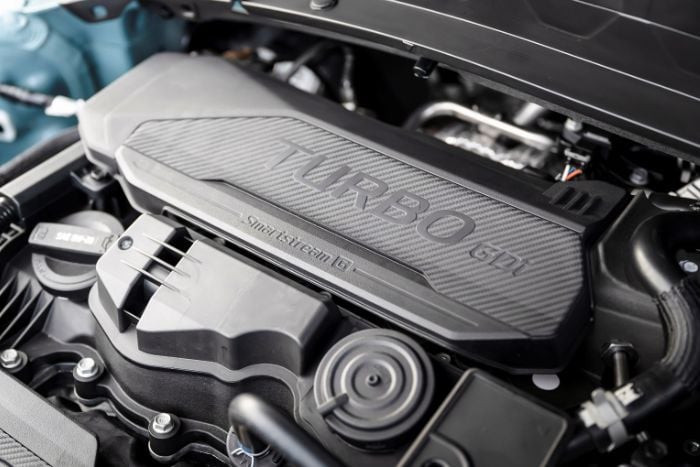 Active on-demand AWD
Watson explains that a big selling feature of the Seltos for Canadian fleets, is the available active-on-demand all-wheel drive (AWD) system, particularly in a vehicle of this size. He says that fleet customers such as construction and utility/service companies and independent contractors appreciate the flexibility that AWD offers, particularly going to and from the job site or contending with rough, unpaved roads and slippery conditions. The Seltos' AWD system incorporates a centre locking difference that can split power up to 50/50 for the front and rear wheels, to maximize traction and grip. A torque vectoring function also enables the system to transmit power to the wheels most in need of traction, improving road control and handling.
Feature content is an important consideration for buyers today, whether consumers or fleet customers. Kia provides a long list of standard equipment, including standard heated front seats on all trim levels, plus a standard panoramic screen display that integrates the fully-digital 4.2-inch instrument panel and 8-inch centre display (a larger 10.25-inch instrument and centre display are optional).
Other features that are likely to win over fleet customers include an optional power liftgate that can open automatically when the key fob is detected nearby, along with three standard USB connectivity ports (including a USB-C outlet).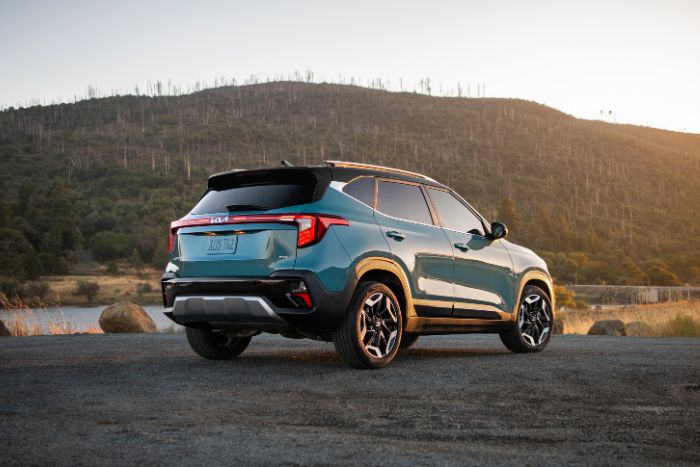 Comprehensive safety suite
There's also a raft of safety features and for the 2024 model year, some new features have been added, including upgraded ADAS (Advanced Driver Assist System) functions. Forward Collision Avoidance (FCA) with Pedestrian and Cyclist Detection is now available, plus Blind Spot Collision Warning (BCW) and Intelligent Speed Limit Assist, the latter, which can detect maximum speed on a certain road and can even limit the speed of the vehicle depending on settings.
Other standard ADAS features include Driver Attention Warning, High Beam and Lane Following Assist, as well as Rear View Monitor and Rear Occupant Alert. Safe Exit Warning and Rear Cross Traffic Collision Avoidance Assist are also available. Additionally, on the SX trim level, Forward Collision-Avoidance Assist with Junction Turning and a Smart Cruise Control with Stop and Go, plus Highway Driving Assist functions, ensure that in terms of safety, virtually every aspect of vehicle operation is covered—adding peace of mind for fleet customers.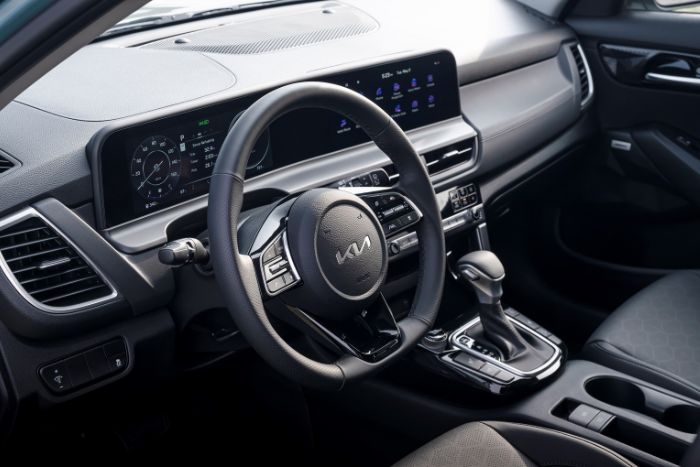 Strong residual values
Since the Seltos was launched in Canada, Watson notes the vehicle has demonstrated strong residual values, another prime consideration for fleet customers. "The strong residual value helps keep the overall cost down over the entire ownership experience," he says. Additionally, the fact that Kia offers one of the most robust warranty programs on the market provides added peace of mind. "If an issue crops up with the vehicle and it is warranty related, then the customer has that comprehensive warranty protection for up to five years and 100,000 km, while many other alternative vehicles tend to have much shorter warranties."
In summing up, a relatively low cost of entry, good fuel efficiency, a low total cost of ownership, an abundance of safety features, intelligent AWD, strong residual values and comprehensive warranty coverage make the 2024 Seltos, without question, a very smart choice for fleet managers looking to procure a practical and capable SUV.
*Applies to base LX FWD model with the 2.0-litre engine
---
Sponsored content by Kia Canada