General Motors and POSCO Future M welcomed the announcements by Québec Premier François Legault and Federal Minister of Innovation, Science and Industry François-Philippe Champagne of financial support for the development of a Cathode Active Material (CAM) processing facility. 
The Ultium CAM facility is a joint venture between GM and POSCO Future M, located in Bécancour, Québec. 
The project was first announced in March 2022 to supply General Motors' fast-expanding battery production in North America. The JV project investment of more than C$600 million is under construction and on schedule to begin CAM production in the first half of 2025, creating approximately 200 direct full-time jobs. Government support, Bécancour's excellent industrial site and the ability to access Québec's low carbon hydroelectricity for EV-critical mineral processing were all important factors in selecting the Québec plant location. 
CAM is a key battery material representing about 40 percent of the cost of a battery cell. GM is executing plans to install 1 million units of annual EV capacity in North America in 2025 and grow from there. GM has also announced four U.S. battery cell joint venture plants with one already open and two under construction. The Ultium CAM joint venture project will support the production of electric Chevrolet, Cadillac, GMC, Buick and BrightDrop vehicles in North America.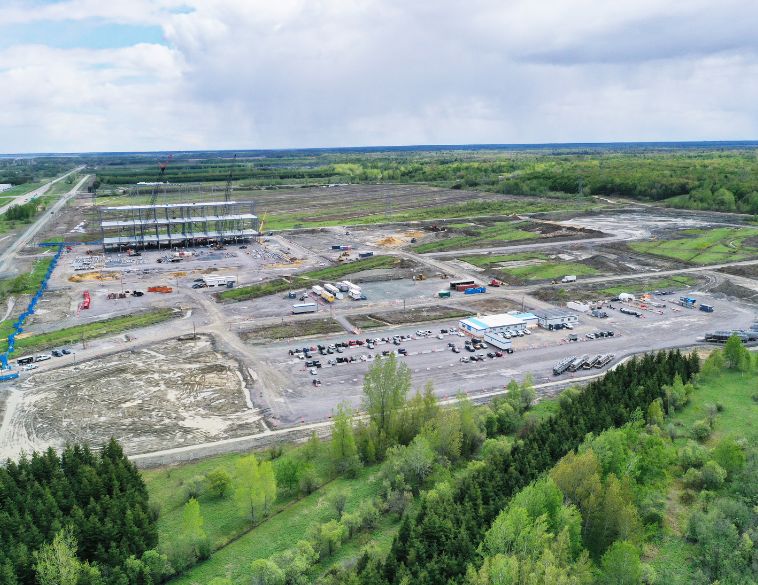 "We thank Premier Legault and Ministers Pierre Fitzgibbon and François-Philippe Champagne for their tremendous leadership in supporting our efforts to build a secure, sustainable, scalable and cost-competitive EV supply chain to support our fast-growing electric vehicle production across North America," said GM Canada President and Managing Director Marissa West. "We at GM Canada are particularly proud to be back in Québec, growing investments and jobs in alignment with the province's vision for the future of transportation."  
"Our investment in Bécancour-based CAM production is an important step in building a more secure and resilient North America-focused supply chain to support GM's fast-growing EV production needs and this site offers room to grow for the JV and its partners in the future," said Sham Kunjur, GM's Executive Director for EV Raw Materials' Center of Excellence. "GM started by establishing battery cell production in the U.S. From there, we have been working through the entire battery supply chain, all the way to raw material recovery. We're building higher levels of vertical integration, driving expanded investment and helping create jobs across North America."
Ultium CAM JV President C.G Cha said, "Our project has stayed on schedule thanks to our excellent local construction and engineering partners. We will soon begin our hiring and training of permanent employees for our operations which will begin in 2025."
This milestone announcement is the latest in a series of actions GM has taken to build a more secure EV supply chain.