Annual Institute and Expo conference delivered top-quality content, networking and new feature programs.
From April 17-19, NAFA Fleet Management Association (NAFA) hosted its 2023 Institute and Expo (I&E) conference at the Baltimore Convention Center in Baltimore, Md.
Almost 2,000 fleet and mobility professionals from the U.S., Canada and around the world attended the event, gaining an opportunity to learn, network and explore the latest products and services available from a wide range of fleet industry vendors and suppliers.
100 Best Fleet Winners
I&E 2023 kicked off with an opening session on Monday, April 17, in which the new NAFA Board President, Mike Camnetar, provided an overview of the latest initiatives and developments at the association. The opening address also included an announcement of the 100 Best Fleets in The Americas winners—providing recognition for industry professionals and their organizations that have achieved this exceptional standard.
Camnetar also took the opportunity to discuss growth and change in the fleet industry and how post-pandemic, there is a newfound appreciation for being able to get together for in-person events like this. "NAFA I&E is always a special time, especially now when we are experiencing so much growth and change in our industry," said Camnetar.
Monday's Keynote address, entitled, The #1 Thing That Holds Us Back, was led by Sunjay Nath—a renowned keynote speaker specializing in leadership and performance. Nath challenged attendees to break away from patterns that no longer work, become more aware of biases and learn to question what people believe is impossible.
On Wednesday, another Keynote session—The New Growth Model from the Sinister World of Hackers, presented by innovation and business growth expert Sara Frasca, discussed the cyber threat posed by hackers today, their mindset and motivation and how organizations, including modern fleets, can take steps to prevent being the victims of their activities. This session really opened attendees' eyes to the hacker mindset, emphasizing how and why unorthodox moves can lead to the best business outcomes.
Electrification and the future of fleet
On the Main Stage on Tuesday, industry leaders gathered to discuss the electrification of the fleet industry and how fleet managers can work with key stakeholders to reach their electric vehicle goals. The panellists addressed the importance of mitigating risks, developing climate action plans, being change agents, quantifying overall impacts and aligning EV goals with the DNA of their organization.
More than 20 education sessions took place over the course of the event, including a special Canadian workshop, aimed specifically at fleet management and operations in Canada.
These invaluable sessions provided fleet industry professionals with the opportunity to stay ahead of emerging trends and make connections with other attendees. Session topics included fleet electrification, recession-proofing fleet operations, tackling the growing shortage of qualified technicians, top fleet management best practices, and more.
Additionally, more than 70 participants were immersed in CAFM Live, a peer-to-peer educational event that accelerates Certified Automotive Fleet Manager (CAFM) candidates' preparation for examination and certification.
The Expo featured nearly 200 exhibitors showcasing the latest fleet products and services. New for 2023, was the inaugural Innovations Showcase, which invited attendees into an interactive innovation zone on the Expo floor, providing them with an opportunity to view exciting new products and updates being launched by exhibiting companies.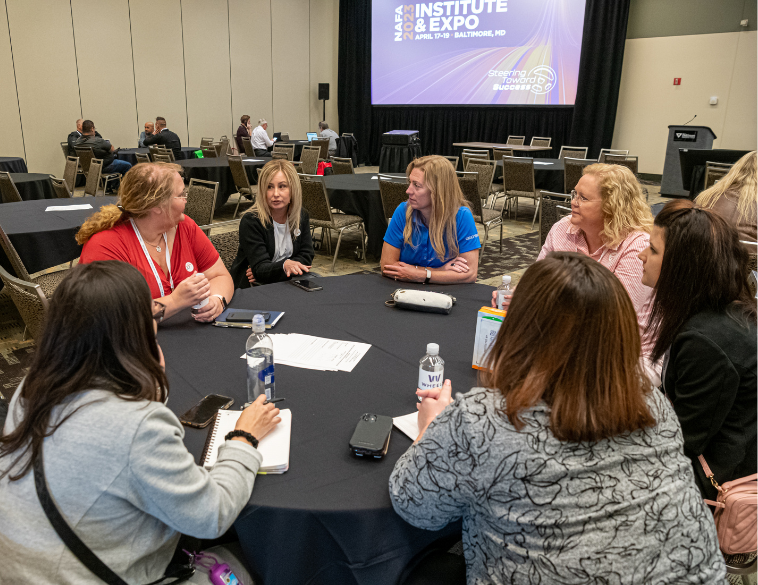 Inaugural Innovations Showcase
There was also an Inaugural Innovations Showcase People's Choice award, in which two exhibitors— Digital Ally, Inc. and ReviverMX, Inc. were named the winners
Digital Ally Inc. presented EVO Fleet – a new fleet video system that utilizes the latest innovations in telematics technology. Compact in form factor yet rich in features, the EVO Fleet Vehicle Camera offers artificial intelligence providing immediate driver-assist feedback by recognizing pedestrians, distracted or drowsy driving, and lane drifting.
ReviverMX presented RFleet, a bundling of digital license plate hardware with a software interface purpose-built to streamline the management of vehicle fleets for commercial businesses. RFleet offers a suite of services, including automated vehicle registration and compliance, as well as a robust set of telematics, corporate messaging and safety features. RFleet is the only fully-digital registration renewal solution on the market.
"Innovation is at the foundation of our industry, and we are thrilled to announce Digital Ally Inc. and ReviverMX, Inc. as the winners of our inaugural I&E Innovations Showcase," noted Bill Schankel, CAE, CEO of NAFA. "Both companies are leading the fleet and mobility industry with the launch of EVO Fleet and RFleet. It's products like these that will continue to inspire innovation for years to come."
Both winners presented their products alongside 14 other companies within the industry; AssetWorks, Cipia, Clean Fuels Alliance America, Derive Systems, Fermata Energy, Fleetio, Forward Thinking Systems LLC, Industrial Propane Service, Monro Auto Service, Tire Centers, Scent Renu, TigerTough, Utilimarc and Wagan Corporation.
First-ever media day
Additionally, there was also a first-ever Media Day at I&E where nearly a dozen companies took the opportunity to present their breaking news and announcements to reporters in back-to-back press conferences.
The Media Day event provided a unique opportunity for companies to showcase the latest developments in the fleet industry. Participants displayed a range of industry advancements in data analytics, safety technologies, electrification, and more.
"It's been fascinating learning about the groundbreaking technologies and solutions that companies are developing to tackle the challenges of the future and pave the way for a more connected, efficient, and sustainable world," said Bill Schankel, CAE, CEO of NAFA. "We are thrilled to have Media Day become a part of the I&E lineup, and we look forward to seeing how the industry continues to innovate and push the boundaries in 2023 and beyond."
The breaking news presented during NAFA's I&E Media Day 2023 comprised the following:
Roadz (Booth 1134)
Presented by Amit Jain, Co-Founder & COO
Roadz presented a product that democratizes the ability for fleets to discover and buy curated fleet management solutions at discounted prices. Their product also includes pre-integrated data and unified dashboards for fleet professionals.
Southgate Lease Services (Booth 1366)
Presented by Nick Miota, President & Holly Miota, Account Executive
Southgate Lease Services presented its plans to assist larger fleet management companies with their small fleet customers who have 30 or fewer vehicle fleets.
Derive Systems (Booth 1465)
Presented by Heather Lamm, Chief Marketing & Sustainability Officer & Craig Montgomery, Chief Revenue Officer
As a result of the Derive VQ technology, Derive Systems has introduced VQ Insight. This powerful new tool allows clients to see their vehicles' fuel savings and emission reductions in real-time.
Teletrac Navman (Booth 1350)
Presented by Doug Haebig, Sr. Product Manager, Transportation
Teletrac Navman presented the launch of two new suites: The TN360 Compliance Suite with enhanced US-ELD, Canadian ELD, and iDVIR, and the TN360 Safety Suite with a new AI-powered IQ Camera. Both take a proactive approach to fleet management.
Cruise Car by ICON (Booth 1700)
Presented by Adam Sulimirski, Managing Partner
Cruise Car by ICON announced its new line of lithium-powered heavy-duty commercial carts, adding over 500,000 sq ft of additional assembly space in six plants nationwide. Its support network has expanded with hundreds of techs and a multimillion-dollar investment in parts for fleet support. Cruise Car by ICON will now deliver over 4,000 light utility carts monthly to thousands of municipalities, federal agencies, universities and nonprofits in over 30 countries.
Shell Fleet Solutions (Booth 1067)
Presented by Jim Perkins, Director of Fleet Solutions U.S.A., Shell
Shell Fleet Solution announced the U.S. launch of Accelerate to Zero, a fleet sustainability management program. This program aims to help fleet and mobility managers better understand and reduce their carbon footprint and on-road emissions to net zero by evaluating their options and developing a plan for decarbonization.
Reviver (Booth 1461)
Presented by CJ Meurell, EVP of Sales & Alex Dimitrijevic, National Fleet Director
Reviver, creators of the groundbreaking, first-ever digital license plate and connected vehicle platform announced the addition of RToll, an online tolling service, offering coverage on 98% of U.S. tollways with electronic toll collection services for commercial fleets.
Cipia (Booth 1457)
Presented by Israel Ronn, VP Aftermarket Business
Cipia announced its new Cipia-FS10 Video Telematics Device that offers a forward-facing dash cam and a hybrid communication mode for improved fleet safety and efficiency. The new camera is an addition to Cipia-FS10's video telematics and driver monitoring system.
Mullen Automotive (Booth 1083)
Presented by John Schwegman, Chief Commercial Officer
Mullen Automotive announced the launch of its Class 3 electric vehicles (EVs) this summer. These EVs will be more efficient and profitable for businesses with connected and customized solutions.
ServiceUp (Booth 1378)
Presented by Brett Dashe, Head of Revenue & Co-Founder
ServiceUp announced ServiceUp for Fleets, an innovative product that adapts their award-winning consumer-based maintenance and repair platform to meet fleet managers, FMCs, drivers and repair centres' unique needs.
Utilimarc (Booth 1257)
Presented by Engin Ayaz, Account Executive
Utilimarc is enhancing its business intelligence platform to include annual and real-time greenhouse gas reporting capabilities.
Also at I&E, 2023, NAFA took the opportunity to announce the leaders of its Regional Councils as part of the association's new regional governance model, which began rolling out earlier this year. According to NAFA, the new structure is designed to foster and enhance community and growth, with more resources available to local members.
Next year's I&E will take place in San Antonio, TX on April 22-24, 2024. To learn more about NAFA, visit: nafa.org.