With a range of options and technologies, the new electric van aims to set the standard for commercial operators.
Mercedes-Benz has announced that its new eSprinter battery-electric panel van is coming to North America. Canadian and U.S. customers will be the first to receive this vehicle, with deliveries set to begin during the second half of 2023. European availability will follow. 
The eSprinter, which will be sold here as a 2024 model, represents a key step in Mercedes-Benz's strategy for electrifying its commercial vehicle fleet. Initially assembled in Charleston, South Carolina (with future production slated at two plants in Germany (Dusseldorf and Ludwigsfelder—the latter for Europe-only sales), the eSprinter arrives at an opportune time in the marketplace, facing off against the likes of Ford's E-Transit, the upcoming Ram ProMaster EV and General Motors' new from the ground up BrightDrop 600. 
Three core modules
According to an official release from Mercedes-Benz, the 2024 eSprinter features a range of technical innovations and was built around the concept of three specific modules. All high-voltage components are housed within the front module, while the integrated high-volt battery system is located within the second module, underslung between the front and rear axles, as a nod to improved safety and better handling due to a low centre of gravity. The third module houses the rear, electrically driven drive axle and integrated electric motor. 
The motor itself—a permanent magnet synchronous unit, weighs just 286 lb and is offered in two power output levels, one with 100 kW peak output, and the other with 150 kW, both delivering up to 295 lb-ft of torque. 
In an effort to maximize practicality and given the larger distances covered by many fleets in North America, Mercedes-Benz will offer the eSprinter with its largest capacity battery available. This lithium phosphate (LFP) unit has a usable capacity of 113 kW hours, plus its cell chemistry enables the battery to function without the need for nickel and cobalt. 
Like all Mercedes-Benz eVans, the 2024 eSprinter is capable of charging with both alternating current (AC) and direct current (DC). The onboard charger, which converts the current in the vehicle when charging with alternating current, has a maximum output of 9.6 kW. According to Mercedes-Benz, the eSprinter can be charged with up to 1154 kilowatts at fast-charging stations.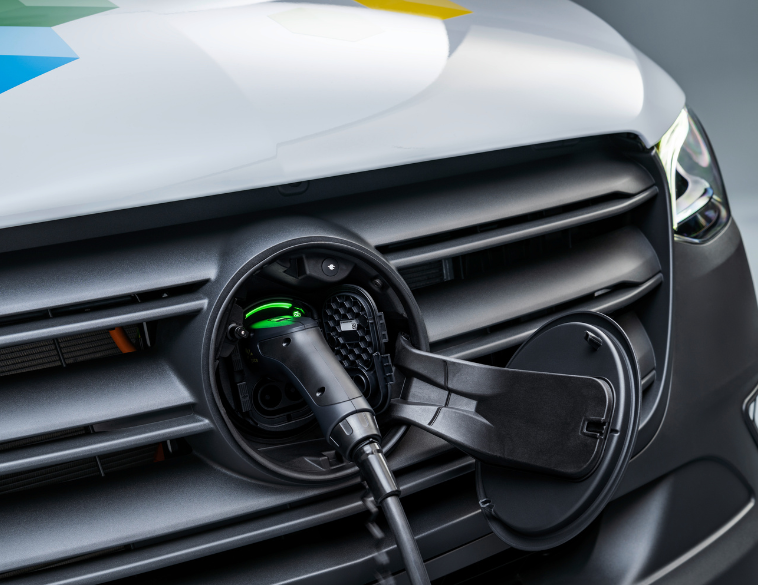 Making everyday life easier
The eSprinter comes with a full suite of digitization and infotainment technology, built around the Mercedes-Benz User Experience (MBUX). Designed to make everyday life easier with an electric vehicle, MBUX for the eSprinter will include such features as increased performance, extensive personalization options and optimizations of the "Hey Mercedes" voice control assistant. 
For fleets, some important statistics to consider at this juncture are the van's range potential, load capacity and permissible Gross Vehicle Weight (GVW). According to Mercedes-Benz (and bear in mind this refers to simulated testing in Europe), the eSprinter is said to have a range of up to 500 km in city driving (using the Worldwide harmonized Light Vehicles Test Procedure or WLTP) while payload capacity is pegged at 14 cubic metres and permissible GVW at 4.25 metric tonnes (more details on specific performance parameters of the North American market eSprinter will become available as we get closer to the official launch date).
Like a number of European automakers, Mercedes-Benz currently has very aggressive targets for achieving full electrification of its product lineup with a stated goal of having an all-electric lineup by 2025. And while we are still at the very early stages of EV adoption for commercial fleets, Mercedes-Benz is pitching the eSprinter as a worthy rival to the other electric van offerings on the market. 
"With the new eSprinter, we are taking the electric large van segment to a new level," says Mathias Geisen, Head of Mercedes-Benz Vans. "The triad of efficiency, range and load capacity with simultaneous Total Cost of Ownership optimization makes the new eSprinter the most versatile Mercedes-Benz eVan ever."