With a range of up to 482 km, Nissan's all-new electric crossover is a practical choice for a wide range of fleet applications.
The company that brought us the first mass-produced electric car has announced the debut of their first all-electric crossover, the Nissan ARIYA. With so many manufacturers jumping into the EV market, fleets have a lot of options to choose from. That's why Nissan is putting their best foot forward by offering an electric CUV that ticks all the boxes at a competitive price.
"The all-new 2023 Nissan ARIYA all-electric crossover SUV is packed with the latest connectivity, convenience, driver assistance and safety technology Nissan has to offer," says Brent Smith, Deputy General Manager, National Corporate Fleet Sales, Residual Management & CPO, Nissan Canada. "ARIYA is the perfect combination of style, technology and safety, offered by the company that pioneered the first mass-market EV, with the experience and dealer network to provide a seamless transition to EV ownership for our fleet customers."
With a total of six models and the option of either all-wheel or front-wheel drive, there's an ARIYA for almost any budget and use scenario. "The ARIYA offers a wide array of features that meet the needs of fleet customers today," Smith adds. "Six Nissan ARIYA models are available, offering a choice of 63 kWh or 87 kWh of usable battery capacity and a standard CCS quick charge port."
Depending on the model and the battery option, the ARIYA offers between 330 and 482 km of range, which makes it a practical choice for a wide range of fleet applications. "It's a great choice for anyone looking for an all-electric crossover SUV solution," Smith adds. "And with a range of up to 482 km, the ARIYA will be suitable for fleet drivers at all levels who are looking to either update their EV fleet or those who want to move toward an electrified fleet."
Smith says the ARIYA's all-new EV platform has been optimized to deliver exceptional handling. The battery pack sits under the centre of the vehicle to ensure a low centre of gravity and 50:50 front/rear weight distribution, which helps the ARIYA behave in a predictable manner through all types of corners.
The ARIYA will also be available with Nissan's latest all-wheel drive technology, known as "e-4ORCE." This is an advanced, 100% electric all-wheel drive system that Nissan says optimizes power output and braking for exceptional smoothness and stability on nearly all road surfaces.
Safety features & technology
A thoroughly modern crossover, the ARIYA comes with an array of modern safety features, including ProPILOT Assist with Navi-link, which is standard on all models. Nissan's ProPILOT technology enables the ARIYA to operate autonomously during single-lane driving on the highway, easing the driver's workload in heavy traffic, on their daily commute and on long trips.
Another key innovation is Nissan's ProPILOT Park, which is available for the first time in North America on the ARIYA. ProPILOT Park automatically parks the ARIYA by controlling the steering, accelerator, brakes, gear shift and parking brake. All the driver has to do is activate the system when they're ready to park and let the vehicle do the rest. When the parking process is complete, the system shifts the transmission to "P" and activates the electronic parking brake.
Adding to the overall safety picture, the ARIYA comes standard with the Nissan Safety Shield 360, a suite of six active safety features that include Automatic Emergency Braking with Pedestrian Detection, Blind Spot Warning, Rear Cross Traffic Alert, Lane Departure Warning, High Beam Assist and Rear Automatic Braking.
And of course, what modern vehicle would be complete without connectivity features? That's why every ARIYA comes with wireless Apple CarPlay and wired Android Auto to help drivers seamlessly integrate their smartphones into their vehicle experience.
Moreover, the ARIYA is the first Nissan model to take advantage of over-the-air firmware updates, which Nissan calls "Remote Software Upgrade." This means the vehicle will automatically update itself, when necessary, to the latest versions of the various software employed inside the vehicle.
Spacious interior
The advantages provided by the company's all-new EV platform have enabled the ARIYA to offer a spacious cabin. "The flat, open floor and the slim-profile Zero Gravity front seats provide vast amounts of legroom that offer utmost comfort for drivers who spend a lot of time on the road," Smith says. "Rear-seat passengers are also treated to an abundance of head room and leg room."
The EV drivetrain and generous use of sound-absorbing materials result in a quiet cabin, allowing occupants to relax and enjoy the stress-free, lounge-like space.
The available adjustable centre console can be moved to suit the driver's personal preference, while the innovative slide-out table design transforms the cabin space into a mobile office helping make sure time parked is also productive.
One of the more striking features is the ARIYA's minimalist instrument panel, which is devoid of buttons and switches found in most vehicles. Instead, climate control functions are integrated into the wooden centre dash in the form of capacitive haptic switches (think iPhone) that offer the same feeling as mechanical switches by vibrating when touched.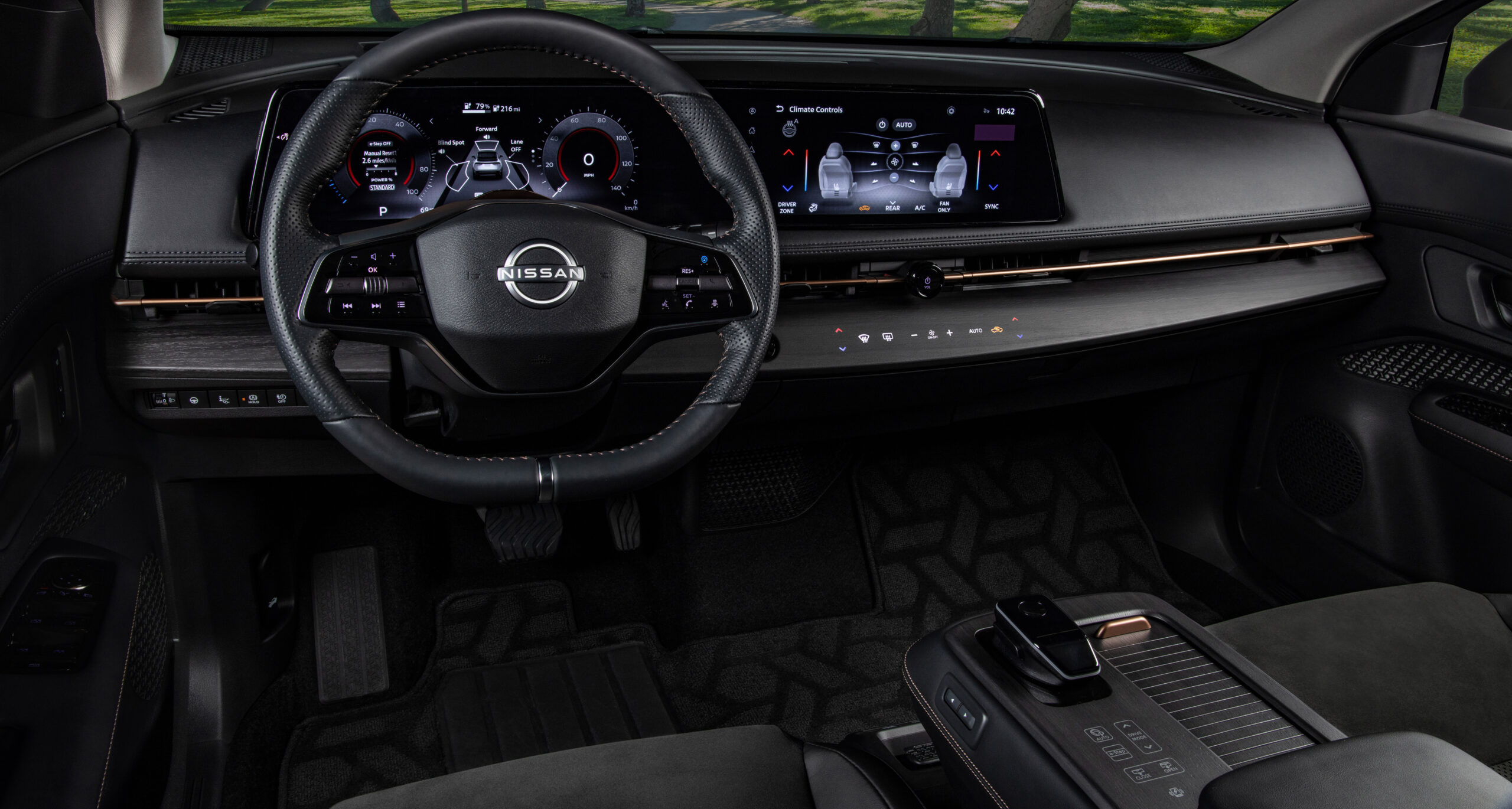 Competitive market
Nissan is entering the all-electric crossover market at a time when many other players are getting into the space. With a starting MSRP of $52,998, Nissan believes they have a winning package that combines cutting-edge technologies, next-generation design, and the driving experience consumers and fleets alike will find appealing.
"The ARIYA is uniquely positioned amongst EV crossovers in the market, with a balance of sophistication and serenity," Smith says. "It delivers smooth performance and a premium design, powered by advanced and purposeful technology. It features up to 482km of range [Venture+ trim], power on par with Nissan's sport sedans, and all-wheel drive models feature our most advanced all-wheel control technology ever, e-4ORCE. We feel that the ARIYA will make a big impact on the market and with customers, much like the LEAF has done in its decade of global success."