Mednow began as an attempt to recreate the personal neighbourhood pharmacist connection, paired with the warehousing and delivery model of Amazon.
From an idea in 2012, today Mednow has locations all across Canada, from British Columbia to Prince Edward Island and even the Yukon and Northwest Territories. 
Essentially an online pharmacy, Mednow delivers each prescription personally, usually via a 2016 Smart car. "The business model is basically using technology to do technology things, freeing pharmacists to provide amazing patient care and expert advice," explains Ali Reyhany (R. Ph), CEO of Mednow. 
The fleet is fairly small, with a Smart servicing each Mednow city location. In Toronto, there's also a Jeep Sahara Wrangler EV, and a Prius AWD-e in Nova Scotia. 
With its colourful funky wrap, the eye-catching Mednow Smart is the perfect city car, since it's fuel-efficient, simple and relatively low maintenance. It's also small, nimble and easy to park, a significant advantage in congested urban settings such as Toronto and Vancouver.
Same-day delivery
Mednow batches deliveries as much as possible, offering same-day delivery of prescriptions and other pharmacy needs within about a 70-kilometre radius of their pharmacies and distribution centres. "We use other vehicles and sometimes certified delivery agencies for deliveries outside that radius," notes Reyhany.
The Smarts are used only for delivery and are occasionally featured in TV commercials and out-of-home ad campaigns. No upfitting is required, but for medications requiring refrigeration, like insulin, Mednow uses documented cold chain best practices when packaging and delivering.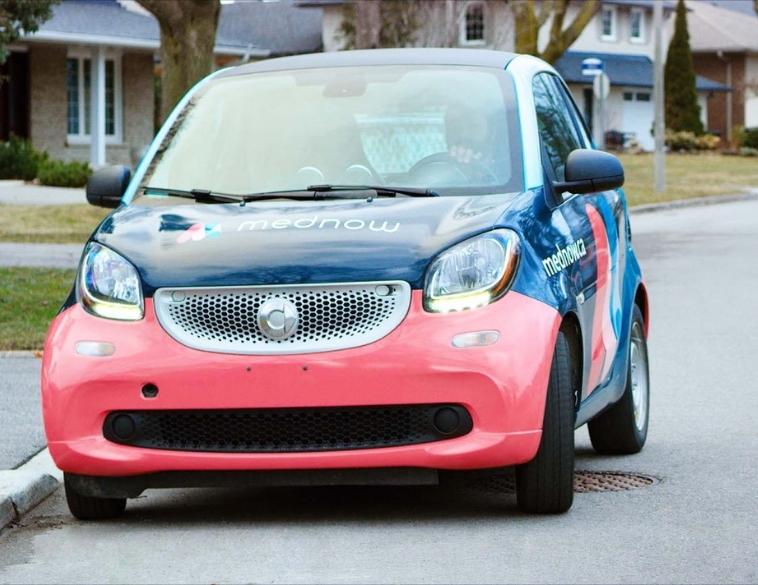 An extension of the pharmacy team
After interacting with a Mednow pharmacist on the phone or through an app, the drivers are usually the patient's first in-person interaction. "Drivers are on the front lines and an extension of the pharmacy team," says Reyhany. So together with a clean driving record, Mednow looks for drivers with a positive customer-first approach. 
Drivers receive training in cold chain delivery and best practices for handling medications. They deliver a variety of prescriptions as well as other pharmacy needs such as diabetes supplies, over-the-counter medicines and supplements. "There are rules and best practices around how medications must be handled," asserts Reyhany. "That includes what can be left at the door or with a concierge and what needs to be hand-delivered to the patient." Drivers also receive training in these protocols, and all information is clearly outlined on the driver's delivery manifest.
All fleet logistics and management are handled in-house. Mednow uses Mobilus software for order taking and tracking, as well as route optimization. Orders go directly from the pharmacy into Mobilus, and straight out on the road. When necessary, Mobilus can also help the pharmacy team "fast track" an order that's a high priority.
On-time, predictable delivery is crucial with prescription medications. Mednow operates with two broad delivery windows; from 1 to 5 pm and 5 to 9 pm. The pharmacy and operations team ensures patients know when, within that window, they can expect their medication delivery. The Mobilus software also provides patients with a more precise ETA once the driver is en route.
Supply chain issues
Drivers are expected to report any potential issues with their vehicles before they become maintenance events. There are regular inspections and maintenance using local mechanics who are familiar with Smarts. Scheduled maintenance is done at the end of the week going into the weekend when delivery volumes are typically lower.
The 2016 Smart fleet will be in use for another year or two. "When we put these cars on the road, we were basically doing an extended test," explains Reyhany. Since Smart is being phased out, Mednow is exploring various options. The Jeep Sahara Wrangler EV is the first EV to be added to the fleet. "It's overkill for delivering prescriptions the same day, but it's an attention grabber, and we'll be taking it to events and so on."
Like many other businesses, there have been supply chain issues and shortages in cold medication and over-the-counter pain relief. "One of the benefits of our model is that we can share stock like prescription medication and over-the-counter pharmacy goods between locations, or even ship from another location is necessary," explains Reyhany.
Although the pandemic hit after Mednow was launched, it offered a much-needed way for Canadians to get prescriptions and pharmacy needs delivered without having to leave their home and visit a pharmacy. "The pandemic also shone a light on pharmacists as an amazing front-line healthcare resource," says Reyhany.