As the auto industry continues to change and evolve, General Motors is determined to take the lead as they continue to cater to the needs of fleet customers.
The 2022 GM Fleet Solutions Summit took place in Phoenix, Arizona in May with the theme "Making it Happen." This year's Summit was the largest on record with over 1,300 fleet professionals in attendance, including almost 60 from Canada, and 40 from Mexico.
The executive vision was very clear from the outset, and stressed throughout the event by the entire GM team: zero crashes, zero emissions and zero congestion. GM is pushing ahead with innovations and technologies that will reshape the automotive fleet landscape in the very near future, with many advanced technologies available today.
While GM has long been in the ICE (internal combustion engine) business, the clear emphasis throughout the Solutions Summit was on electric vehicles as a viable and practical option for North American fleets.
"We know that you have to keep your current fleets up and running, and at the same time you need to prepare for an electric future," said Ed Peper, US Vice-President of GM Fleet. "That's why we have our feet firmly planted in both camps – internal combustion engines, and zero emissions. We're the only OEM with ICE and EV offerings in the four biggest fleet segments."
Peper offered the following as examples of GM's ICE and EV strategies for a number of vehicle categories: In the full-size pickup segment GM offers the Silverado and Silverado EV;  in small SUVs, they offer the Trailblazer and Bolt EUV (GM's first-ever all-electric zero-emissions special service vehicle with an estimate range of almost 400 km); in compact SUVs, the Equinox and Equinox EV, and mid-size SUVs, the Blazer and Blazer EV.
During an on-stage interview, GM CEO Mary Barra pointed out that ICE and EV vehicles will exist side-by-side for years to come. "What we want to do at GM," she explained, "is provide solutions that make it good for your business to make that transformation, meet your needs across the whole board, and provide a better solution."
"This is a once-in-a-generation transformation, and General Motors is working hard and determined to lead it."

– Mary Barra, CEO, GM
On the "zero congestion" front mentioned above, the audience was shown a video clip of Barra, and some of her executive team, taking a ride in one of GM's autonomous vehicles on the streets of San Francisco. "This will reduce congestion," Barra said after reaching her destination and waving "farewell" to the autonomous vehicle as it drove off to pick up its next passenger. "This is going to change the way people move in such a positive way."
Speaking to the fleet audience after the clip was shown, Barra explained that in her opinion, autonomous vehicles will change the world from a safety and efficiency perspective. "When we look at some of the challenges we see now, including shortages in the workforce," she added, "over time, I think autonomous is going to play a bit part in the way we move goods, as well as people. As early as mid-decade, we could even have a personal autonomous vehicle."
Electric future
GM will continue to support ICE vehicles, but the future is clearly electrified and autonomous. General Motors will build on its current EV offerings, and plans to be the largest seller of EVs in the U.S.A. To keep up with anticipated demand, GM announced that they'll be building three battery plants and four EV assembly plants.
"Everything is changing," Peper explained during his presentation. "No longer do fleets have the luxury of simply ordering vehicles for the next fiscal year. You need to think five, 10 years ahead."
Regardless of the pace of change or the many innovations in the pipeline, GM assured their fleet customers that their commitment to customer satisfaction will never change. "There are three pillars that separate GM from everyone else: great products, exceptional customer experience, and innovative business solutions," Peper added. "That's our goal, and it never changes."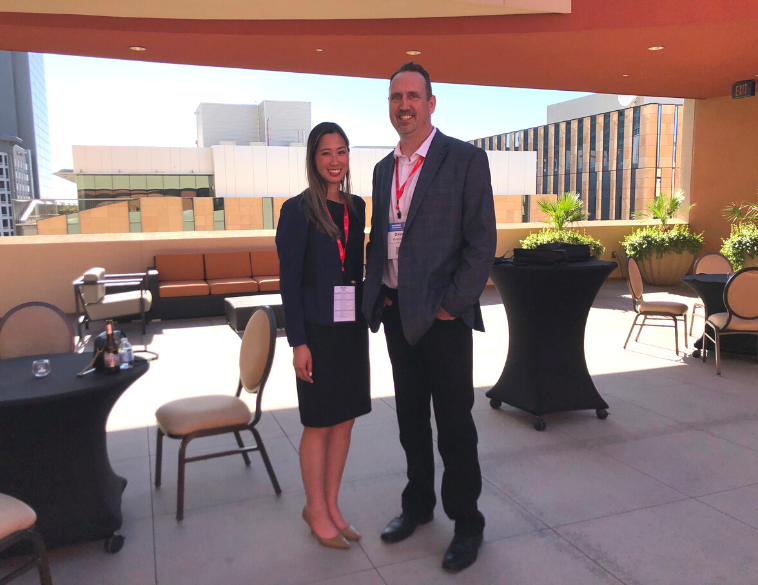 Vehicle highlights
While fleet professionals were given an opportunity to experience a broad range of GM vehicles during the Solutions Summit, a few fleet favourites were highlighted. In the light-duty pick-up category, the Silverado and Sierra – very popular with fleet customers – have just been refreshed with many new features: new interiors and powertrains, and a new electrical architecture – GM's new Global B Electrical Architecture, which provides greater capability for advanced electronics.
Peper unveiled the new 2023 Silverado PPV (Police Pursuit Vehicle), which is based on the 4WD Silverado crew cab in work truck trim with a standard box. Peper explained that it has the same V8 powertrain that's in the Tahoe PPV.
He admitted that it's hard for a police force to beat the versatility of an SUV, and added that there are many law enforcement agencies, especially those that operate in rural areas, that need a pick-up's ability to haul. "I think the Silverado PPV will be an important addition to many law enforcement agencies," he concluded.
Safety & technology
Safety technologies have come a long way, and GM's modern vehicles are available with advanced systems that keep both vehicle occupants, and passersby safer than ever. Today, every full-size Chevrolet, GMC and Cadillac SUV is built with a suite of six advanced safety features for added peace-of-mind. These include Forward Collision Alert, Lane Keep Assist with Lane Departure Warning, Following Distance Indicator, Automatic Emergency Braking, Front Pedestrian Braking, and IntelliBeam High Beam Assist.
To enhance productivity for people on the go, GM offers an array of technologies to keep everyone connected. These include Bluetooth, WiFi Hot Spots, Apple Car Play / Android Auto, USB ports, available Wireless Phone Charging and Sirius/XM Satellite Radio. In addition, GM Super Cruise hands-free driving technology is available on a growing number of vehicles.
As the auto industry continues to evolve, and as newer technologies come online, fleet professionals will have to deal with change at an unprecedented pace and level. "This is an exciting time to be in the industry," Barra concluded. "This is a once-in-a-generation transformation, and General Motors is working hard and determined to lead it."