Thanks to the pandemic, the demand for delivery services has ramped up to an all-time high—and that includes mobile auto repair. 
"People wanted mobile deliveries of food, and all sorts of things because they couldn't go out," explains Kolton Uitbeyerse, COO at GoWrench Auto. "That's definitely fueled our mobile auto repair service."
GoWrench Auto began 10 years ago, out of the back of a van. Now, in addition to the main location in Toronto, there are franchises starting up in Niagara, Windsor, Ottawa, London, and Kingston.
Their fleet consists of five Ford Transit vans and three Ford F-150 trucks. There's an order in for five more Transits and two F-150 trucks, but since those are electric and on backorder, the order has changed to include a hybrid F-150. And there will be more vehicles added for the franchises.
The Transit vans are both low roof or a high roof and are assigned depending on a tech's expertise. Apprentices take the smaller ones, and the tech with the most amount of tools takes the larger ones. However, all tire service vans need a high roof extended version because of the tire machines and weight.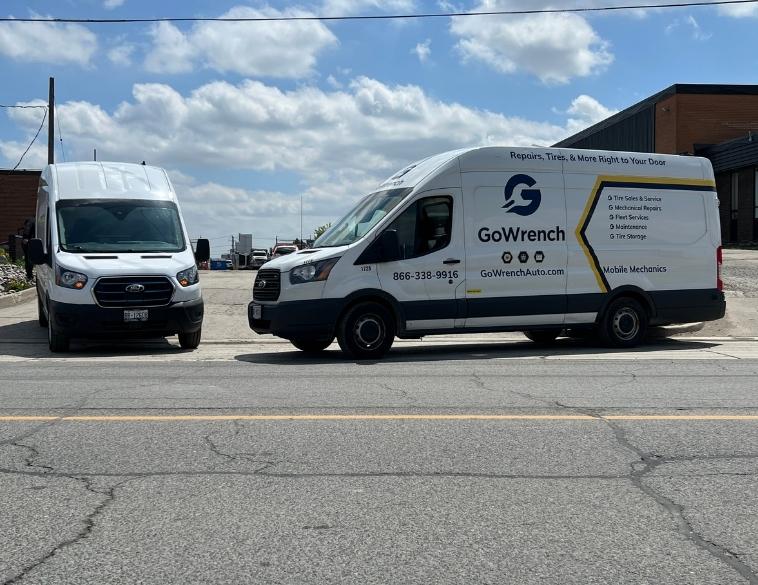 Transits get most usage
If there's a call to do a transport truck tire on the side of a highway, the F-150 is put into service. It's also used to do drop-offs and a variety of other tasks. "All our vehicles are on the road seven days a week," says Uitbeyerse. "The Transits probably get the most usage." They're used for tires, oil changes, glass repair, rust-proofing or detailing.
Since vehicles are in short supply, routes have been optimized. Customers book online, and service is sent out to clients in neighbouring postal codes. "We can grow faster without having to get more vehicles and more staff."
All software is based on the dispatch software, which goes to a call centre, and is the same that clients use to book online. There are GPS devices installed in the vehicles, with forward and rear-facing cameras, for security purposes.
The challenges of a mobile auto repair service are keeping up with supply and demand. "People want their repair done yesterday," explains Uitbeyerse. "If you can't get it done within a certain amount of time, they're going somewhere else. People aren't as loyal. They want to get things done." And like others in auto repair, it's difficult to find quality licensed tradesmen.
Fixed shop location
GoWrench Auto has a fixed shop location in Toronto, to provide a full-service facility for repairs that cannot be done on the road. In this way, outsourcing to a third party is avoided, and there's a way to provide secure tire storage. The goal is for all franchises to be equipped with one to two fixed service locations, as well as 10 to 20 vans.
All franchises will be provided with software, marketing support, and vehicles, and will run their operation on the same business model.
To date, there hasn't been much of an issue with auto parts shortages. "Our partners and investors are some of the largest retailers, parts suppliers and tire suppliers," notes Uitbeyerse. "We've spent most of our time building those relationships so that we wouldn't come into those issues." Normally, parts arrive the same day or the next. Special order parts may be a different story, but that's always been the case.
Most of the vehicles being serviced by GoWrench Auto are a mix of about 20 percent domestic, but also Audi, BMW, Porsche and even Tesla. Although Tesla is notoriously proprietary, Uitbeyerse has found it's simply a matter of taking a little longer to figure it out, using their community of technicians. Most modern technicians are well versed in computer systems and modules, since vehicles have anywhere from seven to 12 computer modules, with intricate wiring harnesses. "If you know your way around wiring diagrams, you generally won't have a problem with working your way around electric vehicles," he reports, but adds, "You do need a different certification."
Electric Ford Transit
To date, the newest vehicle on the fleet is an electric Ford Transit, which has just arrived. It won't be much different from the other Transits, apart from some "green" advertising. Since it only has 160 kilometres of range, it will have to be charged every day.
Upfitting the electric Transit will take a little longer, to work around the battery location under the floor. Uitbeyerse says that everyone's excited about the new arrival.
"We're doing a tire change competition to decide who gets to use it," he chuckles. "Whoever can change a tire fastest. We do a lot of fun events, it's important to keep people happy and rewarded for going above and beyond."