This electric bus can handle the cold and provides savings.
In 2018, Edmonton Transit Service (ETS) purchased 40 electric city buses. And already, ETS has realized 30 percent savings in maintenance alone.
Although the electric buses were more expensive than diesel buses, they are quickly making up the cost difference in both maintenance and fuel savings. In fact, 20 more electric buses are set to arrive this year.
And of course, the reduction in greenhouse gas emissions aligns with the City of Edmonton's goal to improve climate resilience. The City has a Community Energy Transition Strategy aimed at safe and accessible zero emission mobility.
All the buses are manufactured by California-based Proterra, with a range of up to 400 kilometres. Of course, that depends on weather, driving conditions and operator technique. According to Ryan Birch, Director of Operations at ETS, the buses had already been used successfully in Park City, Utah during the Sundance Film Festival. "We knew they handled snowy winter roads with cold weather fairly well," he notes. "Even though Proterra is a California based company, we knew they'd be a solid bus, given our climate."
Less corrosion
The outlook for a longer bus life span is quite optimistic. The Proterra buses are not a steel bus with metal panels, but a composite bus design with a unibody structure. "They don't have the same issues with rust that a diesel bus would have," reports Birch. "We expect there will be less corrosion." The batteries will also have to be replaced at some point.
Charging takes place at the stunning new Kathleen Andrews Transit Garage, named after a trail-blazing employee who was the first woman transit operator in Edmonton. The facility is LEED Silver certified, and has many innovative sustainability-focused features, such as solar panels and a water conservation system.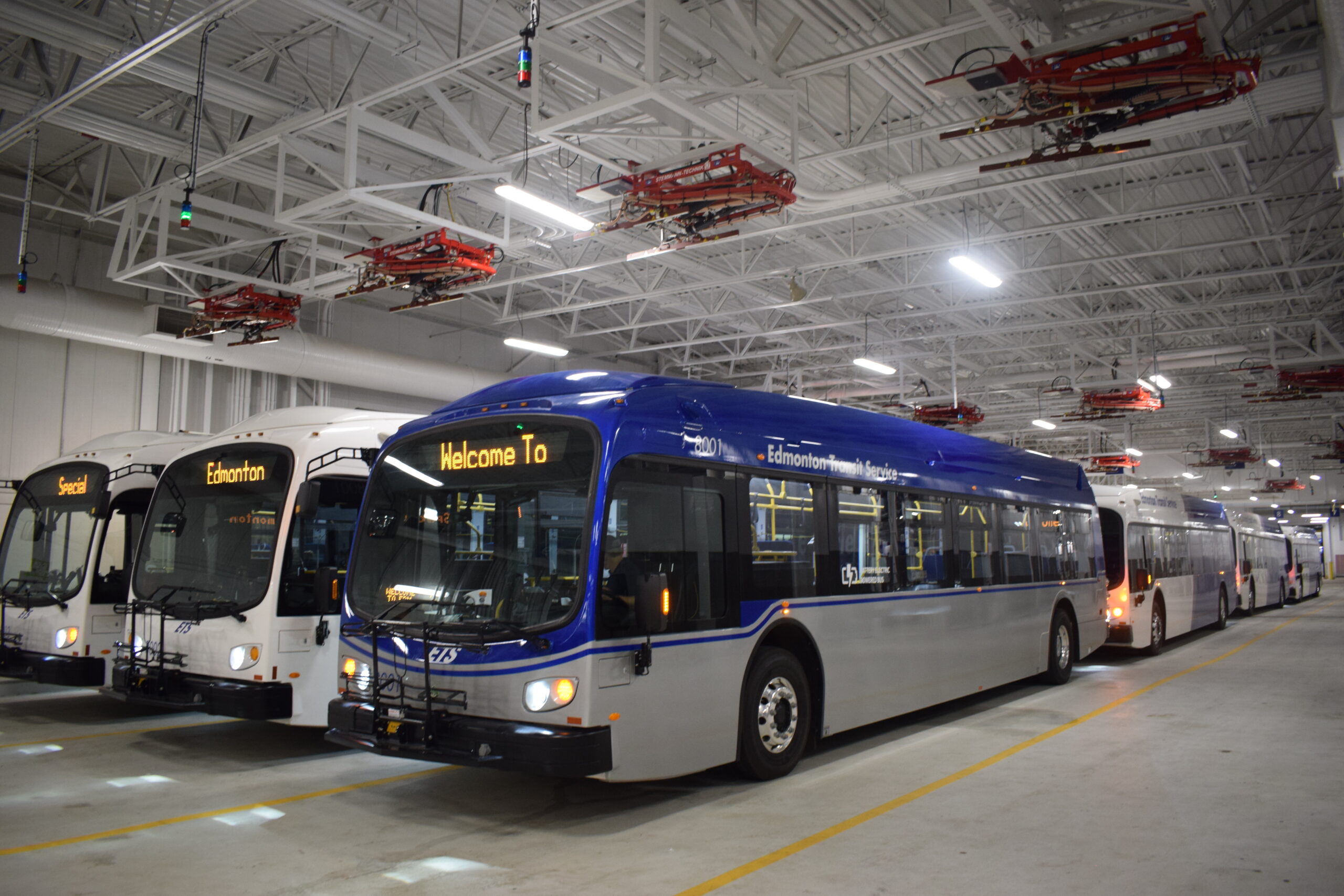 It was built specifically to accommodate electric vehicles, and has utility transformers, electrical room upgrade, maintenance bay and hoist upgrades, roof truss upgrades to support the pantographs, fire protection upgrades and floor reinforcement. The roof collects rainwater, which is transferred to a 1.5 million litre cistern, and used for washing buses. That's the equivalent of 7,500 household rain barrels of rainwater.
Inside, the electric buses are charged overhead by pantograph legs descending from the roof. These scissor-like contraptions are hooked up to rapid chargers, enabling buses to recharge in about three hours. "We are the first transit service in North America to have inverted pantograph overhead charging," says Birch. "It also reduces the footprint of the garage. Charger units are not taking up valuable floor space, so we have more of it available."
Training
The buses have a thermal system, to ensure batteries are kept at a certain temperature, and protect them from the cold.
Assistance in funding the electric bus fleet was through the Canada Infrastructure Bank's Zero Emission Bus Program, which finances a portion of the cost of electric buses across Canada.
Proterra provided training for both technicians and operators. Technicians in particular had to understand how to work on the buses, as the buses have some high energy locations of which to be cautious. "They went over how to handle things safely, and Proterra representatives are available to us if we have questions after the fact," reports Birch.
Operators had to learn how to line up the bus so that it charges properly, how to work the controls and features. They also learned about electric bus specific hardware, such as battery cut off, and driving techniques that focus on reducing power consumption. Some of the controls, such as light switches, are located in different places. Now, ETS has its own instructors to provide training to operators.
Smooth accelerating
Everyone has responded enthusiastically to the new electric buses, including transit riders. "It's certainly a different experience," claims Birch. "You don't feel the shift like the transmission on a diesel bus. It's very smooth accelerating and decelerating." Buses have regenerative braking capacity, which supplies power back to the bus.
All operators are trained on the electric buses, so that the bus can go out on any route, and even have a shift changeover on the way without disruption. Buses are assigned randomly to all operators.
The turning radius is a little bigger than the diesel bus, so operators have to learn to take corners a little wider. It takes some acclimatization, but most people who drive a bus have experience with steering the back end versus the front. "We're always watching our mirrors to make sure we get around curbs," adds Birch.
A large portrait of Kathleen Andrews entitled "First Lady of Transit" graces the entrance of her namesake garage. It's a fitting tribute to this new home of environmental, efficient and sustainable technology that's firmly in step with progressive thinking.