The 2022 Pathfinder and Frontier are making a splash with fleet customers in Canada.
Nissan Canada is raising the bar on expectations with two all-new vehicles that are priced and equipped to appeal to fleet buyers looking for quality and safety. "One of our core strengths," explains Denver Pinto, Senior Manager, Chief Marketing Management at Nissan Canada, "is that we're offering an entry-level model that comes very well-equipped, and that's something we know our fleet customers will appreciate."
One could argue that the all-new Pathfinder is so well equipped (even at the entry level) that fleet drivers might feel pampered. "Our S trim comes very well-equipped," says Pinto. "For just under $44,000 you get as standard equipment Nissan Safety Shield 360, along with Intelligent Key, power driver's seat, heated front seats, heated steering wheel, and zero-gravity seats for optimum comfort, especially for fleet drivers who spend long hours behind the wheel."
The all-new Pathfinder also boasts a dramatic improvement in NVH levels (noise, vibration and harshness), which means the passenger cabin is quieter and more refined than ever. "And all that comes standard on Pathfinder," Pinto stresses.
Every 2022 Pathfinder features a 284-hp 3.5L Direct Injection V6 with 259 lb-ft of torque. The engine is matched with an all-new 9-speed automatic transmission.
Amenities & interior room
Another key improvement to the all-new Pathfinder is generous interior room. "Not only do we have best-in-class front leg room," Pinto adds, "but we also offer numerous storage options for all the modern devices and technologies that are part of everyone's life."
Nissan has opted to make their ProPILOT Assist system standard equipment. "It's our version of semi-autonomous driving," Pinto adds. "It's standard across the board on all Pathfinder trims."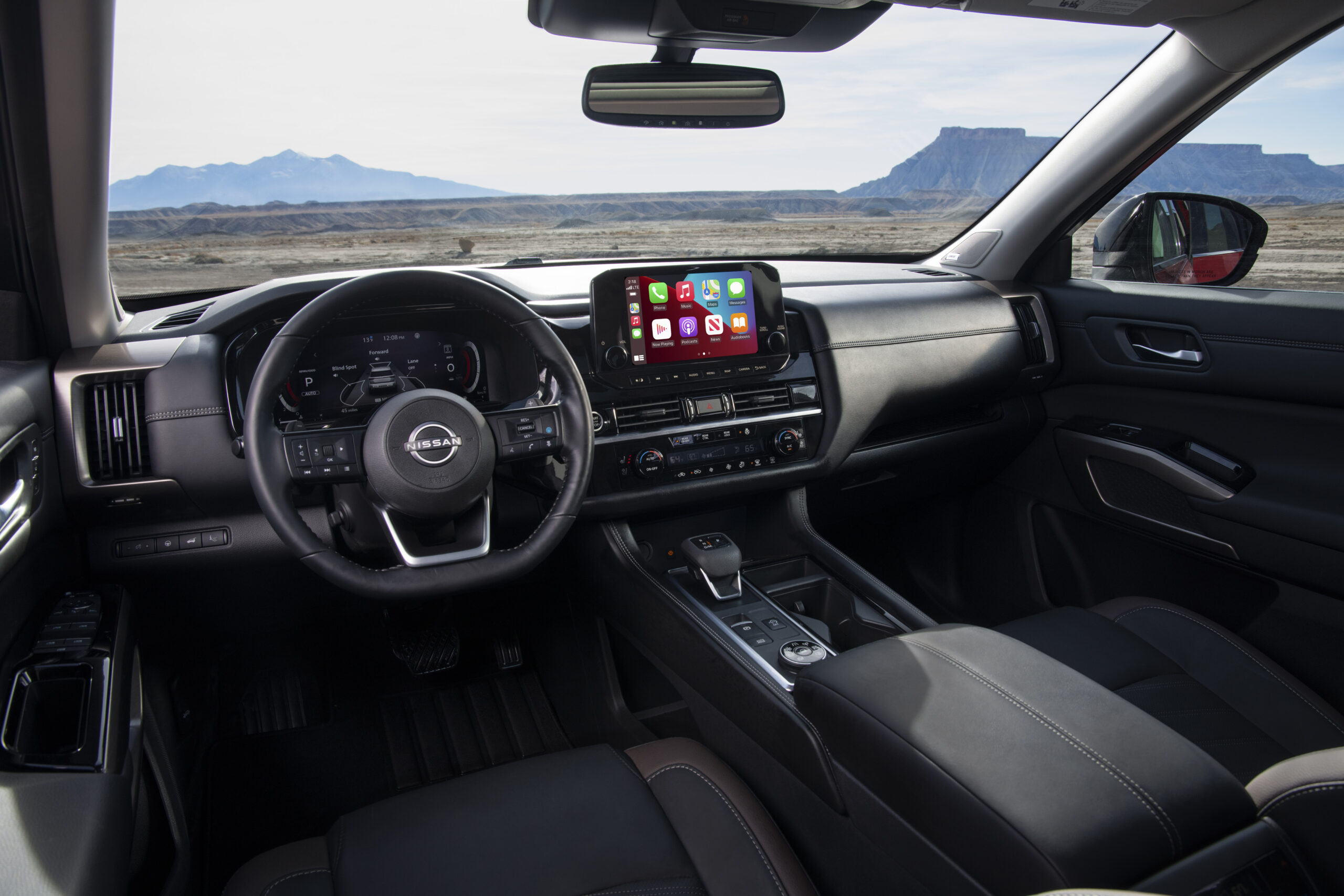 ProPILOT Assist is a hands-on driver assist system that combines Nissan's Intelligent Cruise Control and Steering Assist technologies. It features a stop and hold function that can bring the vehicle to a full stop in traffic, hold it in place and then bring it back up to speed when traffic starts moving again.
Every 2022 Pathfinder comes equipped with Nissan Safety Shield 360, which includes Intelligent Emergency Braking with Pedestrian Detection, Blind Spot Warning, Rear Cross Traffic Alert, Lane Departure Warning, High Beam Assist and Rear Automatic Braking. Intelligent Forward Collision Warning, Intelligent Driver Alertness, Blind Spot Intervention, Intelligent Lane Intervention and Rear Door Alert are also standard, while Traffic Sign Recognition is available. Ten airbags are standard.
For those fleet drivers who need to tow a trailer, the 2022 Pathfinder can pull up to 6,000 lbs, and the SV trim is offered with a factory-installed trailer hitch. The SV trim (and up) also gets a panoramic roof, which bathes the interior in sunlight and adds to the feeling of interior roominess.
Frontier
The last generation of the Nissan Frontier debuted in 2004, which makes an all-new 2022 model big news indeed. "We certainly took our time with it," Pinto says, "but we put a fair amount of energy and effort into this particular vehicle."
One of the key goals of Nissan engineers and designers was to make sure the all-new Frontier was right-sized. "A lot of vehicles are growing in size, and sometimes that's just not necessary," Pinto explains. "With Frontier, size is a key element. Many of our dealers have fleet customers who are in the trades and they really love the Frontier because of its size. They can easily drive it into the underground parking lot of a condo, which makes it very practical."
The all-new Frontier boasts an all-new powertrain with a new 310-hp 3.8L engine coupled to a nine-speed automatic transmission. Pinto says the new engine uses 93% new parts, and that this engine/transmission combo boosts fuel economy, making the Frontier an even better buy for fleet customers.
NVH is also improved. "The Rogue is my daily driver," Pinto says, "But thanks to all the effort that has gone into insulating the cabin of the Frontier from noise, vibration and harshness, when I sit in the Frontier it feels as refined as the Rogue."
Like the Pathfinder, the Frontier comes equipped with Nissan Safety Shield 360 as standard equipment. "The Rear Emergency Braking is a class-exclusive feature," Pinto adds.
"Some of the features available on Frontier, like a heated steering wheel and push-button start are not available with our competitors," Pinto says, "and we feel that today's customers have come to expect these features when they're shopping for a compact pick-up truck."
The all-new Frontier comes with improved cargo capacity, thanks to a deeper bed that offers 30% more usable space. Certain trims come with a factory-installed spray-in bedliner and a power outlet in the back. Three Utilitrack channels are available to make it easy to tie down cargo, and LED bed lighting assure you can see what you're doing, even in the dark.
Supply & demand
The Pathfinder was launched early summer 2021, while the Frontier debuted in early fall. The launch of two all-new vehicles is exciting news, but in this time of pandemic era when supply issues are a major concern globally, even better news is that both the Pathfinder and the Frontier are available for purchase here in Canada, albeit in limited quantities.
"Like all other OEMs, we are affected, "Pinto adds. "Inventory is light and demand is good, but we are working very closely with our dealers to ensure our customers receive their vehicles in a timely manner."
New, improved and packed with safety features and class-exclusive amenities, the 2022 Pathfinder and 2022 Frontier have been engineered to impress and are ready to hit the road as fleets get back to business.