The beloved Volkswagen bus is back… but in all-electric guise.
Anyone old enough to remember the original VW Microbus, which debuted in the 1950s, is sure to smile when they see the reinvented version of this beloved classic. Coming to Canada in later 2024, the 2025 ID. Buzz is sure to turn heads and evoke feelings of nostalgia when it arrives on our shores.
Patrick Danielson, Director, Product Planning for VW Canada says that the ID Buzz has been in the works for many years, but that the challenge has always been how to make a vehicle that strongly resembles the original Microbus while engineering it to meet today's safety standards and consumer needs.
"The original bus had an air-cooled engine all the way at the back," he explains. "It had a very flat front, and every inch of available space in the vehicle was utilized for passenger space and cargo space. That was possible because you had a tiny air-cooled engine jammed under the floor at the very back of the vehicle. Obviously, you can't do that anymore."
Electrification, however, changed everything. "With an electric vehicle, you have a skateboard architecture like the MEB platform we use, where basically the battery is the floor, and you mount electric motors at one or both ends of it," Danielson adds. "Now, you have that ability to truly maximize the passenger and cargo envelope of the vehicle with minimal intrusion from the drive system."
Lightning in a bottle
Once VW realized that they could reinvent this icon as an electric vehicle, there was no turning back. "We started working on concepts, going back to 2017," Danielson adds, "and it was lightning in a bottle. Everybody loved it. And from an engineering perspective, we knew we could pull it off and truly reincarnate this classic."
The ID. Buzz, Danielson adds, is a significant vehicle for VW in that it plays a critical role in tying the brand's past with its future. "I see this car as a bridge," he explains. "It's really a connection between where we came from as a brand, and our heritage, and where we're going with electrification."
Globally, the ID. Buzz will be available in normal- and long-wheelbase versions. "The normal-wheelbase version was revealed last year in Europe," Danielson explains, "so that's the version most people are familiar with so far. On June 2, we revealed the long-wheelbase version, which is 25 centimetres longer in the wheelbase, and offers up to three rows of seats. It also has a bigger battery, as well as more powerful electric motors. So that version of the ID. Buzz will come to Canada in the second half of next year."
The North American version of the ID. Buzz will be available in rear-wheel drive (282 hp) and all-wheel drive (330 hp) configurations.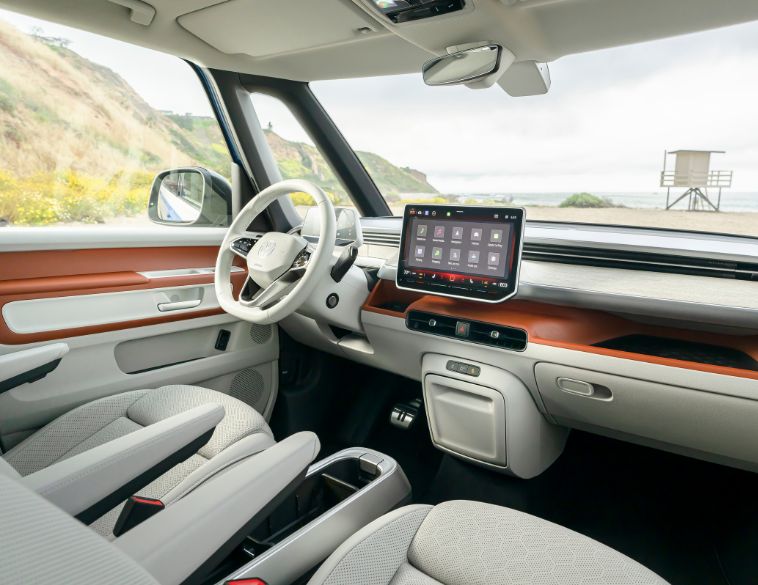 High demand
While very few of the owners of the original Microbus from the 1950s are still around to be interested in the ID. Buzz, Danielson says this new electric vehicle is sure to attract a new audience, and a broader one at that.
"We've done a lot of research, and the one takeaway seems to be that the ID. Buzz transcends segmentation," Danielson says. "It seems like it appeals to literally everybody. We have people who want to get out of SUVs and into this vehicle, we have people who want to move up into it from smaller SUVs, and we've even seen a lot of interest from people who are in luxury brands who want to get into this vehicle. So, you know, it's a bit of a segment buster."
Based on feedback Volkswagen is getting on social media and at auto shows, the company is expecting demand to be very high. "We're working with the factory, and with Germany, to try and get as many as we can to meet what we're seeing as really, really strong demand already," Danielson adds.
There's no doubt the ID. Buzz is a real head-turner, and VW is hoping that the excitement they're already seeing will translate into sales when this electric van comes to Canada.
"I've never, ever driven a vehicle that stops traffic and makes people smile the way the ID. Buzz does," Danielson explains. "I'm not suggesting that everybody who likes it is going to buy one, but it is almost universally liked by people. I think this positive energy is going to be infectious, and if feedback from dealers is any indication, the demand will be very, very strong. So we're excited."
The company isn't willing to discuss possible pricing just yet, but UK dealers are offering the ID. Buzz starting at £58,915.00 (CDN $100,000). How will that translate into Canadian pricing when it's revealed? Only time will tell.