On September 22, Roy Nichols Motors Chevrolet in Courtice, Ont., made history by celebrating its 100th anniversary in business.
The special celebratory event at the dealership included appearances and presentations by local dignitaries, as well as representatives from General Motors Canada and the Trillium Automobile Dealers Association. Among the guests were 100-year-old Lloyd Down a long-time customer and friend of the dealership team, as well as Adrian Foster, Mayor of Clarington; John Henry, Chair and CEO for the Region of Durham; as well as John O'Toole, for Erin O'Toole, and General Motors of Canada representatives Jerry Daniel (General Director of Sales), Peter Bagnall (Regional Director of Sales), Anita Ross (GM District Sales Manager), representatives from GM Financial including Vincent Woffenden (Vice President Commercial Lending), Stewart Dionne (Dealer Relations Manager).
Also attending were Frank Notte, Director of Government Relations for the Trillium Automobile Dealers Association (TADA); Clarington Board of Trade representatives Sheila Hall and Bonnie Wrightman, and Myles Brandt, General Manager for Canadian Tire Motorsport Park, as well as other dealers, friends, family members and customers.
A major highlight of the event; was an onsite giveaway at the dealership, of a brand-new 2022 Chevrolet Camaro, which was won by Sonya Budgell, who received the keys to her prize from Lloyd Down.
With over 150 people in attendance, the 100th Anniversary celebration of Roy Nichols Motors was a big success and a testament to a dealership that has always put customers first.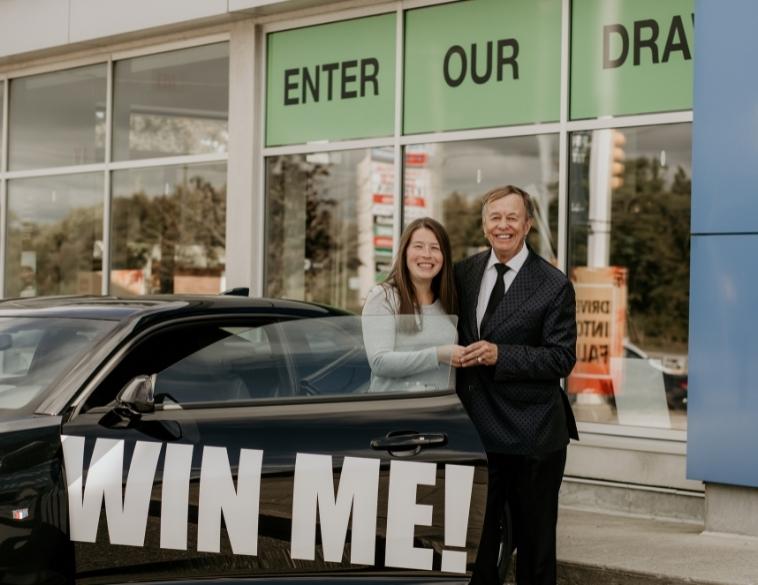 A centenary is a long-time for any business and in the automotive sector, represents a truly outstanding achievement. Since its inception in 1922, Roy Nichols Motors has grown from a small filling station and repair shop to a large General Motors franchised dealer serving the Courtice and Durham Region community.
Some of the key highlights witnessed by the business over the years include navigating the Great Depression in the 1930s, dealing with the suspension of civilian auto production during World War II as the industry geared up to supply tanks and other materiel for the war effort; learning to navigate through two fuel crisis in the 1970s, as well as combatting the sky-high inflation and interest rates consumers and dealers witnessed during that period and well into the 1980s; the Great Recession of 2008-09 and the subsequent bailout and restructuring of General Motors, as well as the COVID-19 pandemic of 2020 and the subsequent supply chain disruptions and rising inflation that have resulted.
Through all of this, Roy Nichols Motors has demonstrated remarkable resiliency and staying power, while continuing to grow and expand, all the while maintaining top-tier service to its loyal customer base.
"We are very excited to have achieved 100 years in business and to continue to serve our community indefinitely!" stated Gary Dalby, General Manager, Roy Nichols Motors.  We are overwhelmed with thanks to all those who have supported us over the years and continue to do so. We would not be here for 100 years and counting without our loyal clients!"