High-end amenities woo customer loyalty.
Located on the affluent south side of Edmonton since 2012, Lexus South Pointe treats patrons to an appropriately luxurious shopping experience.
While they're shopping or having their Lexus service, guests can enjoy a manicure or pedicure at the in-house spa, or practice their golf stroke at the virtual golf simulator.
"It's part of the Lexus brand, our slogan is 'experience amazing,' explains Jacy Caruth, marketing director at Lexus South Pointe. "Given our guests' more affluent lifestyles, their expectations are high, so we have to keep exceeding them."
Still, guests are sometimes a little taken aback at the high-end amenities, not expecting a car dealership to provide these features. However, it doesn't take long for them to indulge. "The manicures and pedicures are most popular," says Pasquale Tisi, general manager at Lexus South Pointe. "You'd be surprised how many men come in and get a manicure and a pedicure."
If a guest comes in and has a service appointment, they can take advantage of the spa or golf simulator. One of the product advisors is a golf pro, and if he's available, will do a swing analysis. "He's a good guy, and likes spending time with the guests, giving them tips," reports Tisi. 
Event space
The dealership also holds events such as business mixers, for free. "As long as it's a non-profit organization who are not drawing business or selling at the store," describes Tisi. "We have a huge boardroom that we lend out to our guests if they're part of a sports community. Recently, we had a group of doctors host a one-day seminar in our boardroom."
Of course, during the pandemic, the store had to temporarily pause the amenities. Car buying and servicing were limited to appointments only from March 2020 to September and October 2020. Finally, as everything started easing up, more guests could come in. "We were able to manage, to retool everything for COVID."
But the dealership is still being careful, with floor personnel wearing masks in the showroom and plenty of hand sanitizer available. The amenities opened back up eventually in 2021, and the first event was just this past July. 
Inventory may be low, and like other dealerships, there isn't an overabundance of cars on the ground, with maybe 12 or 13 cars. However, sales are continuing. "The guests that are having cars delivered in August ordered in March and April," says Tisi. "If a guest wants a particular car, we have to factory order it. Guests are being very patient with factory orders."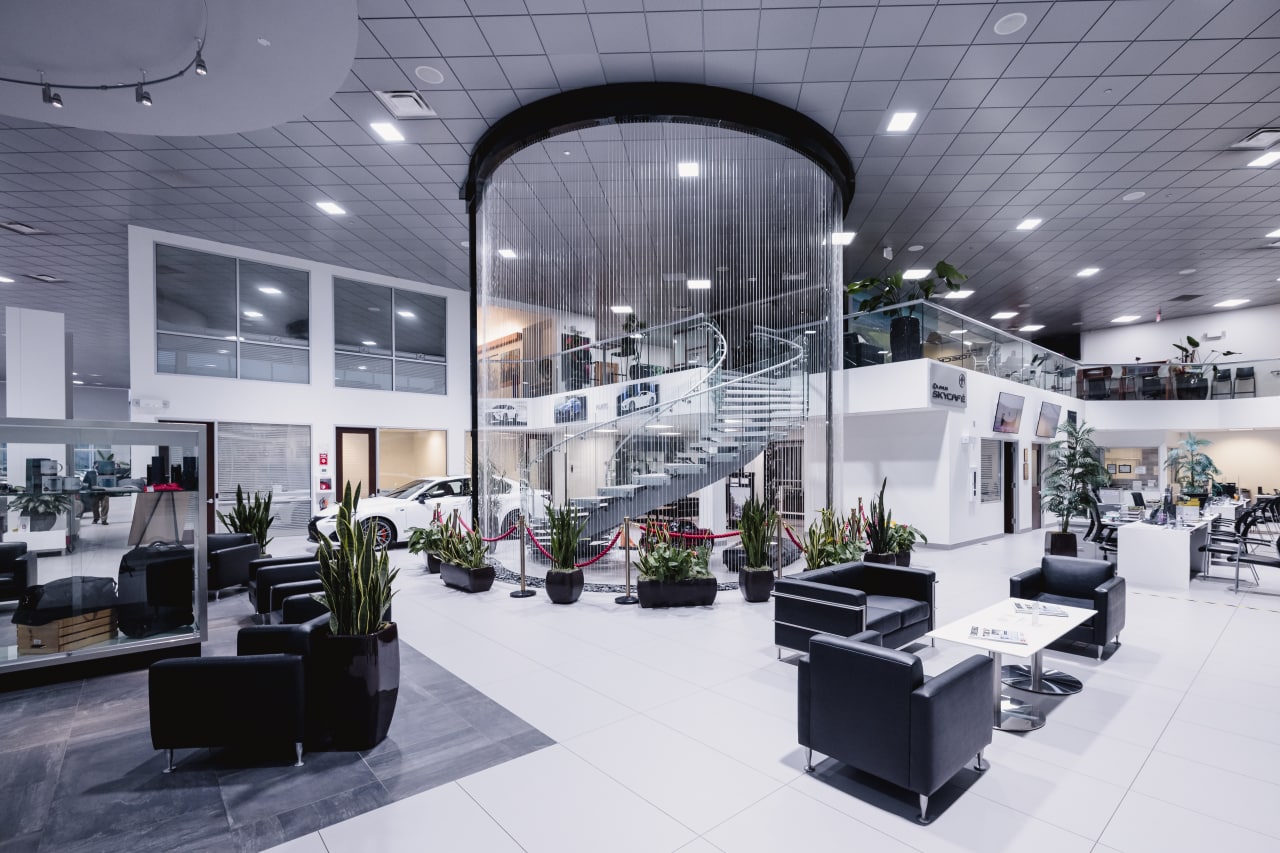 Hybrids are the most popular
Hybrids are the most popular, with anywhere from a two-month to a year wait for some of the products. The RX hybrid is sold out for 2022, some NX hybrids are available, but there is a four to five-month wait. UX hybrids are about a six to eight-month wait, while the big SUV LX600 is about a two to three-year wait.
"There are supply chain issues, we're still feeling it because of COVID," explains Tisi. "Our manufacturers are feeling it because they need a certain part and they can't get it, they have to wait. That holds up all the builds and supplies to the dealers."
But the public is aware that businesses everywhere have been impacted by COVID and shortages. They realize they have to wait, and all the industry and manufacturers are feeling the pinch.
Lexus has been focused on hybrid technology for some time. "It's been working well for us, and people like it because you have the best of both worlds," claims Tisi. "You have a gas engine, but also some hybrid electrical capacity, for fuel economy." 
Building loyalty
There's also the NX450 plug-in hybrid, and soon, an all-electric Lexus, the RX. The dealership just had an electrician visit to ensure that the facility can properly accommodate EVs, and plans are in the works to install an electric charging station. 
And of course, the spa and golf simulator will continue to be available to guests. "It's about wowing customers," says Caruth. "We're trying to build loyalty, to provide some value add to bring the customer back."
Right now, many customers are bringing in family members or children who are getting their first vehicle. Tisi explains, "They trust us to recommend the right vehicle for their son or daughter, or family friend."