Small dealership now largest independent in British Columbia.
In 1990, Phil Dagger couldn't resist the opportunity to buy a small used car dealership in Victoria, and borrowed $10,000 from his mother to buy inventory.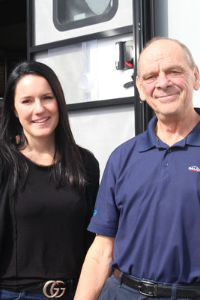 Thirty-one years later, that used car dealership – Galaxy Motors – has grown to eight locations, and is the largest independent dealership in British Columbia. There are five stores dealing with automotive, two that sell recreational vehicles (RVs), and another which services RVs. Galaxy is spread out along the island, with stores in West Shore, Courtney, Parksville, Nanaimo, Duncan and Victoria.
"He was an entrepreneur and loved buying land," reminisces Dagger's niece, Amy Jones, now the chief administrative officer (CAO) at Galax y. Sadly, Dagger passed away last year, so Jones and her older brother Mark, along with several talented staff, now run the business.
Galaxy was one of the first dealerships to offer sub-prime financing, which figured in its success. Always in step with the times, their current inventory includes a 2019 Toyota Mirai, as well as hybrids and EVs. "Many people in British Columbia and especially on the island and gulf islands are very conscious of the environment," describes Jones. Their biggest inventory challenge is keeping enough eco-friendly vehicles in stock.
RV market
It was Dagger's idea to move into the RV market, which has been thriving. "We started out with just sales, and moved into servicing. "With the pandemic restricting travel, people are staying local, so they're trying RVing," says Jones. Occasionally, there's even some cross-over, where someone will purchase a vehicle as well as an RV. "Everything can be financed under one roof."
Dealing with supply chain shortages has been a challenge, as it has been for many other stores. Galaxy has its own in-house buyers, and work with wholesalers, auctions, trade-ins and buy off the street. "We're finding different sources, and team up with other local online marketplaces," explains Jones.
The used car market has gone through many changes in recent years. Since OEMs are unable to take orders, or the orders take so long, many consumers who wouldn't have considered a used car are taking that route, because they don't want to wait. There's more pressure to buy and decision making has become time senstive.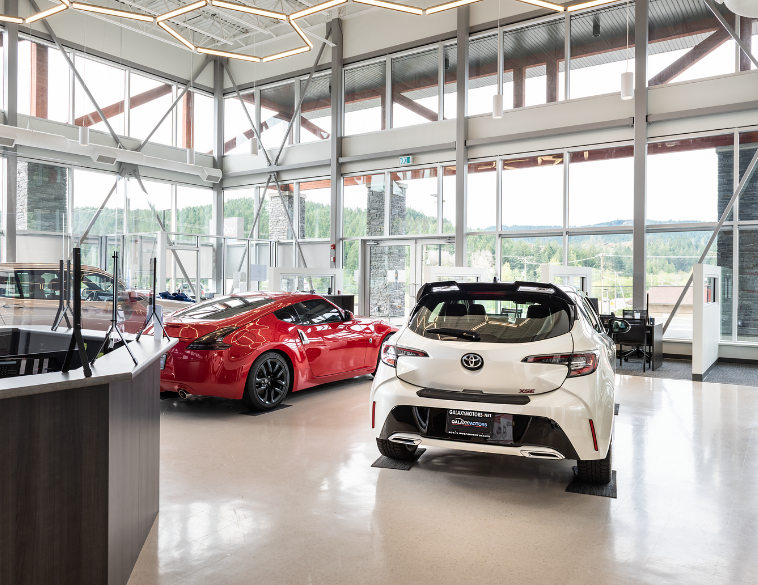 Cars are in high demand, so there's more money to be made with less bartering. "People can't just go to the franchise dealer down the street to buy a car," notes Jones. "If they want a new-to-them car, if we have it, it may be the only one on the island. And it might be gone by tomorrow or even today." Sometimes, Galaxy will attract consumers from Vancouver, who are willing to take the ferry and make the trip because they want a certain vehicle.
Among Galaxy's hottest sellers are trucks, and work vans like the Transit. "Those are tough to find, and something you just can't buy from OEMs right now. And if you can, you're waiting two years. People aren't willing to hold up their business to buy a vehicle."
She doesn't believe the inventory crunch will ease soon, as much depends on the chip shortage, which has been predicted to continue until 2024. Many of Galaxy's vehicles come from franchise dealers, who were mandated to sell their vehicles at 90 days. Since the franchise dealers no longer have that mandate, it has also impacted the inventory situation. Jones hopes the change will come sooner rather than later, but believes the industry is about a year and a half away from returning to normal.
Community
One of the other issues has been with staffing, and Galaxy has had to rise to the challenge. "Before it was more of an employer's market, now it's an employee's market," describes Jones. When fast food markets are offering two or three dollars above minimum wage, it's important to be competitive. "You have to be aware of what other people are offering, to look attractive to potential employees."
Following in her uncle's footsteps, Jones keeps the stores involved in the community, doing food drives for the Goldstream Food Bank, sponsoring minor sports teams and other charities. A "Galaxy Giving Back" event is held every month, where a local charity is provided with a financial support or event. Staff have also helped at a soup kitchen, serving lunch, and many initiatives. "These are not only good for our community, but also help with team building," says Jones.
"It was always important for us to give back. My uncle was very humble and knew he was blessed, never forgot where he came from."