The Chrysler brand revealed the Chrysler Airflow Concept at CES 2022.
Chrysler also announced that the brand's transformation will include the launch of its first battery-electric vehicle (BEV) by 2025 and a future all-electric Chrysler vehicle lineup.
"The Chrysler Airflow Concept represents the future direction of the Chrysler brand, providing a peek at the dynamic design, advanced technologies and seamless connectivity that will characterize the full-electric portfolio we plan to reach by 2028," said Chris Feuell, Chrysler brand CEO – Stellantis.
Interior
The Chrysler Airflow Concept is designed as a space to bring people together, both physically and virtually.
Enabled by STLA Brain and STLA SmartCockpit, the user experience in the Airflow Concept is agile, intuitive and always fresh. The interior showcases ideas for giving every passenger a personalized experience that seamlessly connects them with their digital lives, as well as the other passengers.
Over-the-air (OTA) updates keep Airflow Concept services current and let passengers quickly and easily add new and innovative features. That functionally keeps the vehicle fresh, exciting and capable, enhancing the overall ownership experience.
The backbone of the Airflow Concept user experience is the new electrical/electronic (E/E) and software architecture, STLA Brain. This architecture is highly flexible, breaking today's bond between hardware and software generations. It enables software developers to create and update features and services quickly, taking advantage of capabilities built into the cockpit without waiting for a new hardware launch.
The STLA SmartCockpit, demonstrated in the Airflow Concept and built on top of STLA Brain architecture, seamlessly integrates with the digital lives of vehicle occupants to deliver AI-based applications, such as navigation, voice assistance, e-commerce marketplace and payment services.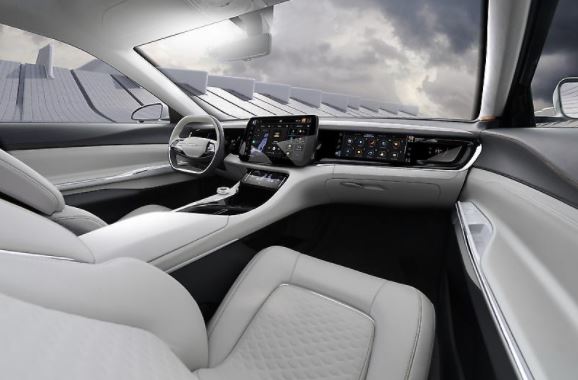 Fully Electrified
The Chrysler Airflow Concept is equipped with STLA AutoDrive, which delivers Level 3 autonomous driving capabilities and will be upgradable via OTA updates.
The concept features all-wheel-drive capability and is powered by two 150 kW electric drive motors (EDMs), one in the front and one in the rear. The concept is designed to accommodate larger capacity EDMs, offering the potential for future high-performance applications.
Drive motors are located toward the front and rear of the vehicle, maximizing interior space and enabling the large wheel size and wide stance of the Airflow Concept. The battery is designed to achieve between a 350- and 400-mile range on a single charge.
Exterior
The sculptural design of the Chrysler Airflow Concept envisions the next generation of premium transportation and user experience.
The Airflow Concept features a dynamic design proportion, with a low ride height and streamlined, two-tone roof line that achieves an elegant yet athletic profile while increasing EV range. A long wheelbase and wide track, along with large 22-inch wheels and tires, are enhanced visually with Celestial Blue accent colour cladding.