This family-run business continues to raise the bar for sales, service and community support.
Peterborough Volkswagen is a family run dealership that's been in operation since 1969.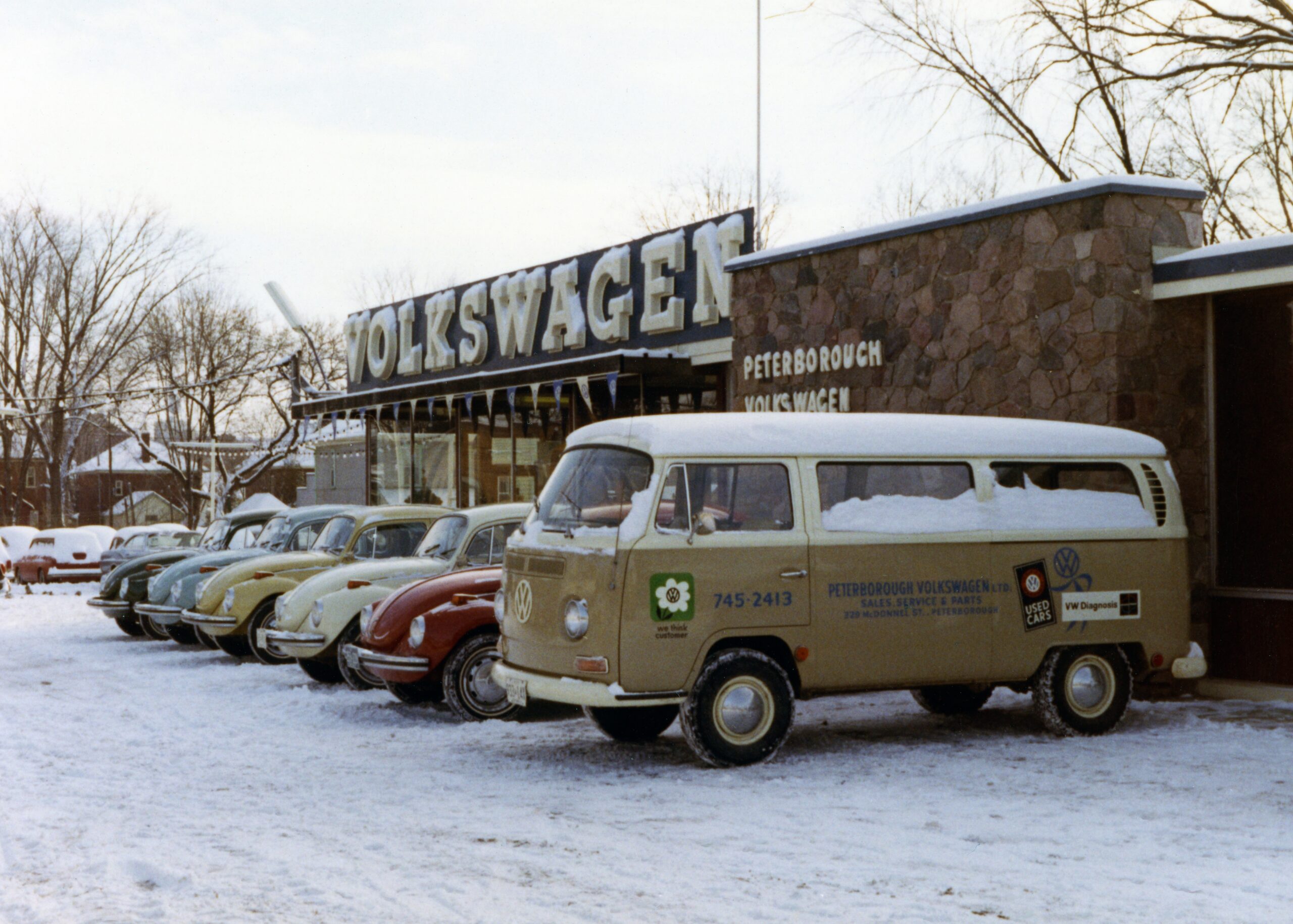 Back then Peter Eatson, his wife Rita and their son Michael, decided to relocate from Toronto to Peterborough and open their own retail location.
Peter, originally from the UK, trained as a service technician and later became a service advisor and manager.
New direction
He saw an opportunity and opening his own dealership was the logical next step.
As Volkswagen shifted its product portfolio in the early 1970s with the long-standing Type 1 and Type 2 displaced by modern, front wheel-drive models such as the Rabbit and Dasher, which evolved into the Golf and Passat, Peterborough Volkswagen evolved to.
An Audi franchise was later added and the location on the corner of Reed and McDonnel Streets became the go-to-facility for Volkswagen Sales and Service in Peterborough and the surrounding area.
Michael Eatson, who joined the business full time in 1987 and is now dealer principal, recalls as a boy that his parents worked hard at growing the business and he found himself immersed in it, often accompanying his dad on dealer trades and even visiting the local Volkswagen assembly and distribution centres.
In 2009, the dealership moved to its current location at 500 Towerhill Road, in the Northwest area of Peterborough.
While it might not have seen like a logical move at the time, considering the North American economy was in the midst of the Great Recession.
Ultimately, the move to Towerhill Road proved to be a very sound move, giving Peterborough Volkswagen a sizeable footprint on which to build and expand.
And, much like the industry and the OEM it represents, grow and expand the dealership has—though it remains a family-run business, with Michael's sons Eric and Graeme now joining the team as third-generation entrepreneurs.
In an age where more and more dealerships are becoming corporate-run entities or part of large groups, this aspect endows Peterborough Volkswagen with a unique and personal atmosphere.
Family atmosphere
Today, if anything, that personal, family atmosphere is proving more relevant than ever.
"We've always emphasized the ability to make doing business easy," says Eatson, who acknowledges that while Peterborough Volkswagen, like may franchised dealerships has significantly expanded its digital retailing footprint, the need for people to shake hands and look each other in the eye has by no means gone by the wayside.
The COVID-19 pandemic has, in many cases, reinforced the importance of one-on-one interaction, particularly as it relates to large, visceral purchases such as vehicles.
Eatson acknowledges that while COVID-19 did significantly impact the way things were done at the store, it also provided an opportunity for the team "to look at everything we did internally and make some adjustments."
A key one was introducing a pickup and drop off valet service, which proved so popular it has now become an integral part of dealer operations.
Eatson also notes that while sales and service processes had to change for both staff and customers in order to maintain health and safety protocols, the transition proved very seamless.
"We didn't have one customer complaint, about the changes we had to introduce, not one," he says.
Today, as businesses start to open up again, more customers are finding the benefits of that personal one-on-one consultation.
Eatson also explains that, despite disruptions that have been thrown at them, dealers on the whole are a tough and resilient bunch and he feels privileged to be a part of the industry and contribute to the lives of both the store's customers and the larger community, including the Trillium Automobile Dealers Association, of which Eatson is a board member and association President.
Upgrades and expansion
Have celebrated 50 years in business, Peterborough Volkswagen is looking to the future.
The existing building is being upgraded to the latest VW White Frame facility imaging and new extensions and features are being added.
A key one is a massive fully enclosed drive through service area and adding more electric vehicle accommodations including charging stations—all designed to facilitate future product and customer requirements.
The work is scheduled to be completed in 2022.
Although automotive retailing continues to evolve with more technology emerging by the day, Eatson says that personal, long-lasting relationships are still key in this business—a testament to Peterborough Volkswagen's 52 years in operation.
"I'm proud of the business my parents originally built and what we've accomplished over the years," he says.
"I'm also still excited to come to work every day to help our team deliver the best in customer sales and service we can to our clients and also to the community that has given us so much."