Designed to meet changing industry needs.
It's appropriate that the new Audi Mississauga Airport location is built to the new Audi "Terminal" design philosophy.
"The aeronautical theme ties in well with our location," chuckles Jonathan Breton, general manager, Audi of Mississauga.
When the organization outgrew its original store on Mavis Road in Mississauga, plans were made to build in the Pearson Auto Mall next to the airport.
Opening in April 2021, Audi of Mississauga's Airport building is a stunning example of the Terminal design.
But while most Terminal buildings are a single footprint over one floor plus a mezzanine, this one boasts three floors.
The ground floor houses a showroom with a service and parts department, with the main sales showroom on the second floor.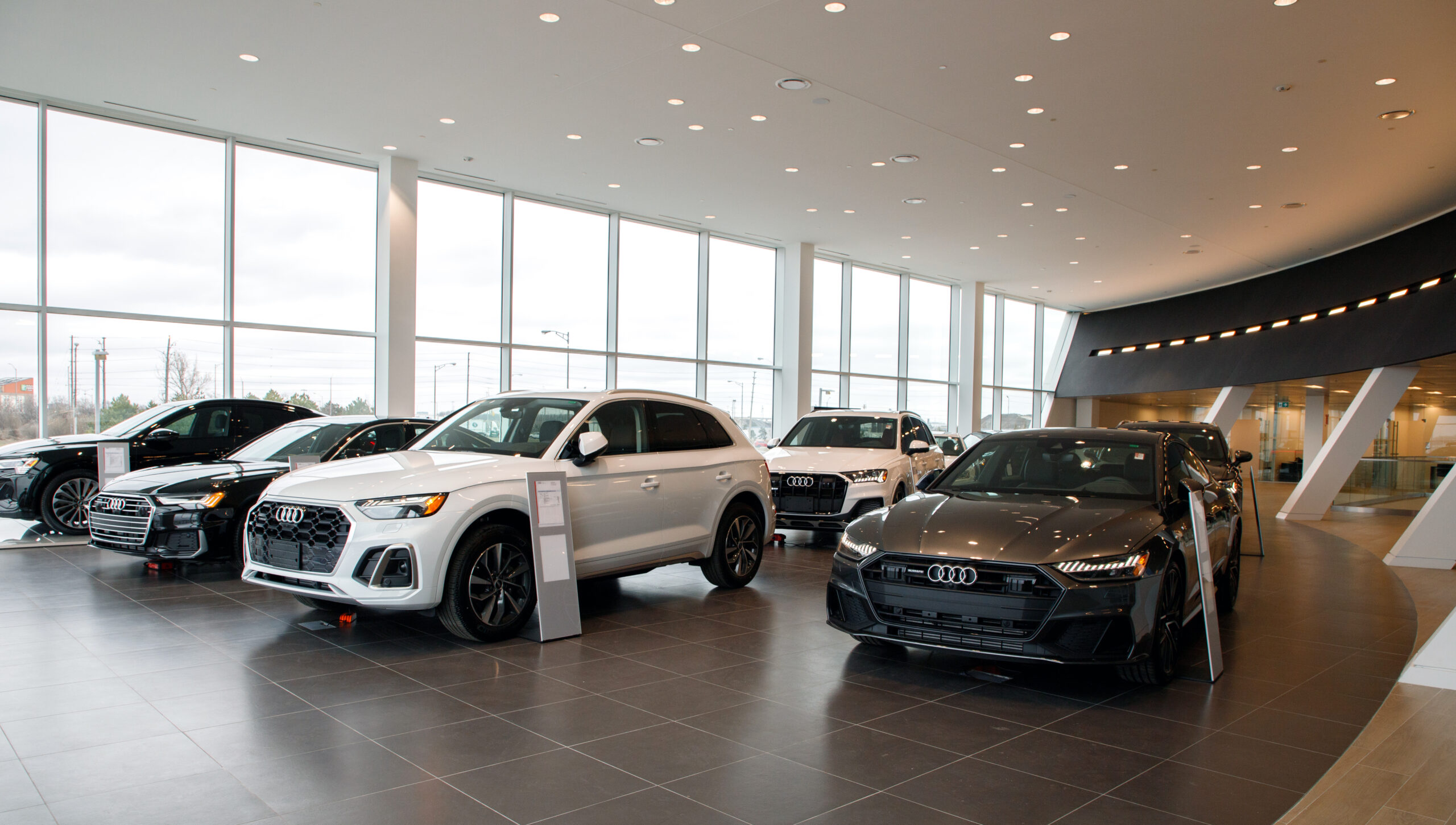 Accounting and administrative functions are on the third level.
"We wanted people to have different experiences, depending on where they were in the building," explains Breton.
Calmer environment
For example, a large and inviting customer lounge on the second floor opens into the main showroom.
"We found it's a calmer environment," says Breton. "It's more relaxing, and customers can explore many areas."
There are also multiple screens in the welcoming lounge areas where customers can configure or specify a vehicle, and explore in a no-pressure setting.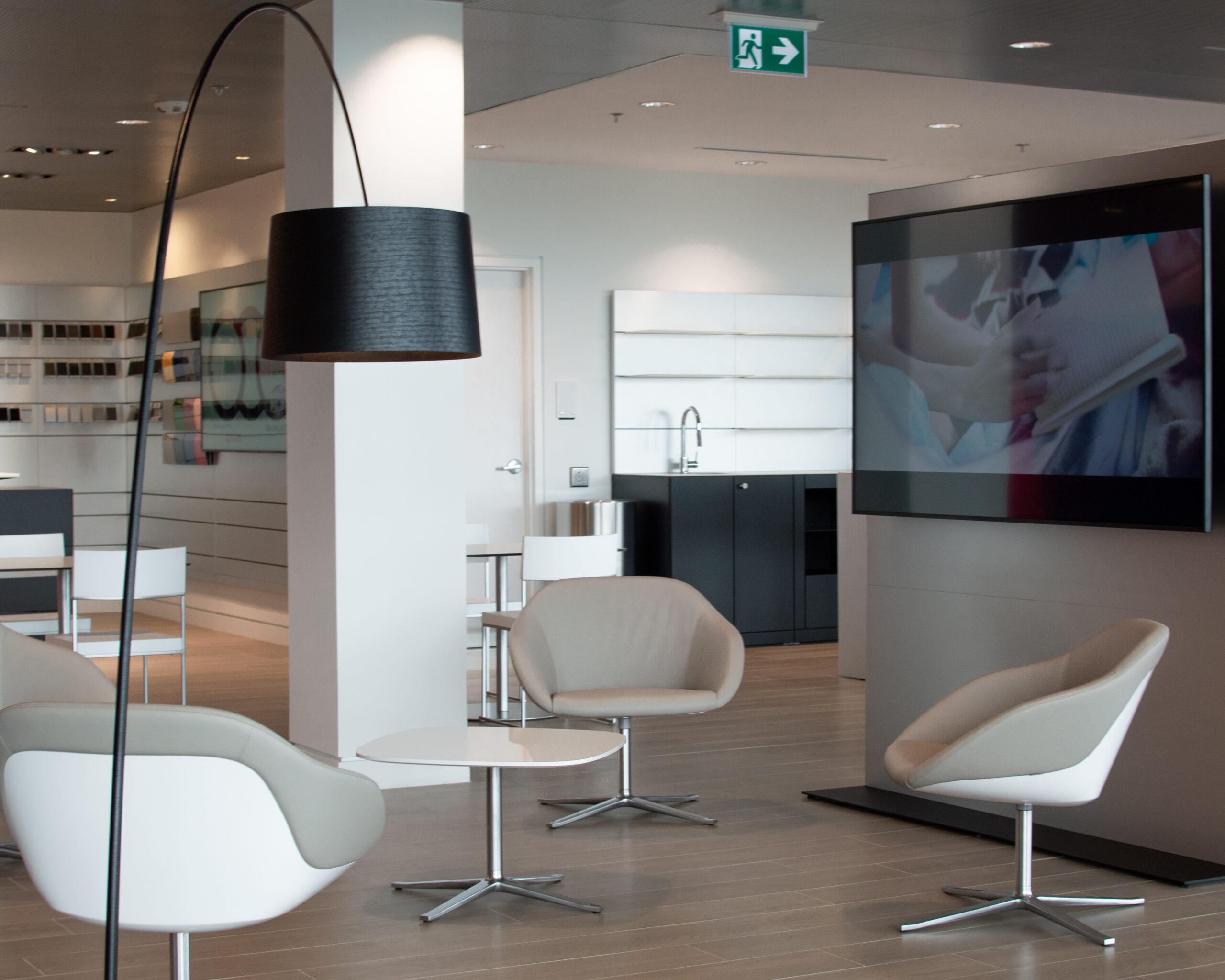 Audi of Mississauga is part of the family-owned Bramgate Automotive Group, whose founder was William Johnston. His business philosophy endures, to provide an experience that is easy, efficient and enjoyable.
"When we have clients here, we want them to feel at ease, not feel any pressure, and just have an enjoyable experience," says Breton.
An open concept theme continues seamlessly throughout the building. If a customer comes in for service, there are plenty of areas to catch up on emails, make a video conference call.
They can also take some time to browse the vehicles in the store's inventory through the many digital touch screens, look at the paint and interior trim samples, or ask to speak with a salesperson.
Cross-shoppers
The Mavis location is being transformed into an Audi Certified Plus service centre, with a focus on pre-owned business.
"In retaining our existing Mavis location, we've been able to continue to allow customers to experience the Audi brand for service and sales as we significantly grow our used car business and make ownership more convenient," says Breton.
Both stores are only eight kilometres apart, making it a convenient drive for customers. Customers can book service appointments in either location.
Being in an auto mall has its perks, and the new Airport facility is attracting more new vehicle buyers.
Breton has found there are more customers who are cross-shopping, not just with luxury brands but with mainstream brands as well.
"One change with this location is our proximity to more volume mainstream brands," he says. "Our vehicles like the Q3, our entry-level SUV or the A3 entry-level sedan, provide a good segue for mainstream clients."
Naturally, the dazzling state-of-the-art facility has caught the eye of higher-end customers purchasing the C and D segment vehicles, such as the A6, A7, Q8, R8 and others in the high-end Audi portfolio.
"Our growing Audi e-tron lineup including the newly launched e-tron GT is also showing a lot of interest," says Breton.
Future-proofing
Another major component in Airport design is future-proofing.
"We're preparing for how the retail space may change," says Breton.
During the building process, the dialogue with Audi engineers and architects included future-proofing the facility for EV growth.
There are a number of chargers on-site, with the ability to have fast charging and expanded fast charging.
As EV sales increase and the Audi EV portfolio grows, the Airport store infrastructure will be able to expand as necessary.
Currently, there are 14 workbays at the Airport store, which doubles the service capacity of Audi of Mississauga.
"There are 15 workbays at the Mavis location," notes Breton.
"We have the capacity to double the Airport location, so we can add another 14 or 15 at the back of the building." The plan is to fill up all 29 bays between the two locations, with future plans to expand up to 44 workbays.
The new location has been met with enthusiasm by staff and customers alike.
"When customers come to the new facility and see how much more space we have the new technology and equipment, it gives them confidence that we're investing in their experience, in the care of their vehicles," says Breton.
Employee feedback was used in the design and construction of the facility.
Their input was sought in selecting equipment, as well as layout.
That feedback is still being requested, especially on the third floor, which is not customer-facing.
"We're looking to create an office space that reflects the rest of the dealership," says Breton.
"Everything from the acoustics to the design layout."
"Bramgate's philosophy to provide easy, efficient and enjoyable experiences applies to customers and staff alike."