Volvo Cars Canada Managing Director, Matt Girgis provides a glimpse into the future of the premium Swedish brand in this country.
On March 2, Volvo Cars announced its corporate strategy for the future. By 2025 the company plans to have battery electric vehicles (BEVs) represent half of its worldwide product offerings, intending to boost that to 100 percent by 2030 and become a carbon-neutral company by 2040.
Volvo Cars' President and Chief Executive Officer Håkan Samuelsson also announced that as these BEVs become available, they will be retailed exclusively online for either purchase or subscription. These are major and ambitious steps for the Swedish brand and ones that are likely to generate many questions.
To help understand what the impact is of both future product development and retail plans on Volvo's Canadian operations, Autosphere virtually sat down with Matt Girgis, Managing Director, Volvo Cars Canada to find out more:
Volvo Cars Canada market penetration strategy
Autosphere: With Volvo Cars' announcement of having half their global fleet battery electric by 2025 and fully electric by 2030 how will that impact penetration in the Canadian marketplace?
Matt Girgis: It's a good question.
As you saw in the announcement earlier, we plan to continue adding battery electric vehicles to our portfolio and we plan to be fully electric by 2030.
From a Canadian market perspective, we see this strategy as helping improve our penetration. When you think about electrification and think about Volvo, we are still essentially a niche player in Canada. Our current volumes are relatively small and so are those of battery electric vehicles, but the latter is significantly increasing.
By fully committing to a BEV strategy we see it as a good opportunity for Volvo to grow its sales volume here in Canada which also aligns with our sustainability commitments and our ambition to be a carbon-neutral company by 2040.
From a practical perspective, we are aware that the adoption rate of BEV vehicles is taking some time and it is very different depending on which area of the country you are in—a trend that is likely set to continue.
That is something important for us to consider as we navigate through the growth of this sector, but overall, we see the BEV segment growing significantly and we are happy to be a part of it.
Impact on Volvo Canada dealer network
AS: With the other announcement of offering electric vehicles online only for purchase or via subscription, what does that mean for Volvo's existing retail network and how will it need to change to meet these requirements?
MG: For us in Canada, our dealer network will remain the same.
We are keeping our retailers and they have and will continue to play a very vital role in Volvo's ecosystem. Regarding the online journey as it relates to Canada, this is something we have been working with our dealers on since October 2019. We met with them and decided as a group that collectively, we needed to start investing more in the digital customer journey together.
Since then we have been working with our dealers to invest and develop tools to be able to provide online shopping functions with the ability to ultimately conduct the actual vehicle purchase transaction online over time. As we continue on that journey our BEV product strategy will form an integral part of it.
Ultimately, Volvos will still be sold at the dealership in Canada and our customers will still interact with our dealers whether online or in-person and that applies not only to the retail of new vehicles but also servicing and used vehicles as well.
Consumer expectations with Volvo ownership
AS: How do you see consumer expectations evolving in the coming years as it relates to ownership of Volvo vehicles and what are some aspects retailers need to consider?
MG: Part of this—and it's something we've been seeing since we started this online journey with our dealers — is the ability to provide personalized experiences for our customers, which includes providing transparency and convenience.
And having digital tools to facilitate vehicle selection, pricing and the ability to purchase really helps in achieving that.
Ultimately, it's about meeting the customer where they want to be met. If they want more of their buying and ownership journey to take place online then you need to be able to provide that. Alternatively, if they want more of that physical interaction at the dealership, you need to be able to provide that too.
No matter the platform or solution, we must consider the three objectives of personalization, transparency and convenience. These are three important attributes of the vehicle ownership experience and we see them becoming a more important part of our customer's lives, especially as we ramp up our offerings in the BEV segment.
AS: What does the vehicle Care Package built around Volvo's EV offerings include and how is it designed to work?
MG: Right now, the Care Package is a global initiative that is happening in certain markets and we are looking at what it means for Canada and how to pursue it.
Holistically, this package intends to provide additional maintenance and services as part of the BEV ownership experience and it is something we are currently evaluating for the Canadian market.
Volvo XC40 Recharge
AS: Moving onto BEV products, you recently launched the XC40 Recharge and we saw in the global announcement plans for the C40, can you tell us a little about these what it means for the Volvo brand in Canada?
MG: The introduction of the XC40 Recharge is a very significant step—in fact, it is probably our most significant launch in the history of Volvo.
It provides us with two important objectives, firstly to help Volvo fulfil its purpose to achieving freedom of mobility in a personal and sustainable way, and secondly, as we mentioned earlier, the opportunity to increase our brand awareness and sales volume through one of the fastest-growing vehicle segments both here in Canada and around the world.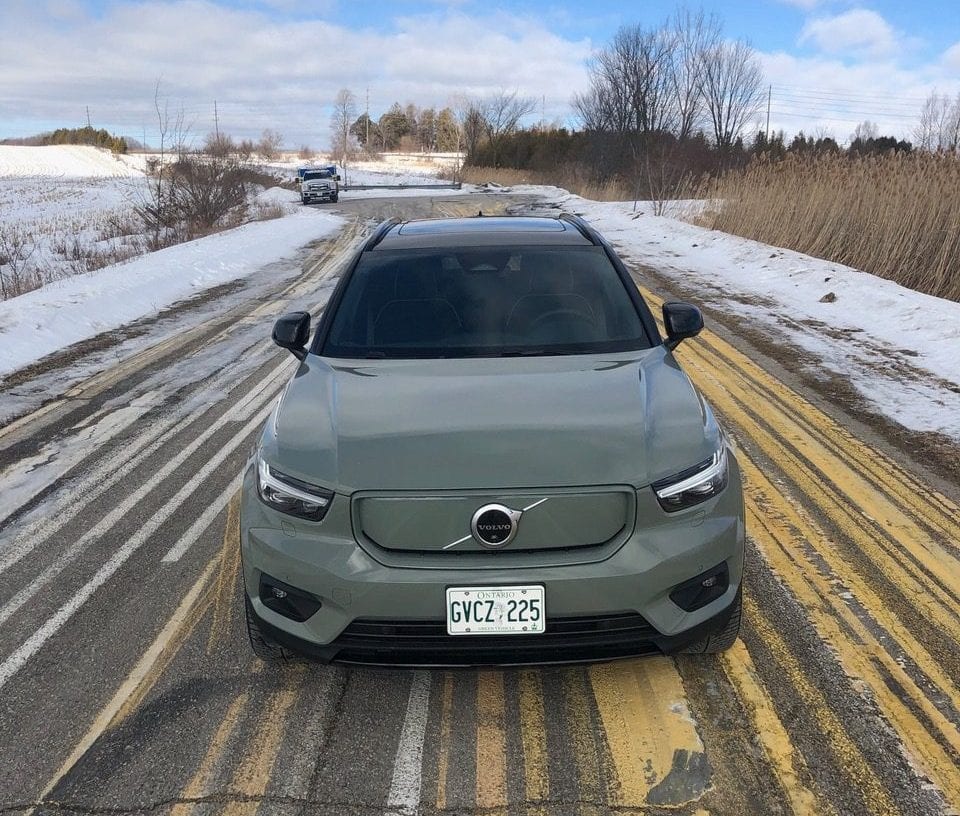 As for the C40, it is also very significant in that it is the first Volvo designed from the ground up as a purely battery electric vehicle. It represents a statement for us in terms of our future direction and we do have plans to bring it to the Canadian market.
Our current strategy will see the C40 available in small quantities toward the end of 2021 to ramp up the volume in 2022.
Regarding an electric fleet infrastructure
AS: How is Volvo planning to develop the infrastructure to support an increasingly electrified fleet here in Canada?
MG: This is a very important question as it relates to our electrification strategy.
Volvo has partnered with ChargePoint, one of the largest charging networks in Canada to help give our customers awareness and access to the charging infrastructure available across the country.
Our ultimate goal through this partnership is to firstly, try and make the whole charging and BEV operating process as easy as possible. This will be done by providing awareness for our customers as to where they can find ChargePoint locations and integrating that as part of the infotainment suite in the XC40 Recharge and the upcoming C40.
Secondly, our goal is to work alongside other vehicle manufacturers to have government support in developing infrastructure to support EVs.
Both the federal government and several provinces have ambitious goals for vehicle electrification. For us to get there, we need to work collectively to achieve them.