The new Kia Carnival was introduced to the Canadian market on February 23rd at a virtual launch.
Available as early as next spring, this spacious, SUV-inspired family vehicle has been designed to meet the realities of this market.
The Kia Carnival offers SUV design, modern luxury, innovative technologies and the most spacious cargo space in its class with a capacity of eight seats. Five versions are available: LX, LX+, EX, EX+ and the SX, starting at $34,495.
Kia Canada thus unveils a first in an automotive segment in search of originality and renewal. The all-new 2022 Kia Carnival is the result of years of relentless refinement of sport utility vehicles. The Carnival combines utility, pleasure and modern luxury.
"We can't wait to see Canadians behind the wheel of this new vehicle," says Elias El-Achhab, Chief Operating Officer of Kia Canada. "With bold SUV-inspired features, incredible cargo space, our most advanced safety technologies and luxurious amenities, the Kia Carnival is the embodiment of our forward-thinking design philosophy."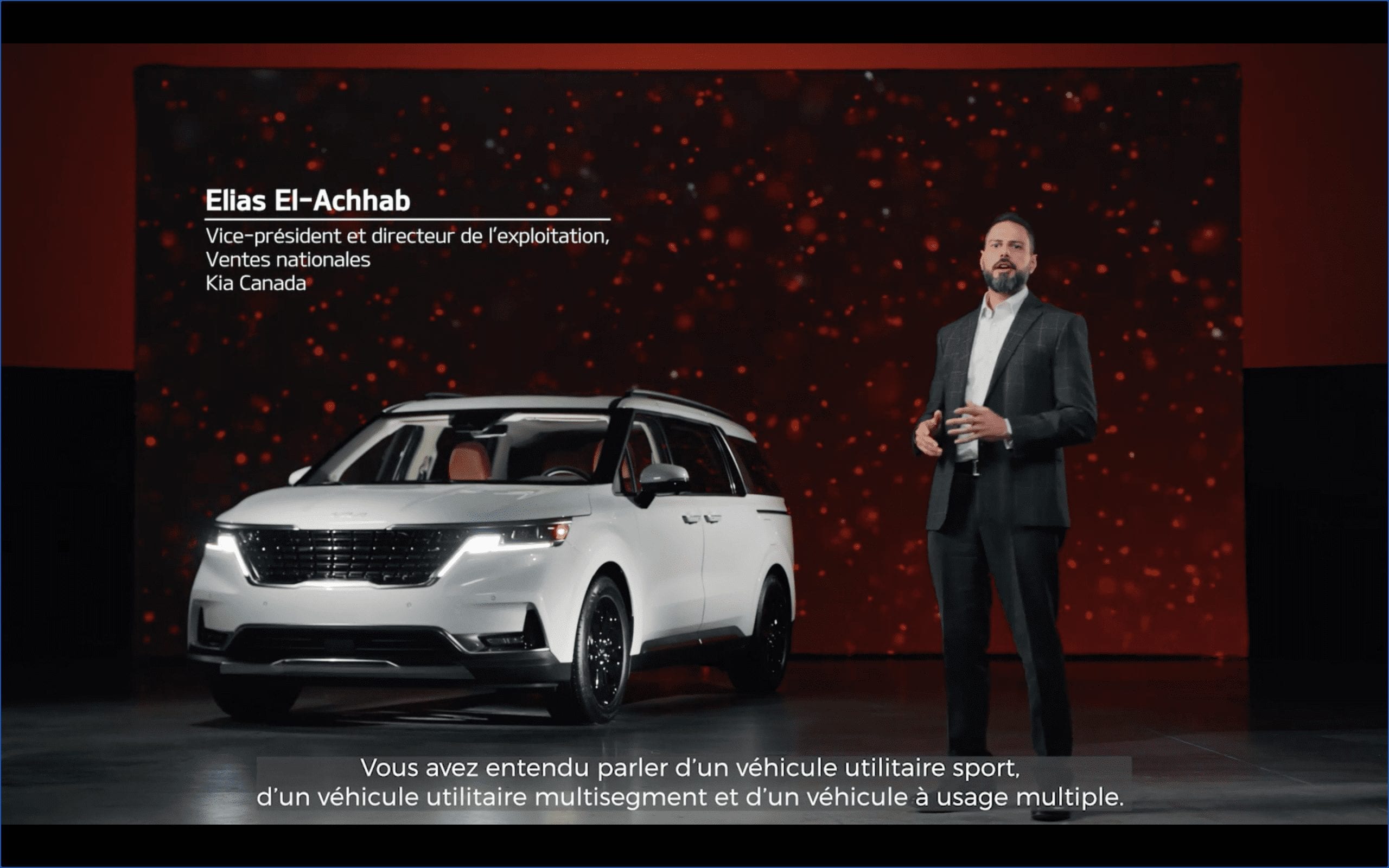 Kia's all-new evolutionary vehicle combines practicality with sporty, attractive design, with some distinctive exterior elements, including: SUV-inspired design (resembling the all-new Sorento and the popular Seltos), a bold, contemporary front end, sculpted styling, advanced headlamps and an integrated geometric grille. It offers pronounced lines on the hood and bumper, as well as metallic trim on the bumper. It features a sculpted, pronounced body line, connecting the front headlamps to the Carnival's taillights with a single side-slash. Protruding fenders, black and chrome moldings and a chrome C-pillar add a touch of luxury.

The Carnival features large two-tone geometrically shaped mirrors and a camouflaged rear window wiper that adds to the elegance of the package. Skid plate trim and rear reflectors provide the perfect balance between ruggedness and refinement. Its distinctive, wide and horizontal stance gives the vehicle a strong, modern and futuristic personality.

A spacious interior

The impressive design of the Carnival's exterior is also found inside the new vehicle. It offers modern comfort and luxurious style surrounded by futuristic technologies. These include a panoramic screen, with optional integration with the 12.3-inch TFT LCD screen in the dashboard and the navigator screen; a simple dashboard made of luxurious, high-gloss materials; and a chrome line (reminiscent of the Carnival exterior) that runs the entire length of the dashboard and integrates slim, elegant vents.

Two interior colors are available: Elegant Black and optional Martian Brown leather with optional 3-D hydrographic trim and deluxe stitching. VIP chairs with adjustable headrests and footrests are also available. The goal is to create an environment that promises the automotive equivalent of a business-class trip.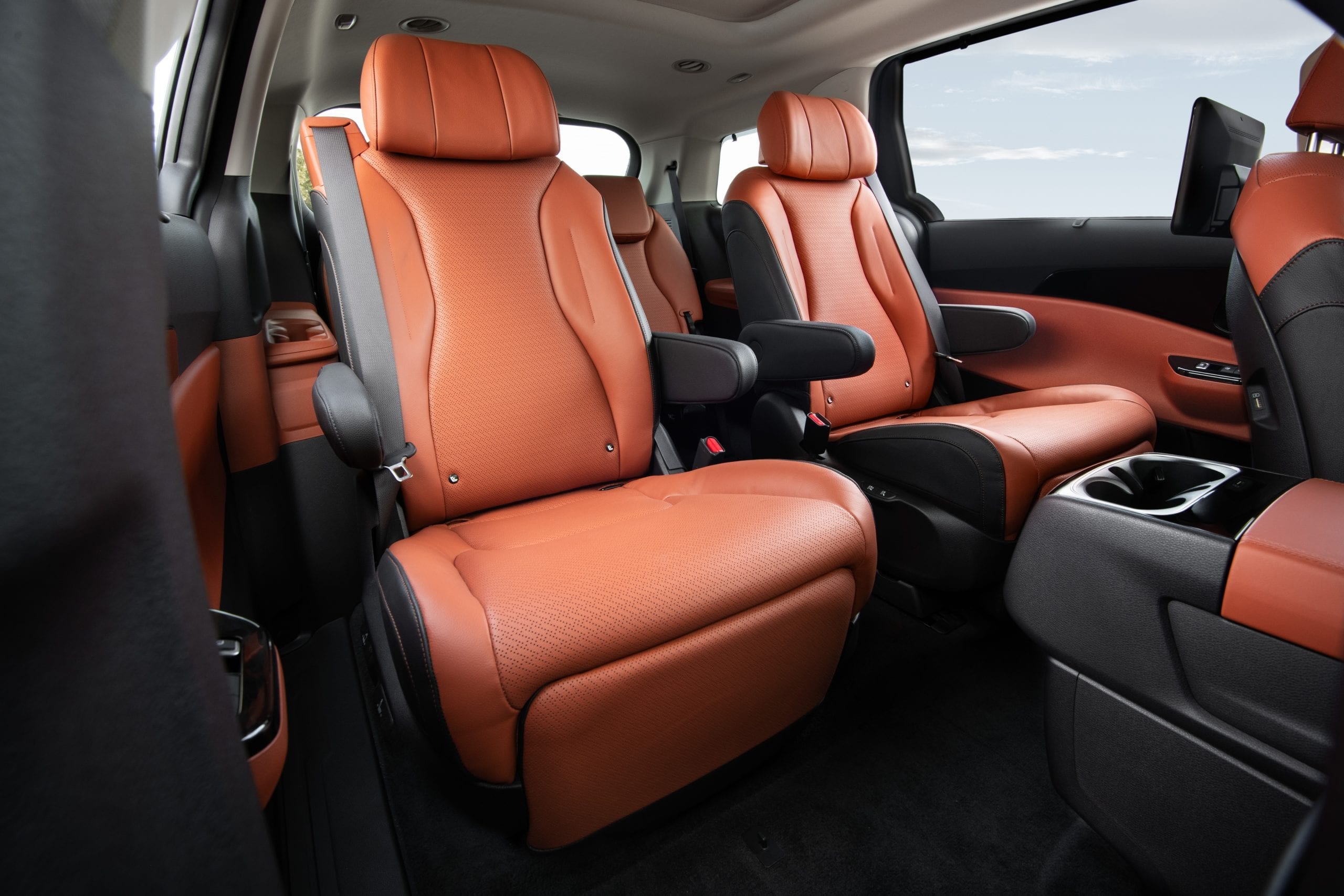 The interior also offers layout options and impressive space for passengers. The interior is available in different seating configurations for the seven-seat and eight-seat versions. The second-row sliding seat on the eight-seat version makes it easy to look after the little ones in the back or make room for them when they grow up. You can even create a table by folding down the centre seat back, remove the second row seats individually (8-seat version) and fold the third row seat into the floor to increase cargo space (7- and 8-seat versions).
The technical aspect
The Kia Carnival is powered by a 3.5L V6 engine with an eight-speed automatic transmission. The increased use of hot-stamped components and ultra-high-strength steel reinforces the torsional strength and rigidity of the body, ensuring stable handling. Insulating and soundproofing materials make the ride quieter. Aerodynamic improvements to the wheels, front bumper air curtain and mirrors reduce fuel consumption.

Built on the new N3 platform, the Carnival is lighter, stronger, quieter, safer, more stable and more aerodynamic than ever. Safety and technologies are part of this new vehicle, which includes optional custom user profiles, optional Apple CarPlay and Android Auto wireless features and an optional wireless phone charger. There's Bluetooth connectivity for multiple devices and up to nine USB ports and two inverters. An optional Bose deluxe audio system is available.

Also available are UVO Intelligence system, silent mode and the ability to see passengers through an interior camera. These features keep the driver's attention on the road.

Driver assistance and safety

The Carnival is as safe as it is intuitive. The manufacturer's reputation for precision and performance and its safety features precede it, and have been applied to the Carnival as well. These features include: Lane Keeping Assist, Intelligent Cruise Control, Driver Attention Loss Alert, Automatic Headlights and Parking Distance Alert (standard rear sensors and optional front sensors).

Also on the subject of advanced driver assistance and safety equipment, Carnival offers optional Front Collision Avoidance Assistance with Intersection Protection, Rear Occupant Occupant Alert and an optional Panoramic Display. The optional Blind Spot Display is also available. This option provides a 360-degree view of the vehicle environment. Available Intelligent Cruise Control with On-Highway Assist is available, as is optional Safe Exit Assist.

For more information on this new family vehicle, please visit kia.ca/carnival.