For modern collision centres, time is money.
The faster and more efficiently a vehicle is repaired, the better the profitability for the shop. Traditionally, one aspect of the repair process that added the most time, was drying or curing during the refinishing stage.
Over the last 15 years, there have been huge improvements when it comes to drying and curing technology/solutions. This has enabled collision centres to compress cycle times while delivering superior results.
Here, Autosphere provides a look at some of the latest drying/curing equipment/products available on the market.
ONECHOICE UV-Cured Primer Surfacers
When choosing a primer surfacer, how fast it's able to cure can have a significant impact on the entire refinishing process. ONECHOICE UV-Cured Primer Surfacers—available from PPG, can be fully cured and ready to sand in as little as two minutes. Available in ready-to-spray quarts, as the SU 1280 UV or as an SUA 1280 UV Aerosol Shake 'n Spray, these ONECHOICE UV-Cured Primer Surfacers are designed for ultra-fast medium and small spot repairs and feature high build performance with the two-coat process enabling a film build of 4-5 millilitres. The SUA 1280-UV Shake 'n Spray variant offers high build performance over a wide range of properly prepared substrates that include most rigid and semi-rigid plastics. It can be applied by simply shaking the can and spraying, requiring no mixing, nor clean up. Combined with any handheld UV LED lamp that emits a UVA wavelength of 395 or greater, the curing time is just two minutes and immediately ready to sand. The ONECHOICE UV-Cured Primer Surfacers can also be cured by direct sunlight, in 10-30 minutes, depending on the UV intensity.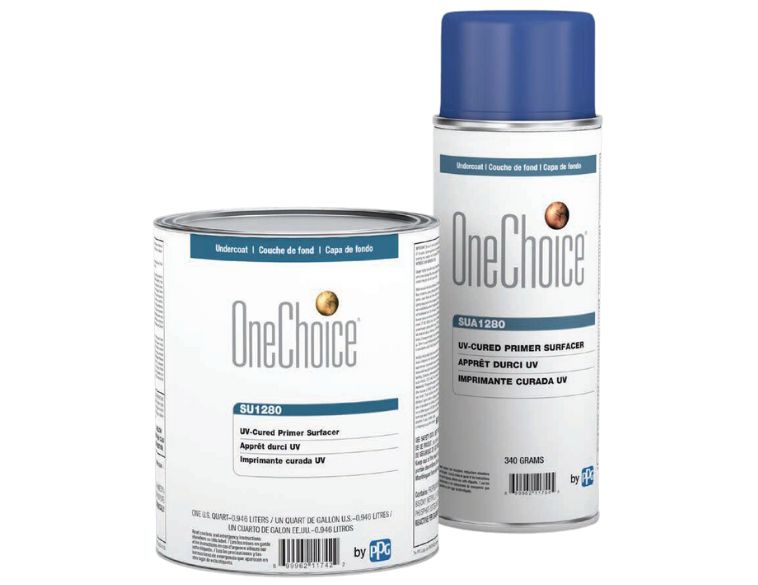 SATA dryjet 2
The dryjet 2 from SATA, is designed as an economical, durable and low-maintenance dry blow gun. The dry jet 2 operates on the Venturi principle, meaning that in addition to the supplied compressed air, a multiple of ambient air is sucked into the device. The uniform, wide air flow generated in the injector zone of the wide spray nozzle also contributes to a reduction in flash-off time. This allows the SATA dry jet 2 to achieve an approximately 15 % higher drying performance compared to commercially available models. For collision centres, this enables shorter drying times with waterborne paint systems, integrated air regulation, long life and low maintenance, as well as added convenience features. These include a disposable sieve from the RPS multi-cup system, an ergonomically designed handle, and easy handling.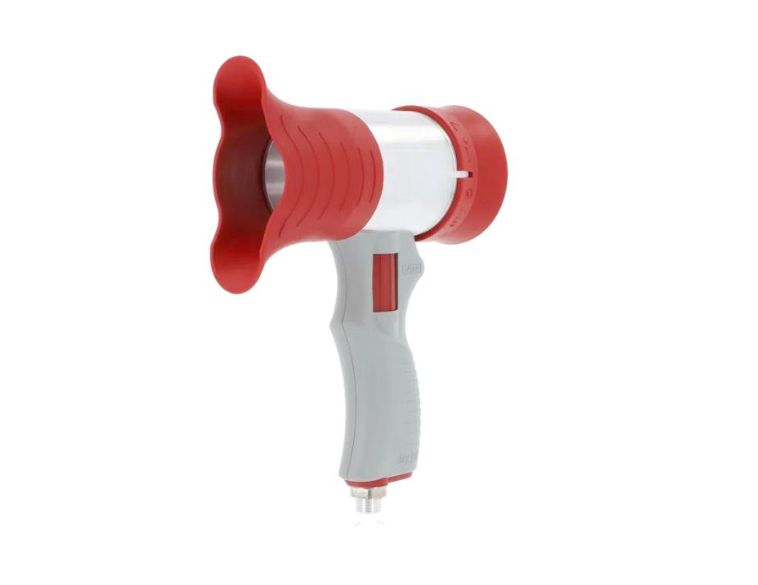 Symach FlyDry Gas Catalytic IR Robot
Symach's FlyDry gas catalytic infrared drying robot features UV curing and is designed for use primarily during the prep process, enabling rapid drying/curing of body fillers and primers.
Harnessing the power of cutting-edge Infrared-Drytronic and UVA-LEDtronic technologies, the advanced FlyDry system is designed to ensure efficient and thorough drying of both standard paint products and UV coatings on every part of the vehicle.
The FlyDry robot is designed to be installed within preparation bays or spray booths and possesses the versatility to dry various coating layers such as body filler, primer, waterborne basecoats, and clearcoats.
Constructed with an overhead crane and an automatic column, the FlyDry allows for seamless 360-degree rotation and automatic movement across all sides and horizontal sections of the vehicle.
Equipped with an arm featuring 2 IR-Drytronic lamps and 2 UVA-LEDtronic M2 lamps, the FlyDry encompasses a height coverage of approximately 2 meters (6′ 6 ¾"). This arm seamlessly navigates the entire work area, facilitating the drying process of an entire side of the car in a single, efficient pass. For 2K primers or UV primers, the complete side of a car can be dried in as little as 6-8 minutes.