The essence of which a being is made, and what it will do with it, is the best-kept secret.
In Magog, CARSTAR Magog is a vast 20,000 sq. ft. workshop where repairs of all types of vehicles, from trucks and boats to trailers and RVs are done.
As discreet as he is, the least we can say about the owner of CARSTAR Magog is that he's got a nitrogen-fueled tiger under the hood.
Soft-spoken and poised, there's nothing to suggest that David Brodeur, a lifelong enthusiast for all things motorized, has the knack for making dreams come true in a jiffy, just as his early days predicted.
Even though he's in his mid-fifties, he's owned an uncountable number of cars since, at the age of 15, he put together his first Camaro: an 83 repainted in yellow.
At the time, he'd been surprised to be laughed at for this color-coded '70 Corvette, but eventually concluded that in making this choice, he had—after all—had a good idea.
Successful test
Like any self-taught person, young David couldn't have had a better introduction to the finer points of mechanics, electricity and bodywork than by dismantling and reassembling this vehicle.
His first challenge was twofold: to prove to himself, his father and his uncles that he was of the same calibre as they were, and to celebrate at the wheel when he got his driver's license, which he did.
And he tells us in all simplicity, without the slightest hint of pretentiousness, about a career path that could not be more astonishing, which he had started on "the right track" as soon as he came of age.
"Like eating, it's important to learn every day," says David.
A drop-in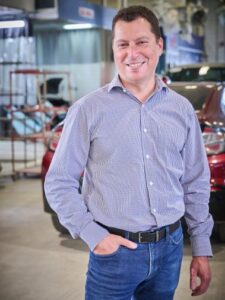 David's story is not that of a dropout, but of a drop-in who, as a teenager, had all the green lights to choose, after a dip in CEGEP, to return to what motivates him most.
Clearly, from the outset, he had all the keys needed to bring these vehicles back to life, transforming them in all respects into powerful, gleaming machines.
Here's where his inextinguishable passion and his taste for meticulousness and perfection successively led him following the closure of Doré Automobiles where, at the age of 18, he had only been a mechanic for 8 months.
Fire from all directions
As ignited as those engines whose power never ceases to fascinate him, David Brodeur, who can only sleep well if he has learned something new during the day, has always fired on all cylinders.
So he immediately took advantage of this unexpected and obligatory holiday to devote himself fully to rebuilding severely damaged vehicles, and to pushing performance to new limits.
Despite his versatility, which already included expertise in the reassembly and conversion of powerful engines, he couldn't resist the challenge.
At the age of 20, he agreed to become a partner in the used-vehicle sector, thus founding Salon de l'auto: a Magog business that still has a foothold there.
From challenge to challenge
Two years later, he gave a helping hand to Pièces d'auto Omerville, which added a mechanics service to its recycled parts offering, a business he would later buy and sell.
This was followed by two seven-year stints: one in sales at Beaucage Chevrolet, where he became Director, and the other at Magog Ford, where, on his 30th birthday, he became co-owner and head of marketing.
His more than notable successes were the result both of his networks of acquaintances, many of them in motorsports, and of the reputation he had built up with customers, he would say.
Back to basics
After a break that took him down other paths, those of catering by co-founding Osé Sushi, and land management, which he still looks after, in 2015 he accepted the offer of auto body repairer Yvon Dostie.
Having weighed up the potential of the company and CARSTAR Magog's ultra-modern building with underfloor heating and full air-conditioning, he decided to return to his roots.
In his 7 years at Ford, he had seen the astonishing evolution of all aspects of the industry up close, in two body shops, so he had no hesitation in buying the company in 2020.
All the way to RVs, yachts and sailboats
At CARSTAR Magog, with its 26-foot-high section, David Brodeur repairs cars, cubes, trucks, cherry pickers, RVs, motorhomes, yachts and sailboats.
He achieves this by nurturing a team spirit based on the same quest for accomplishment that drives him, and by ensuring that everyone finds satisfaction in tasks that match their skills.
David Brodeur is convinced that we must prioritize the need for self-fulfillment.
Despite the shortage of qualified auto body repairers, David Brodeur only hires candidates with a passion for the trade, and doesn't hesitate to look abroad when he can't find serious apprentices.
For example, he hired 3 Filipinos and 1 Mexican through an international recruitment agency to fill positions in its specialist department, an option it considers indispensable.
Last but not least, he has the invaluable asset of his wife Jade Lambert Moreau's rigorous training as a notary, who is always on hand to assist him.

The exhilarating world of David
David Brodeur, who drives a Jaguar F-Pace on a daily basis, is not a collector, but a connoisseur who knows what's inside all the vehicles he's acquired.
Here are the models he has tested, driven and even transformed over the past 30 years, along with a few details about a dozen of them.
AC Cobra

Camaro 83

Camaro IROC-Z

Charger 66

Chevelle 68

Chevy II 67

Converstible 68 Corvette Stingray 427 bhp 4-speed

Corvette Stingray 75

Malibu 81

Convertible Mercedes 560 SL – 2

Mustang 65 66 67 68 69

Commemorative Mustang Shelby GT500

Mustang Shelby GT500 Eleanor

T-Rex

Side by Side

Motorcycles

Sea bikes

Snowmobiles

Off-road