Battery management and repurposing, diagnostics, among key issues.
It's hard to turn anywhere in the automotive industry today without some reference to electric vehicles. Many governments are pushing hard to incentivize widespread adoption of them, while media pundits extoll the virtues of zero tailpipe emissions. When we look at the entire automotive ecosystem, however, the widespread adoption of electric vehicles presents a range of challenges, from infrastructure and charging concerns to sourcing raw materials and recycling End-of-Life Vehicles (ELVs).
Where the latter is concerned, how to dismantle these vehicles and how to handle the lithium-ion battery systems found in many of them is becoming a more pressing concern.
To help understand what's required and what we can expect in the coming years regarding EV dismantling and recycling, the Automotive Recyclers of Canada (ARC) hosted a special EV Roundtable discussion. Members of the automotive and recycling sectors, along with industry experts and analysts took a deep dive into some of the issues facing the industry and some potential solutions.
Experienced EV recyclers
At present, some 1.6 million vehicles reach the end of their life each year in Canada, with more than 1,600 recognized recycling facilities tasked with dismantling and properly disposing of traditional internal combustion engine vehicles. According to Steve Fletcher, Managing Director of ARC, approximately 350 recyclers and 25 scrap processors currently have some experience in dismantling and disposing of electric vehicles.
Fletcher noted that while recyclers and scrap processors are all part of the same industry, how they operate can vary greatly, including the components they're able to harvest from the vehicle, as well as what they do with items such as EV batteries when the vehicle is weighed in for scrap. Furthermore, with around 30% of an EV that is deemed a total loss often exported (since vehicles are a global commodity), the process of ensuring electric vehicles are properly acquired, dismantled and recycled is a complex one.
To help provide a better understanding of what's required, the Roundtable featured several speaker sessions that focused on different aspects of EV recycling as well as an opportunity for those gathered to ask questions and share ideas.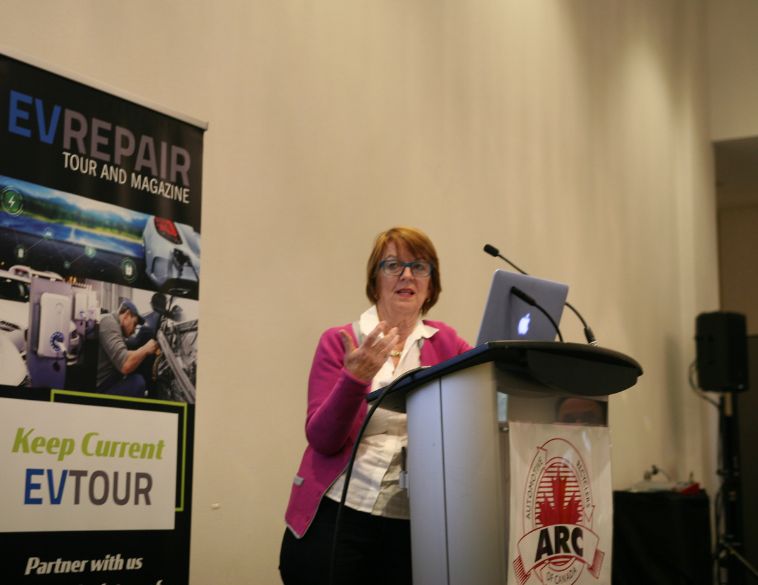 Battery considerations
In Reuse and Recycling of EV Batteries—Technical and Policy Considerations—Maria Kelleher, from Kelleher Environmental, discussed Canada's current Zero Emission Vehicle (ZEV) targets of 100% of light-duty cars and trucks by 2035. While Kelleher acknowledged that some of that refers to hydrogen-fueled vehicles, ongoing challenges with cost and infrastructure mean that any proposed 100% EV mandate is, at present, likely to focus on battery electric vehicles.
If we do find ourselves in a situation where two million zero-emission vehicles are sold each year in Canada by 2035, a big question is what is going to happen when they reach the end of their lives and in particular; what happens to those lithium-ion batteries? According to research from the International Energy Agency, there is expected to be a glut of electric ELVs around 2040, meaning that there will be a pressing need to remove and re-purpose their batteries. While Kelleher noted that the overall life expectancy of a typical automotive lithium-ion battery isn't yet known, they could last an additional 5-10, or even 15 years beyond their original use, depending on the condition they're in when inspected in the ELV. In some cases, these batteries could be refurbished for use in other EVs, or they can be used in lower energy applications such as drones, e-wheel chairs and warning/construction lights. If that is the case, it will further delay these batteries going to recyclers for processing.
EV battery re-purposing is a small, but growing industry and in Canada, Kelleher noted that three organizations, Moment Energy in B.C., EV360 in Montreal, Quebec, and All-EV in Nova Scotia have already established themselves as specialists in this field. In the U.S., bigger players like Speirs New Technologies, Big Battery ITAP and B2U (the last two located in California) are making inroads within this sector.
What can be done with these old EV batteries, is quite impressive. They can be used for a variety of purposes, ranging from energy storage for apartment buildings to being repurposed for electric vehicle charging systems.
Supply chain critical
When it comes to battery recycling, shortening the global supply chain is seen as a critical element in creating a successful process—meaning that having raw material facilities, manufacturing and recycling in relative proximity is necessary to avoid issues with delays and logistics.
With an emphasis on the industry needing to reduce carbon footprints, including the auto sector— the ability to use recycled materials in battery manufacturing is also seen as a key component in creating a long-term, sustainable business model, particularly in the European Union which has set mandatory requirements regarding recycled feedstocks.
In terms of materials, high concentrations of nickel and cobalt in many existing EV batteries, mean they are highly valued for their precious metal content, though the actual amount tends to vary based on chemistry. Kelleher also noted that new Lithium Ferrous Phosphate (LFP) batteries are starting to gain ground, which are cheaper to produce and contain high concentrations of iron and phosphorous, which is considerably less valuable.
Given the size and weight of these batteries (anywhere from 300 to 500 kg), they often can't be moved easily and their complex nature requires a lot of dismantling—either manually or mechanically, in order to access the valuable materials within them. While new hydrometallurgy processes are improving the ability to recover precious metals from these batteries—resulting in chemicals that can be sold directly back into the supply chain, the supply of ELV batteries is expected to remain modest for a number of years.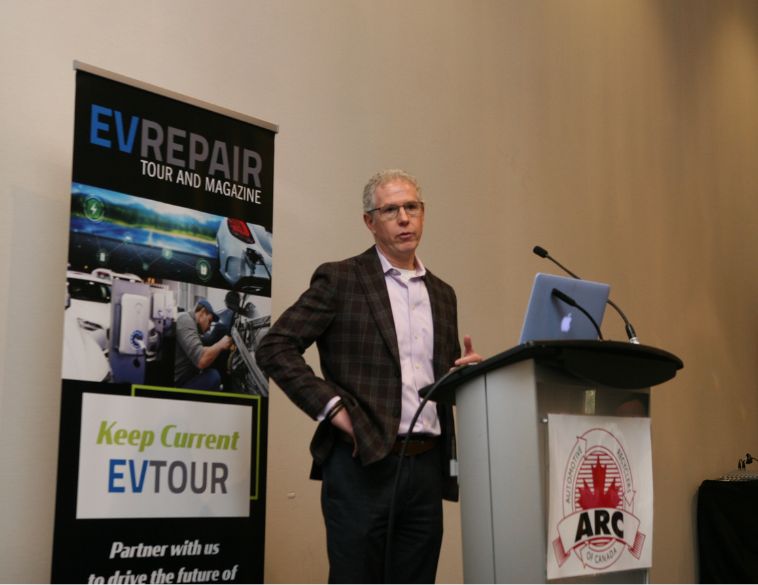 A Primer for Canada
Jeff Haltrecht, from Call2Recycle, discussed Electric Vehicle Battery Management at End-of-Vehicle Life: A Primer for Canada.
Call2Recycle, which operates on both sides of the border, was originally founded in the U.S. in 1994 by six battery manufacturers who were looking for a way to recycle their Nickel-Cadmium batteries. Today, the company handles just about every type of chemistry in the marketplace and works with eight different industries including the EV sector. In 2022 Call2Recycle collected 17 million lbs. worth of batteries from approximately 25,000 collection points which are processed at 12 locations around North America.
In terms of electric vehicle transportation, Haltrecht explained that a completely different logistics network is required to recycle these batteries, which are often collected at dismantling and shredding locations, as well as auto dealerships and fleet centres, where they can be sent to R&D centres, recycling, or refurbishing or remanufacturing facilities. Because of the different locations and paths, the need to track where these batteries come from, where they go and how many steps are involved is critically important.
That's one reason why, in conjunction with the Canadian Vehicle Manufacturers Association (CVMA), Call2Recycle has developed a Primer for Canada that focuses on recycling used EV batteries, allowing the precious metals and minerals to be extracted and re-used for manufacturing replacement batteries (to help address the significant shortage of these raw materials).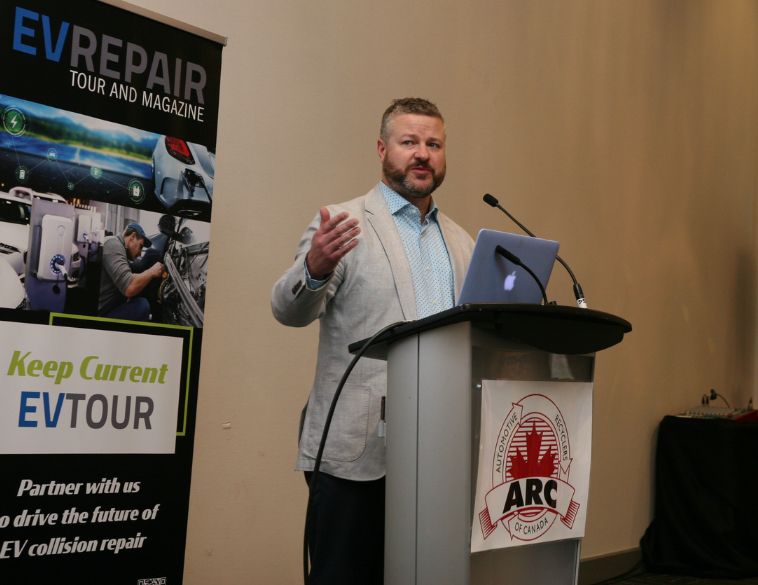 Opportunity for recyclers
Looking at the overall automotive recycling landscape, in his session entitled Impact of EVs on the Auto Recycling, Collision Repair and Insurance Sectors, Ryan Mandell, Director, Claims Performance at Mitchell International, looked at how the market for electric vehicles is growing and how recyclers can position themselves to take advantage of a growing number of EVs that wind up at salvage auctions. While there is a lot of talk about EVs becoming 50% of the overall car park, the reality is, that is still years away and, in many cases, the automotive service and repair sector—as well as recyclers—will be dealing with internal combustion engine vehicles for a long time to come.
"You really need to be prepared to operate in this hybrid world of multiple propulsion types," Mandell explained. He noted that while overall new vehicle sales in North America shrank by 8% in 2022, demand for EVs grew by 65% during the same period. Currently, passenger EV sales are expected to grow significantly to around 21 million units by 2025 (up from 6.8 million in 2021). So, what does this mean for repairers and recyclers?
First, they need to be prepared to handle these vehicles, since a battery electric car, SUV or truck is very different than the typical ICE vehicles most of us are familiar with. The digital architecture is completely different and far more complex, with on average, almost double the number of semiconductors (around 2,000) than are found on your typical ICE vehicle.
Greater complexity
And while it has been well-documented that battery electric vehicles have far fewer moving parts, this is offset by double the connectivity and digital complexity, requiring a different approach to both repairs and dismantling/disposal. This includes a far greater number of fault codes required for repairs and a far greater likelihood that the sensors and modules at the "undamaged" end of the vehicle will be impacted by a collision and need to be replaced and properly recalibrated for the vehicle to function.
Not only does this impact collision and mechanical shops, but also recyclers, since providing complete diagnostics reports will have an impact on the parts they sell, especially technology or electronic-related components.
With the Canadian market currently experiencing a much faster rate of EV adoption rate (10% of new vehicles being EVs versus 6% in the U.S.), this is also something for recyclers to consider, especially in view of the integrated nature of the automotive sector between both countries.
Mandell noted that with harmonized border regulations, there is also a huge opportunity for Canadian operators to tap into the massive 290 million U.S. car park, particularly if they are ahead of the curve when it comes to EV handling and dismantling.