For this column, I will give the floor to an experienced contractor, member of a CCPQ working committee and representative on our GAA technical committee, Tony Cutrone, of Carrosserie Euro, who will describe his approach to his work as an auto body repairer.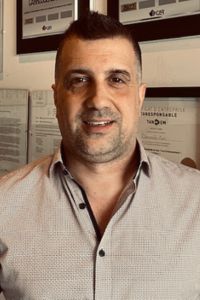 An auto body repairer with 25 years of experience and at the head of his own body shop for 20 years, Mr. Cutrone specializes in high-end and performance cars. He has several certifications from prestigious manufacturers such as Bentley, Tesla and Ferrari. For him, the relationship with customers is paramount, as they deserve to have their cars repaired to the strict standards of the manufacturers.
"To make my business profitable, I charge a rate and fee that reflects my reality," he explains. "We live in a rare time when auto body repairers can and should say no when insurers try to negotiate our terms down. There is a great need for education in this area. Their customers' cars must be repaired according to the manufacturers' processes with modern and often expensive equipment, supported by highly trained technicians. All I have to respond to this relationship where the insurer is trying to negotiate every dollar and burden us with additional administrative tasks is to pay us for the real value of our work."
Knowing how to say no
This excellent auto body repairer does not hesitate to refuse vehicles for which the work estimation does not correspond to reality or for which the insurer asks for the car to be delivered within an unrealistic time frame. When I ask him if he is afraid of cutting himself off from certain insurers, Mr. Cutrone replies that in many cases, the insurer will come back to him with an offer that exactly meets his requirements. "I don't take a dollar back, that dollar is mine and I deserve it for my work. When I go to a restaurant, I don't negotiate the price of the prime rib."
No downward negotiation
This auto body repairer deplores the fact that the insurer will try by all means to get the lowest bill for the work. "There are processes to follow and in many cases, for example, you can't substitute an original replacement part with a recycled part," he says. "You have to respect the manufacturer's standards and, most importantly, you have to respect the customer and give them back a vehicle in the same condition as it was before the collision."
Mr. Cutrone's testimony is particularly inspiring for all our auto body repairers who still too often experience strained relations with insurers. An auto body repairer who charges for opening the file, presents a detailed and documented estimate, adds a fee if the estimator wants more photos or additional documentation, or simply erases the notion of a courtesy car from their vocabulary is the epitome of what today's repair professionals should be.
Insurers do not repair cars. Let them leave this work to our professional auto body repairers and pay them for the expertise they have built.