Modern ADAS calibration and measuring tools ensure vehicles are properly and accurately repaired.
As vehicle design, engineering and manufacturing processes have changed, so have collision repair requirements. Today, virtually every late-model vehicle requires precise measurement and ADAS calibration in order to return it to fully operative, pre-collision condition. Additionally, advances in vehicle technology and software updates, also require collision centres to make consistent investments in upgrading their equipment to meet ever-evolving repair requirements. Here, we provide an overview of some of the ADAS calibration and measuring options available on the market today.
asTech Diagnostic
asTech Diagnostic from Repairify, is designed to simplify the collision repair process on late-model vehicles by offering a range of different functions including ADAS calibrations, insights, and programming capability, plus access to complete OEM and OEM-compatible diagnostic repair information all via a single device.
With the ability for technicians to choose the right scan for a particular job, along with seamless estimating integration and reporting, asTech Diagnostic can also help them identify and conduct more ADAS calibrations as well as provide support from more than 400 certified technicians. Chris Chesney, Vice President, Training and Organizational Development at Repairify notes that today, collision and calibration centres must have OEM or aftermarket targets that are "exactly the same size, colour, contrast, and shade as the OEM. Technicians must also have access to the OEM factory tool by owning and maintaining the tools that match the shop's customer base, or, by partnering with a remote service that provides access to the actual OEM factory tool located in a data centre—a centre that is licensed and maintained and operated by a certified technician." This is why a tool such as the asTech Diagnostic is vital when performing proper and safe, collision repairs.
Bosch DAS 3000
With the DAS 3000, Bosch Automotive Aftermarket offers high-quality and highly accurate ADAS calibration capability. The DAS 3000 offers a broad range of adjustable calibration targets for static calibration. This enables it to work with multiple vehicles from different OEMs, including Hyundai, Nissan, Toyota and more.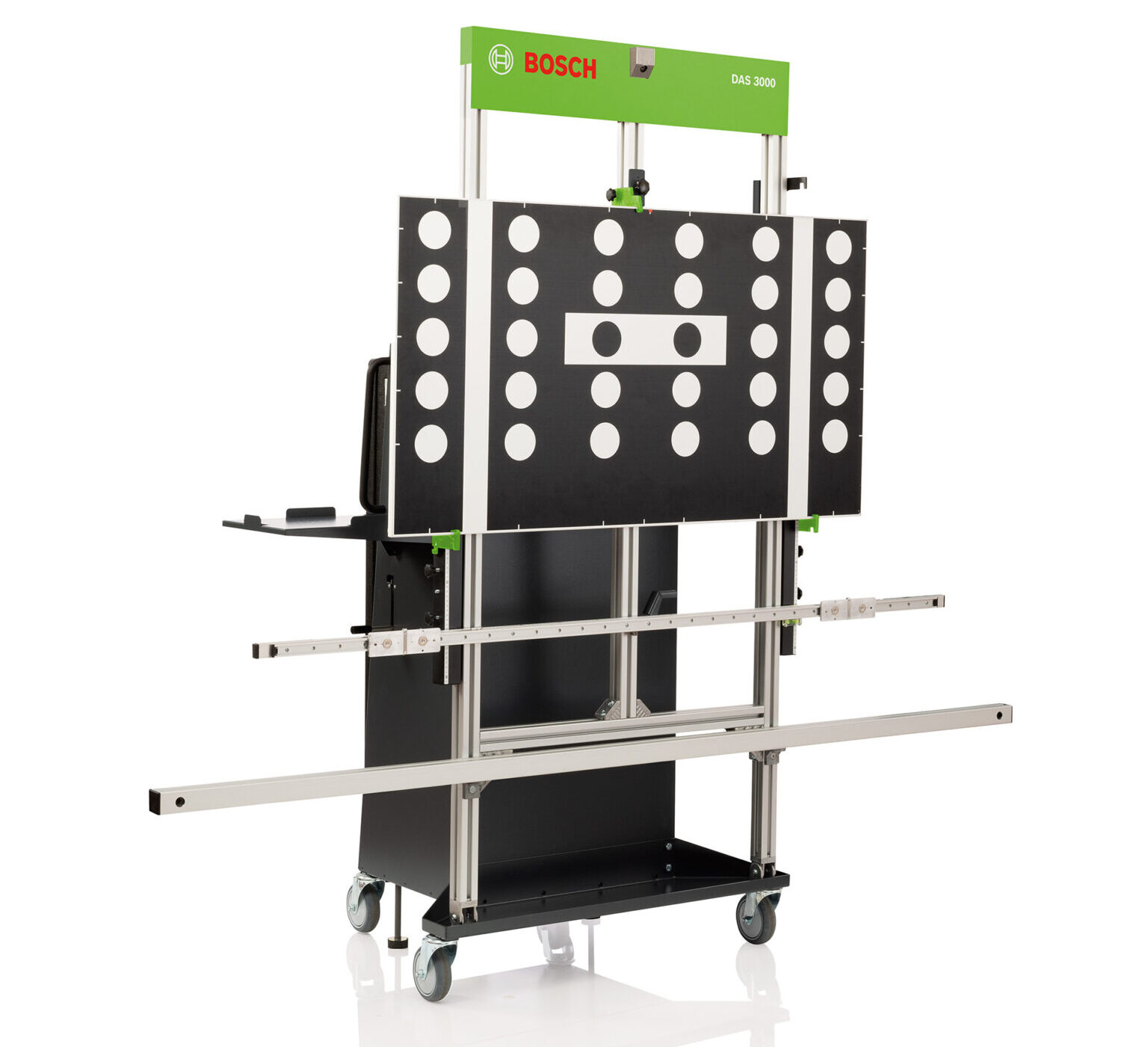 Additionally, the DAS 3000 was designed to last and accommodate changing vehicle requirements. As a result, it incorporates adjustable features such as a pitch angle adjustment device, universal carriage, and a multi-function carriage to adjust the height and install a precision measurement bar for regular-sized and extra-large targets. According to Scott McKinney, Senior Product Manager for Bosch, the DAS 3000 was designed from the outset as intuitive and user-friendly, enabling technicians to train quickly and maximize efficiency and productivity when performing ADAS calibrations. In conjunction with the ADAS 625X Diagnostic scan tool, which functions as the interface for the entire DAS 3000 calibration system, technicians also have the full diagnostic capability, plus service and repair information at their fingertips.
Chief Meridian Live Mapping System
Designed as a complete vehicle blueprinting packaging, the Chief Meridian Live Mapping System incorporates the Galileo precision single-hub laser-driven scanner. This provides a fast and accurate 360-degree overview of damage to the vehicle that simply isn't visible to the naked eye. A focused scanner footprint also enables more measurements to be taken, ensuring highly accurate and detailed damage is documented.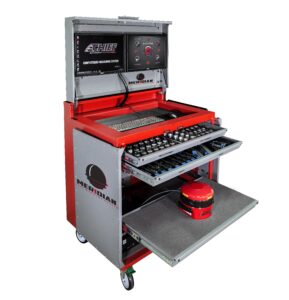 The Meridian Live Mapping System was designed from the outset as intuitive, easy to use and easy to set up. This enables technicians to quickly learn how to use the system and start accurately blueprinting vehicle damage, meaning faster, more accurate assessments and more efficient collision repairs. It also offers a great deal of flexibility and can be adapted for different locations and shop environments. As Mike Croker, Director of Product Management, Chief Collision Technology notes, this enables the system to be utilized when the vehicle is on a lift or on the ground. Additionally Chief offers training on the Meridian Live Mapping System for estimators, enabling them to better determine the extent of the damage on the vehicle and the need for deeper investigation, minimizing the risk of supplements or inefficiencies during the repair process.