Driven Collision runs first ever "Drive Home for the Holidays" campaign allowing owners to nominate deserving customers for gift.
Driven Brands' collision group ("Driven Collision"), home to industry-leading repair networks, ABRA Auto Body Repair of America, CARSTAR U.S., CARSTAR Canada, and Fix Auto USA, gifted five customers with $5,000 following the 2022 holiday season and into the new year. Through this 'surprise and delight' effort, owners from the ABRA, CARSTAR U.S., CARSTAR Canada, and Fix Auto USA families nominated their customers for the chance to receive the award.
"Our franchise family has a deep commitment to supporting the members of the communities in which they work and live," said Chris Dawson, Collision and Paint President, Driven Brands. "This past year has provided challenges for all, and our owners were thrilled to be able to provide extra support and appreciation to their amazing customers."
Support for a challenging year
2022 proved a challenging year across the collision repair industry. Continued supply chain challenges and the rising cost of parts and materials, coupled with labour shortages across North America, meant increased hardships for both customers and collision repair facilities. Many customers experienced financial burdens, leading to increased stress when having their vehicles repaired ABRA, CARSTAR, and Fix Auto USA wanted to provide their customers with support and thank them for their patience and trust.
CARSTAR Fairborn C&H, located in Fairborn, OH, gifted $5,000 to their customer Carlette. Carlette came to the CARSTAR team to have her vehicle repaired early in 2022 to find out that a crucial structural part was on national backorder. While the team was doing everything they could, the part took a few months to arrive before the vehicle could be returned to Carlette. During the entire process, she remained patient and trusting of the team and CARSTAR Fairborn C&H was thrilled to gift her.
ABRA Cloquet, located in Scanlon, MN, gifted $5,000 to their customer Tim Homstad. Tim has been a long-time customer of ABRA Cloquet, bringing all of his vehicles and children's vehicles to the team for repairs. He has built a long-standing relationship with the team at ABRA Cloquet, and he was incredibly grateful for the gift.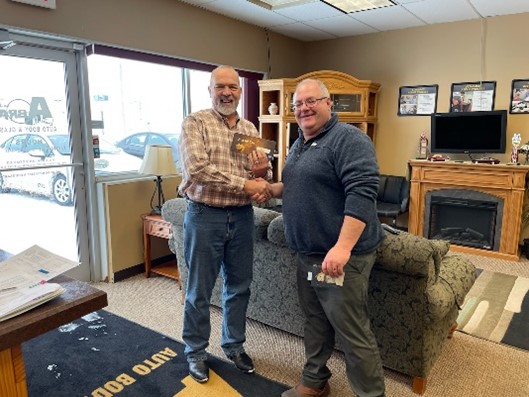 CARSTAR Bancroft, located in Bancroft, ON, Canada, gave the gift to April Hannah, who is a police officer in the Bancroft community. April has dealt with a long and stressful vehicle repair, yet has been trusting and patient with the CARSTAR Bancroft team as they tackled the various repairs that her vehicle needed.
CARSTAR Ste-Agathe, located in Val-David, QC, Canada, was excited to give their customer, Kevin, $5,000. Kevin and his family faced a few hardships heading into the holiday season, yet he remained optimistic and courteous during his repair process. The CARSTAR Ste-Agathe team was overjoyed to help this family in their time of need.
Fix Auto Kenmore, located in Kenmore, WA, provided their customer, Carrie, with the gift. Carrie had recently purchased her new vehicle when she experienced an unfortunate accident. The Fix Auto USA location had to source new and used parts to complete the repair, which led to a longer repair timeline. Through it all, Carrie maintained a positive attitude, being very kind and gracious to the entire Fix Auto Kenmore team. Fix Auto Kenmore said they couldn't think of any customer more deserving than Carrie.
"It is inspiring to see the care each of our owners has for their customers," continued Dawson. "Their compassion and dedication are what makes their businesses so successful. We look forward to continuing to see their involvement in their communities!"