A look at 12 months progress on Simplicity Car Care's ESG objectives.
In March 2022, Autosphere ran a story about Simplicity Car Care's Environmental and Social Governance (ESG) strategy, with the objective of achieving Carbon Neutral Emissions by 2040. A year later, we were given the opportunity to revisit with the team at SCC and discover how much progress has been made.
According to Simplicity Car Care CEO Paul Prochilo, that progress has been significant. "We've completed the beta phase of our carbon initiative," Prochilo explains. "This is integral to identifying how much carbon our individual operators are producing." By knowing the individual output of each store within the network, this allows Simplicity Car Care to focus on specific macro and micro-objectives related to emissions reduction.
Carbon intensity monitoring
Additionally, Prochilo notes that the entire Simplicity Car Care Network is now beginning Phase 1 of its corporate carbon accounting, with specific reference to carbon intensity monitoring. "2023 will be a pivotal year for Simplicity, and our commitment to net zero by 2040," says Prochilo, "as we digest the new information and identify opportunities to accelerate our decarbonization."
In the modern world, 12 months is a long time, and since the last article, Simplicity Car Care has achieved several wins as it relates to ESG. Prochilo acknowledges that while the company's net-zero commitment is a huge undertaking, there have been some notable achievements over the past year. These include:
Alignment among all Simplifiers (franchisee and corporate) on why the net zero commitment is so important.
A 20% reduction in parts to labour ratio (year-over-year), increasing profitability and reducing cycle time.
Gaining commitment from supply chain stakeholders in actively discussing their role in reducing their carbon footprint.
Finalizing standardized procedures and technology to ensure a seamless and scalable carbon accounting reporting system for monthly and annual reporting.
Looking to the next 12 months, Prochilo explains that several key objectives have been put in place. "By the end of this year, we anticipate having a carbon reduction of 7% and we are setting that trajectory into 2040. This reduction will come from a few key levers we intend to focus on this year but will be compounded every year following."
These objectives are:
Continually investing in opportunities to increase repair versus replace, while meeting OEM repair guidelines. This is critical as with every repair, Simplicity Car Care reduces its carbon footprint by 66%.
Sharing SCC's global dashboard results on our decarbonization with the industry on a quarterly basis. "At Simplicity, we believe that as pioneers, it is imperative that we share results and learnings from results with anyone willing to embark on the net zero journey, so that we may help others achieve success faster through our experiences," states Prochilo.
Standardizing our carbon credit purchase program, which will ensure all repairs completed by Simplicity Car Care are Carbon Neutral, as the network continues to work toward achieving its net zero commitment.
By pioneering a practical, sustainable ESG strategy, Simplicity Car Care is looking to inspire others to take on similar initiatives. In order for the industry to successfully embrace and implement net zero objectives, Prochilo notes that collision repair networks and operators need to consider the following:
Firstly, is creating a sense of urgency. "In this case you can use many different perspectives," Prochilo explains. This includes focusing on the environment, as well as the need to increase social responsibility and profitability. "There are many reasons why a net zero commitment is important," he says, "and it is critical we create a strategy in which all stakeholders can rally around."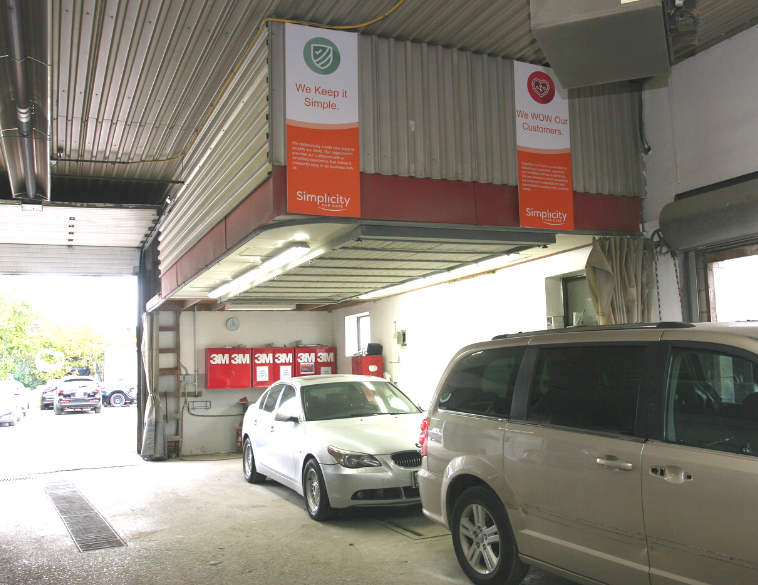 Leadership commitment
Secondly, there's the question of Leadership Commitment. "Whether it's an individual operator or network leadership, your net zero commitment must be built into your annual business plans and there must be a champion who is responsible to be accountable to the journey," says Prochilo. This means that budgets, planning and other resources will be required to ensure long-term success.
Finally, in order to be successful when it comes to ESG, networks and repair operators need to enlist the services of a trained professional. "Embarking on a net zero journey can feel like drinking from a fire hose, especially from the outset," states Prochilo. Therefore, I recommend always enlisting the services of consultants in the field to help you navigate through early pitfalls, as this will generate momentum and greater success."
Reflecting back on Simplicity Car Care's progress on ESG over the last year, Prochilo notes that the initiative "has provided Simplifiers with a higher sense of responsibility for the communities we serve. We recognize that individually we can make a small impact, but when we compound these small impacts across all 87 locations (on trajectory for 110 by the end of the year), then we start to become a serious force for positive change." Ultimately, he says the goal is to "leave a legacy of stewardship for other businesses in all communities to follow, but in the short term; we are seeing reductions in cycle time, severity, and an increase in profitability."
And on a final note, it takes commitment, action and perseverance from individuals and teams to make things like this happen. "I'd like to say a big thank you to all the Simplifiers who believed in this very worthwhile initiative," says Prochilo, "as well as special thanks to Alyssa Marchese, ESG Manager at Simplicity Car Care who is one of our greatest resources in the success of this initiative."
---
Sponsored content by Simplicity Car Care.