This Simplicity Car Care franchisee has doubled his revenue since joining the banner.
Nimal Singarajah and his brother Ruban Kathiravelu have been in the collision repair business since 2009. Relative newcomers to the industry, they struggled at first as they tried to find their way and build a business.
Today, they're doing very well, thanks in large part to a partnership with Simplicity Car Care. In fact, the brothers are running a very successful Simplicity Car Care Oshawa franchise, and looking for opportunities to expand.
Business wasn't always this good, however. Kathiravelu first got into the collision repair business with one of his good friends, Shan Rajaratnam in 2009. The pair decided to open a body shop in Scarborough, Ontario.
A year later, as business was picking up, Singarajah joined the team to help out, and the business continued to grow from there.
By 2016, an opportunity to purchase a body shop in Oshawa, Ontario was brought to their attention, at which time, Singarajah and his brother Kathiravelu decided to run the Oshawa location as partners, while Rajaratnam would own and operate the Scarborough location without the brothers. This move would eventually lead to the brothers joining the Simplicity Car Care family.
A fresh start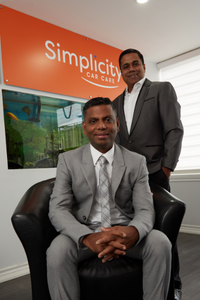 "The place we bought in Oshawa was a real mess at the time," recalls Kathiravelu. "We had to renovate it completely, put in a new booth, and then we had to head out and fight for new business since the location had shut down completely before we acquired it."
Kathiravelu remembers how much he and his brother struggled to bring in new business for their renovated Oshawa location. "We started off by approaching small used car dealerships for their business," he recalls. "Then we went out to talk to new car dealerships. At the same time I approached the Durham Regional Police. They tried us out on a few small jobs, were happy with our work, and so we started getting business from them as well."
By 2021, however, business wasn't doing well, mostly because the world had shut down because of the pandemic. That's when a frank conversation between Kathiravelu and Simplicity Car Care changed the brothers' minds.
They finally took the plunge and joined the banner. "Simplicity knew we had a bad experience with the franchise business model in the past, and they assured me that Simplicity Car Care was different," Kathiravelu says, and his brother were ready for a positive change and they signed up with Simplicity Car Care in January 2022.
"It wasn't so much the paperwork that put our minds at ease," Kathiravelu admits. "It was Domenic Ieraci who made the difference. We trusted him, and still do."
Night & day
Kathiravelu says that Simplicity Car Care, true to Ieraci's promises, has made a tremendous impact on their Oshawa business. "Things have improved and it's been great," athiravelu says.
Prior to signing up with Simplicity Car Care, the Oshawa store had eight employees. Today, with the uptick in business, they've had to hire another three, just to keep up with the workload.
While Kathiravelu and his brother weren't afraid of hitting the pavement and knocking on doors years ago to get their new business off the ground, their relationship with Simplicity Car Care has opened up new opportunities for their collision repair centre—opportunities that were previously not available to them.
"I couldn't get any insurance business in the past," Kathiravelu explains, "but right now, with Simplicity, people come in for their appointment, we take photos, and we prepare an estimate. It's very easy and we no longer have to struggle."
Simplicity Car Care's team is also available to answer any questions and to walk Kathiravelu and his employees through any process or procedure necessary. The Oshawa team has been fully trained and new processes are in place in order to streamline the way they run their shop and do business.
Support is ongoing and always available. "If we're having an issue with a client or a question about an estimate, Simplicity has a good team and we know that we can reach out to them to get answers," Kathiravelu adds.
Big benefits
Kathiravelu says his Oshawa location has doubled in revenue since he and his brother joined the Simplicity Car Care family, and that he sees a world of difference between his last franchise experience and the relationship he and his brother have with Simplicity.
"We're thinking of expanding," Kathiravelu explains, "and I recently found a location that I promptly shared with Simplicity to get their feedback and advice. If we do expand, it will definitely be with the Simplicity Car Care banner."
Kathiravelu has also recommended Simplicity to others in the industry. "We struggled in the past," he explains, "but after joining Simplicity, things have improved a lot. So I tell my friends that they too can make money with the help of Simplicity. They don't have to struggle, like we did. That's the difference Simplicity Car Care can make."