Safe, reliable solutions for your shop. 
Sanding is one of the most labour-intensive aspects of the collision repair process. As a result, the shop and the technicians must use the most suitable equipment for the job.  According to David Woods, Senior Manager, Dust Extraction, 3M Automotive Aftermarket Division, there are many factors to consider when purchasing sanders. "Size selection should be dictated by the size of most sanding operations in the shop," he says. For example, "if the shop is not consistently working on large areas, a six-inch sander will be sufficient for most technicians." In some cases, a smaller, three-inch sander might also be recommended, particularly if the shop is doing a lot of small or express repairs. Properly maintaining your sanders is also key to maximizing both consistency and efficiency. Clean filtered dried air is a prerequisite to running a sander, as is regular lubrication using the manufacturer-recommended oil. Operating the sander at the manufacturer's suggested speed is also essential, as is storing it in a clean dry environment or cabinet when not in use. Woods also recommends keeping a fresh and well-maintained backup on the sander for optimum operation and changing it once it's worn.
Dust-free solutions
Over the last few decades, there has been a strong focus on health and safety in work environments like collision centres and a key one is creating a dust-free sanding environment. Keren Binmahar, Marketing Manager for Mirka in Canada, notes that the company has been offering dust-free sanding options for more than 20 years and Mirka's sanding solutions have been specifically designed to reduce exposure to harmful sanding dust. The benefits of dust-free sanding aren't just improved health and reduced risks," she explains, "but also improved bottom-line results." Dust-free sanding environments can enable collision centres to reduce completion time, reduce labour hours, and boost efficiency. 
In this product showcase, we take a look at a selection of both sanders and dust extraction systems currently available on the market.
Festool LEX 3 150/3 Compressed Air Eccentric Sander
Available from 3M, The Festool Compressed Air Eccentric Sander LEX 3 150/3 is a lightweight, compact, and extremely durable sander that connects quickly and easily to Festool equipment. It weighs just 2.2 lbs (1 kg) and features a compressed air vane motor that delivers 10,000 RPM at 87 PSI (6 bar) through a balanced body that reduces vibration. The 3 mm stroke at 20,000 strokes per minute is highly suited for finer sanding jobs, while the stroke rate is clearly marked, making tool selection faster. The Festool Compressed Air Eccentric Sander LEX 3 150/3 sander also connects to Festool dust evacuation systems with IAS 3 connecting interfaces, while the Festool FUSION-TEC sanding pads (150 mm) connect to the sander quickly with one bolt, and feature Jetstream technology where air blown through central passages continually distributes dust and particulates toward the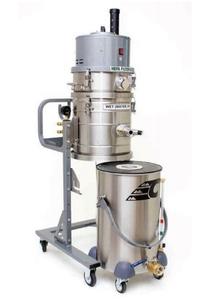 edges of the pads, extending abrasive life. 
Chief Collision Technology CHD3002 Aluminum Dust Extractor
The CHD3002 is designed to filter air anywhere within a collision centre, including major profit centres like the body repair space. The detachable water tank is easily removable and includes a brass ball valve to empty recovered aluminum materials. This unit features a coalescing filter element assembly that has a replacement life of around a year. With optional features like automatic on/off shops can customize this dust extractor to meet all of their dust removal needs. Other features include 110 CFM of airflow, a 99.995% efficiency HEPA Filter; an optional automatic on/off switch controlled by a pneumatic hand tool, as well as a detachable water tank.
Mirka DEROS 625CV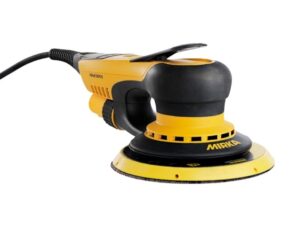 Mirka's DEROS 625CV direct electric random orbital sander has a 150 mm (6") pad and a 2.5 mm oscillation. With a main voltage of 120V, the DEROS 625CV is suitable for general sanding purposes on almost all kinds of surfaces. The DEROS 625CV features a soft start function, a built-in electronic motor brake and a smooth, easy-to-operate lever to control motor speed. Thanks to its high-efficiency brushless motor, this electric sander also has plenty of power to get the job done quickly. The performance of the DEROS 625CVs is comparable to a conventional 500W electric machine and it is designed to maintain a constant speed even under heavy load. The unique symmetrical design makes it equally as comfortable for either left-hand or right-hand use, while the longer body provides the option of a two-hand grip. The DEROS 625CV is equipped with a new type of backing pad, which has a central air inlet. This results in improved air flow and helps extract dust away from the centre of the tool even faster.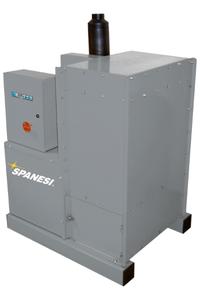 Spanesi Typhoon 3B-3B/S
Part of Spanesi's line of dust extraction equipment, the Typhoon 3B and 3B/S are part of a range of centralized vacuum systems that also include the 4B, 4B/S and 4BD, 4BD/S. Designed for soundproof operation the 3B-3B/ features a single electric motor with a 3 kW power output, 300 m/3h flow rate, 0.57 m2 filter surface area, and 1600 mm H2O negative pressure. These systems are designed to be used in conjunction with other Spanesi vacuum and dust extraction tools to ensure quiet, safe, and efficient operation throughout the collision centre.