Decades of automotive experience and enthusiasm, have resulted in a collision repair location that's second to none.
Located at Unit #2, 82 Green Lane in Thornhill, Ont., CARSTAR North Toronto isn't your typical collision centre. Although it does handle a healthy volume of collision repairs and is both an I-CAR Gold and ASE certified facility, the business also specializes in high-end performance cars, notably Porsche 911s, and the management team, including Owner Alan Shek, Shop Manager Tommy Siu, and Production Manager Jamie Smith, have decades of experience, not only fixing cars but racing, restoring and upgrading them. 
Alan Shek cut his teeth in the burgeoning performance and styling aftermarket scene of the 1990s. This included installing aftermarket performance parts, as well as interior and audio upgrades. Yet as time moved on, and with it, technology and trends, Shek could see the profit margins in this line of work shrinking, so he ventured into motorsports. Looking at it from a business standpoint, Shek saw an opportunity to rent racecars. "It was a successful venture for us," explains Shek and it allowed us to expand our racing efforts." After winning multiple races and provincial championships in Canada, Shek and his team headed to the U.S. Yet while the opportunities were bigger, so were the competition and the cost to compete.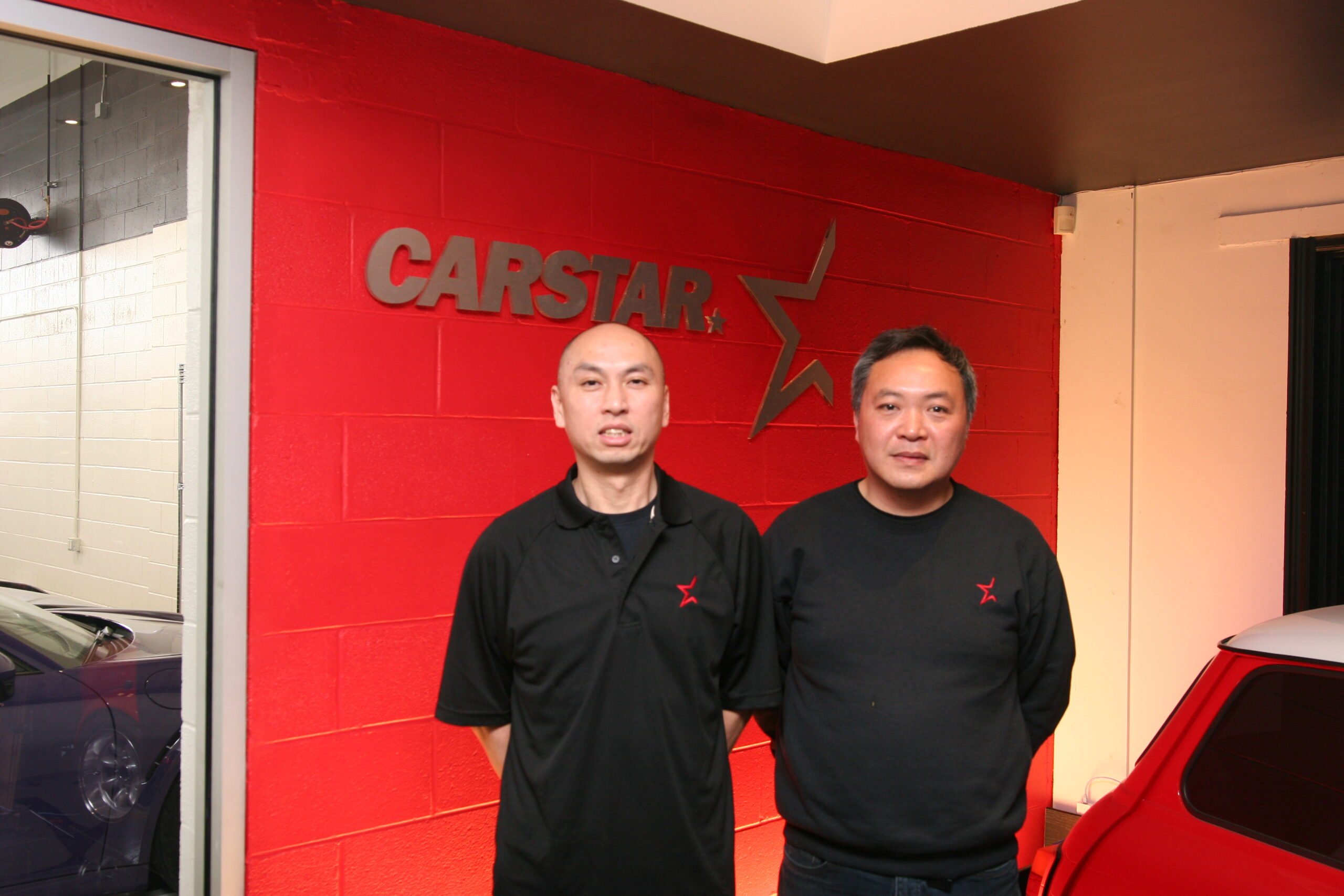 A change in strategy
"At that time, we were still selling aftermarket parts and I had to ask myself, was this a good business to be in?" Taking a reassessment, Shek says he began realizing that things perhaps weren't as they once were. "I couldn't really see myself selling exhaust systems to 18-year-olds anymore." 
As a result, he decided to venture into general repair and maintenance. "That's how we came across this facility," he says, which was acquired in 2016. "We started out doing repairs and general maintenance, but I could see the potential for adding collision services," explains Shek. "We had around 4-5 years where we grew the mechanical service business and we were doing ok, but around 2019, we really started looking to do body shop services and repairs."
Knowing that a successful future in collision repair would likely require partnering up with a franchise to ensure steady business, Shek and Siu decided to look at the various options available to them at that time and ultimately felt that partnering with CARSTAR was the best choice for them. Just as everything was coming together, the COVID-19 pandemic hit. Nevertheless, they continued moving forward and by 2021 CARSTAR North Toronto was operational.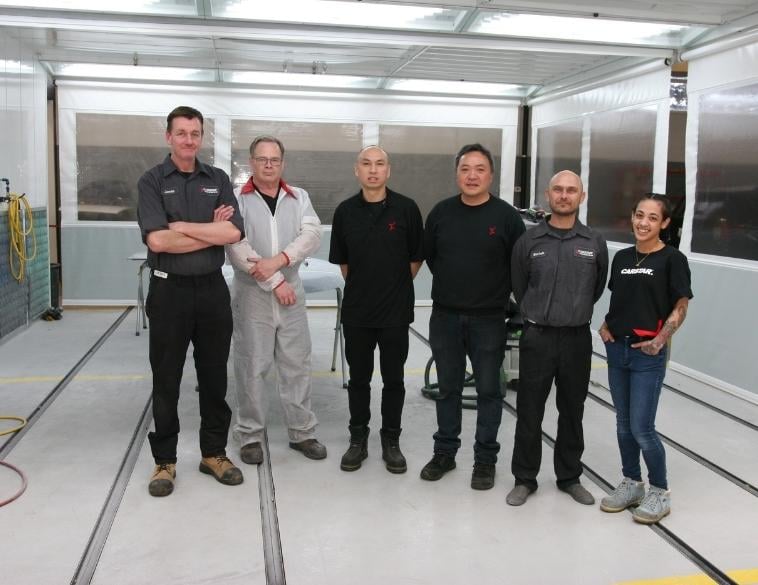 The current facility boasts 12,000 square feet of space, with about half devoted specifically to collision repairs and the other half, to mechanical work, though Shek believes he sees collision work taking up a larger area of the shop in the future. "We might even remove the maintenance side and place it into a separate building, but we'll see how things evolve."
As currently set up, the collision centre can process around five vehicles each day, explains Tommy Siu, and major equipment investments and training have been a big part of that. 
Assembly line
"We have our facility set up like an assembly line," says Siu. "The vehicle comes in at the back of the building and we begin the process by placing it in the wash bay. Then the estimate is performed, and we order the parts, then it waits until we receive the parts. Once we have them, the vehicle is brought inside again ready for the repair stall, and then systematically goes through prep and painting stages before being rotated back through the building for detailing, post repair inspection, and final polish and cleaning before delivery. "We try to keep every vehicle moving in a circle throughout the building, so cars are always being rotated through," says Siu.
A rail system, installed on the shop floor has proved to be a major boost to efficiency, once the vehicles come in for repair. "Having the track system at the front of the shop means we don't have to start the vehicle, and it can be pushed by the technicians. It's much more efficient (and safer) than trying to start up each car and move it around," notes Shek.
The shop is able to handle all kinds of body repairs, from major hits to minor cosmetics, customer pay work, and even restorations. "We love our toys," explains Shek and we have a good, established customer base of people going back 25 years, that own classic and special-interest cars, and that ties in well with our background of performance and customization."
With certification becoming an increasingly important part of regular collision repairs, Shek and his team have been looking at the programs available and during our visit, Siu explained the business had almost finalized its plans in becoming a Certified Collision Care facility, including the installation of approved equipment required to conduct repairs under the automotive brands contained within CCC.
Reviewing the options
Shek says that the approach to becoming a certified shop has very much been a strategic one, reviewing the options on the market and choosing the right tools and equipment that meet certification requirements, without having to duplicate any purchases or investments. "We don't want to buy anything twice, so it's important to make sure we get it right the first time."
Given that the shop tends to work on a lot of high-end vehicles, it utilizes a Universal Jig system for repairs and a Mitchell database helps ensure access to accurate information so that each car, truck, or SUV is properly set up for repairs. "Electronic measurements don't lie," explains Siu, so we have to guarantee that the car is perfect."
During our visit, the shop had five technicians, though Shek notes that if business continues to ramp up, staff counts will likely increase to compensate. Looking toward the future, Shek says that those shops that want to be in this business for the long haul need to make the necessary investments in their facility, equipment, and staff. "Those that don't will be out of the game," he explains.
Siu adds the importance of having experience in the collision repair space and not just the funding necessary to open a body shop. Those that do he says, will be able to garner less and less business moving forward.
With electric vehicles currently generating a good deal of interest in the collision repair sector, Shek says his sights are on doing more dedicated EV repairs, ultimately having a separate facility dedicated purely to these vehicles. This factors into CARSTAR North Toronto's overall growth strategy, which is to expand the business footprint by acquiring more locations. 
Whatever the future may bring, CARSTAR North Toronto is certainly taking the steps to build upon an already solid, successful business model.