As vehicles continue to become more technologically advanced, so do the tools required to measure, calibrate and repair them.
Today, Advanced Driver Assistance Systems (ADAS) are virtually standard on every new vehicle, from the smallest sedan to the largest pickups and SUVs. Yet when it comes to properly calibrating ADAS features as part of the collision repair process, there are some key things to consider.
Firstly, is having the right space in which to perform these tasks, and secondly, ensuring that each calibration is performed exactly to OEM requirements before the customer takes delivery of the vehicle.
Larger space requirements
When it comes to space, John Peron, Managing Director, Canada for Hunter Engineering Company explains that because a collision centre will most likely be replacing components, they will need a larger space to perform both static and dynamic calibrations than a typical mechanical shop. Additionally, because the sensors are often replaced, they have to be re-oriented and then recalibrated to work in harmony with the rest of the ADAS features on that vehicle. Additionally, if a collision centre is processing more than 25-30 vehicles per month, Peron says there is a serious business case to be made both in terms of the ROI your equipment can generate, as well as the safety and satisfaction of customers. Additional considerations also include the ability to minimize any potential liability via the right training and equipment investments.
Vince Filice, President of Filco, says that in order to optimize ROI on measuring and calibration equipment, collision centres need to ensure that technicians are trained consistently, particularly as new equipment comes out and technology evolves. "The fact is, that most businesses buy this type of equipment in order to be certified but it doesn't get used, and then once they do need it their technicians are simply not ready to work with it." 
There's also the question of documenting each calibration and procedure and making sure it is readily accessible, should any issues arise. "Providing documentation of the critical measurements we take throughout a collision repair is a key factor for today's collision centres," says Jordan Krebs, Product Manager for John Bean. "The vehicle's body, frame, wheels, suspension, sensors, and cameras must all be positioned correctly and documented."
Proper alignment
Proper alignment is essential to ensure the vehicle performs correctly. "Faulty sensor aiming, or recalibration can cause a vehicle to swerve or apply the brakes too late or even when there is nothing in the environment that can pose a danger," says Tim Garner, Market Development Manager, North America, for Car-O-Liner. "When a collision centre is considering which equipment to choose, they need to be sure they can check all the boxes," explains Garner. This includes determining whether the vehicle's frame or unibody is straight, are ADAS-specific alignment values within OEM specifications; is the ride height within OEM parameters; whether the ADAS sensors are positioned properly, and whether the equipment being used has properly sized ADAS targets and they are placed in the correct position. 
Hunter ADASLink Diagnostic Scan Tool
Hunter Engineering Company's ADASLink Diagnostic Scan Tool was conceived as a full-diagnostic scan tool that includes both ADAS calibration and secure FCA gateway capability. Designed to integrate with Hunter's WinAlign software, ADASLink enables technicians to easily and quickly access specific calibration requirements for more than 25 million vehicles.
Conceived as easy to use, ADASLink provides technicians with specific, step-by-step instructions via a digital screen to ensure calibrations are performed to OEM specifications.
Additionally, ADASLink offers both pre-and post-repair scan documentation that can be stored and accessed through the HunterNet cloud portal. Besides dynamic calibrations, ADASLink can also be used for static calibrations in conjunction with the Bosch DAS3000, using integrated cameras and rear-wheel-mounted targets to ensure accurate positioning when performing these calibrations. The result enables faster, more accurate calibrations to be performed in-house providing the collision centre with greater control of the process and higher profit opportunities.
John Bean Tru-Point
Given that not all collision shops boast level ground as well as the fact that vehicle suspension geometry can greatly impact ADAS calibrations, John Bean offers Tru-Point, a calibration fixture that helps solve these issues by building the vehicle in a 3D space. It maps the contact points on the shop floor and places the targets, radars, and other ADAS accessories within the same 3D space. As a result, no tape measures, markers, lasers, or plumb bobs are needed, while the technician can perform accurate and consistent calibrations. The user interface found on Tru-Point is very similar to John Bean's aligners, making it easy to understand. Each vehicle process is the same, no matter if the ADAS component is placed on the body centerline, geometric centerline, thrust line, bumper, front spindle, or any other point on the vehicle. Tru-Point's advanced imaging technology and algorithms also take care of all the math and measurement requirements for the technician, enabling faster and more consistent placement of the ADAS targets, radars and accessories around the vehicle.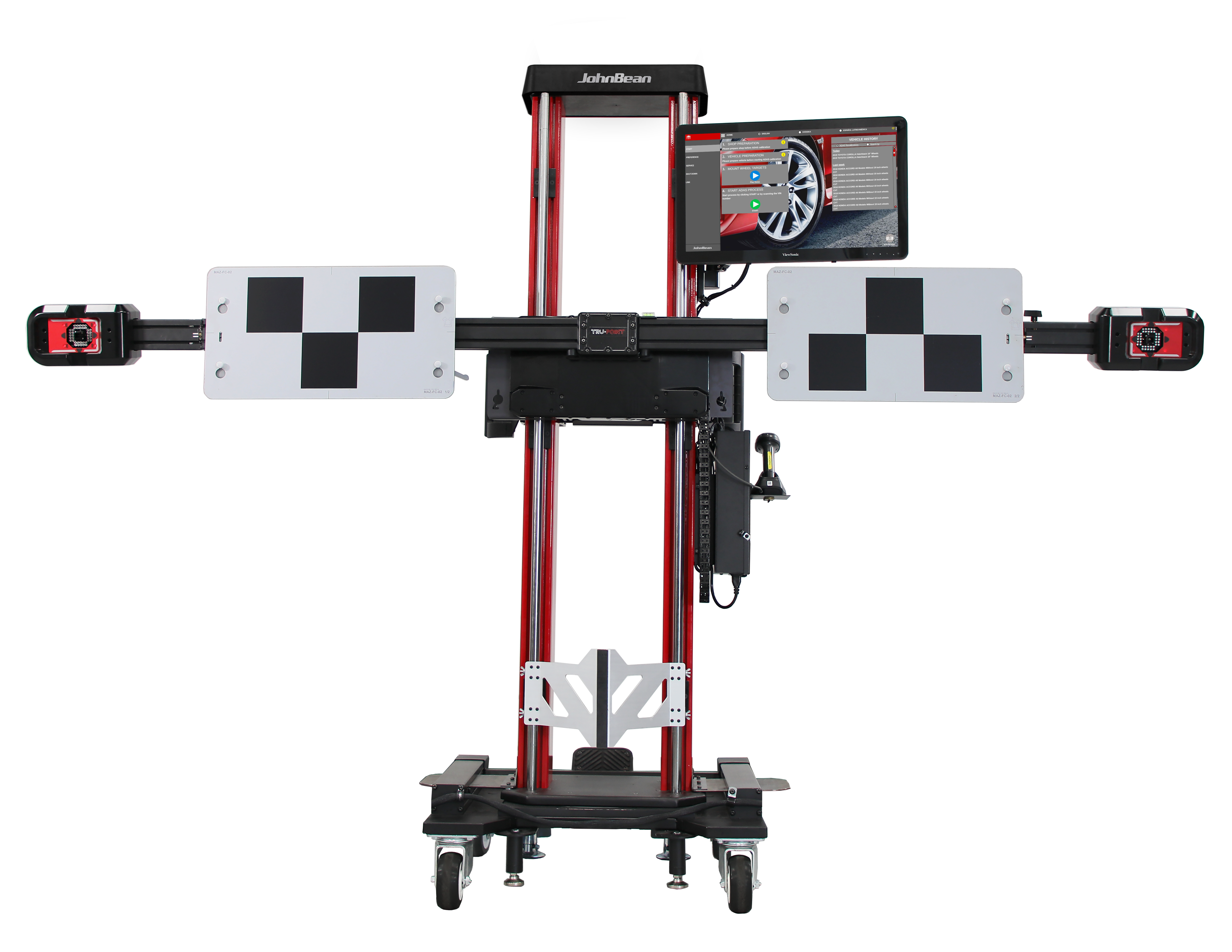 Car Bench Meg
Available exclusively in Canada from Filco, the highly versatile Meg from Car Bench allows multiple tasks to be performed within a single area of the collision centre. This includes the ability for a technician to perform an alignment quickly followed by a scan, enabling them to begin ADAS calibrations quickly and efficiently. The Meg can also be integrated with the Car Bench Contact Evolution electronic measuring system, which can be positioned on the crossbeams and doesn't need to be removed when the vehicle is being loaded or unloaded from the bench.
Although conceived as a jig bench, the MEG features a longer, six-metre frame that supports up to six tonnes. Integrated turntables enable a vehicle to be accurately aligned speeding up the measuring process. Additionally, ergonomic considerations such as a maximum working height of 1.8 metres allow technicians to work comfortably and effectively, while the double lift feature allows the bench to be easily moved via four twin caster wheels when in the lowered position.