As it celebrates its 50 years, the well-known glass repair and replacement brand is well positioned for growth and expansion across Canada.
What started off as a home-based business in 1972 in the United States, has blossomed into an international success story with more than 1,300 points of service around the globe.
Celebrating 50 years in business this year, NOVUS Glass and its franchisees all over the world continue to live by the company's motto "Repair First, Replace When Necessary."
NOVUS Glass is the brainchild of prolific inventor Dr. Frank Werner and chemical engineer Bill Wiele, who developed a windshield glass repair system that's acknowledged by many as the best in the industry.
In 2017, Fix Network World (then called Fix Auto World), acquired NOVUS Glass. Company President and CEO Steve Leal believed that NOVUS Glass was a perfect fit for his collision repair brand, and Leal was confident that Fix Network franchisees would benefit from being able to offer both collision repair and automotive glass repair services under one roof, instead of having to outsource.
NOVUS Glass is well respected across the industry. In fact, for the past two years, Entrepreneur magazine has listed the brand as the top aftermarket franchise, as well as the best low-cost option for those who want to enter the aftermarket business.
Innovation & progress
Over the past 50 years, NOVUS Glass has been awarded more U.S. patents for windshield repair than any other company in the windshield repair industry. According to NOVUS Glass, their "Repair First, Replace When Necessary" commitment has kept more than 44 million windshields from ending up in landfills by repairing them instead of replacing entire windshields.
"What sets NOVUS apart from everyone else in the market is the fact that we have our own engineers on staff, including chemical and mechanical engineers," explains Vern Gervais, Director of Operations for NOVUS Glass in Canada.
"We design the tools and the resins that make NOVUS so unique in the market," Gervais adds, "and our equipment is available exclusively to our franchisees."
Over the decades, the brand has grown with an emphasis on continued advancement and innovation. That's why today, NOVUS Glass is one of the few glass repairers able to offer expertise in repairing the windshield, as well as the ability to calibrate modern vehicles equipped with sophisticated technologies like ADAS (Advanced Driver Assistance Systems).
With 75 points of service across Canada, NOVUS Glass has franchise opportunities available in key areas for those who want to grow their businesses with a partner that offers a top-notch system, coupled with a commitment to excellence and training.
"Our ultimate goal would be to have between 200 and 250 points of service in Canada," Gervais adds. "Ontario is definitely a province where we want to see growth, as well as Western Canada. We have reasonable coverage in Atlantic Canada, but we see a high growth potential in metro areas, including Montreal, Toronto and Vancouver."
Franchisees can choose between owning a fully-equipped NOVUS Glass van, which is designed for repairing windshield damage on site, such as in a customer's driveway, or operating their own advanced glass repair and replacement centre in their neighbourhood or community.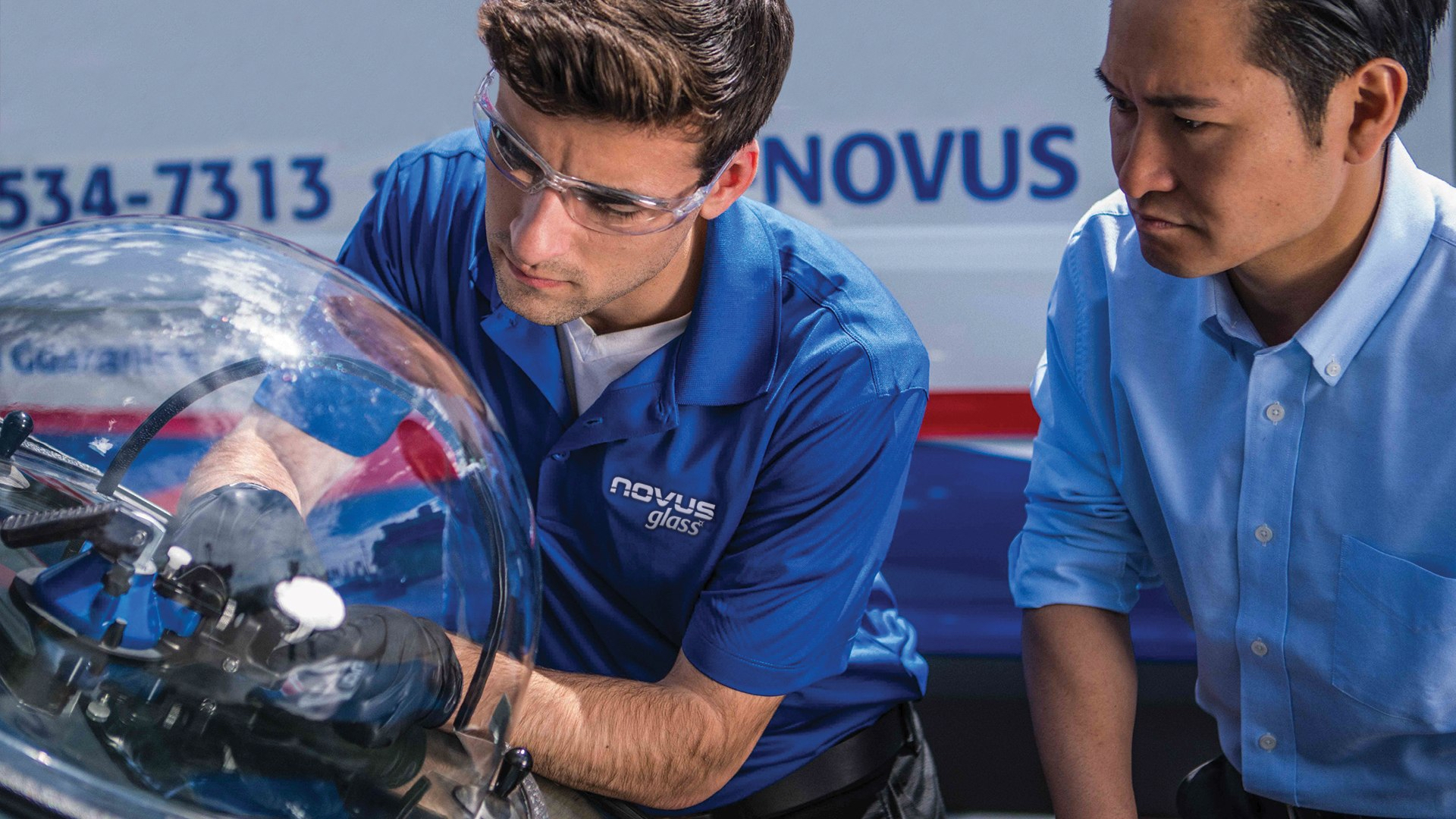 Resins: The secret sauce
The chemical engineers on staff at NOVUS Glass are responsible for the sophisticated resins available today for a variety of specific applications. "That is a big differentiator for NOVUS Glass versus the competition," Gervais adds.
Each resin has been engineered to deal with specific types of damage. "We have a star-flow resin, for example," Gervais says. "That type of damage has a lot of radial cracks, so you need a resin that flows a bit easier in order to get into all those radials."
NOVUS Glass also offers resins for cracks, chips, and pits, as well as a special resin that goes on top of all these other resins to seal off the repair. "Our latest resin, currently being patented, was engineered specifically for damage in front of an ADAS camera," Gervais adds. "This resin is so advanced that it won't block the view of the camera or cause reflections that can confuse the camera. We're really excited with this innovation."
Besides a complete and extensive training programme, as well as exclusive access to advanced tools and resins, NOVUS franchisees have access to the brand's network of insurance providers, along with easy claims handling, and support, including marketing, technical, IT and operational.
"Fifty years marks a major milestone in our growth," concludes Gervais. "NOVUS Glass is a unique blend of the past and present, as we continue to focus on the future. In fact, we are already looking at the next phase of our growth, as well as expanding out market penetration across the whole of Canada."