The Simplicity Car Care Canada-wide Network has helped countless franchisee owners to transform what their auto repair business is capable of.
According to Simplicity Car Care Watford owner, Chantal Cox, "Being part of the Simplicity Car Care Network has added tremendous value to our business. They have helped us restructure our organizational culture, increased our productivity, and provided us with the support we needed to manage our day-to-day operations."
Simplicity Car Care uses a proven system of improving operational performance and providing customized training solutions to transform franchise locations. Staff and franchisees are able to take advantage of Network-wide support, while still maintaining their strong connections with their clients and communities.
Simplicity Car Care provides operational support that goes beyond the average scope of auto and collision repair. Simplicity Car Care Calgary owner, Amrit Golhar explains, "The forward-thinking minds of the Senior Leadership Team have made the impossible possible with their ongoing intensive training and support to all franchisees. The elite in-depth training provided is undoubtedly of a distinguished standard."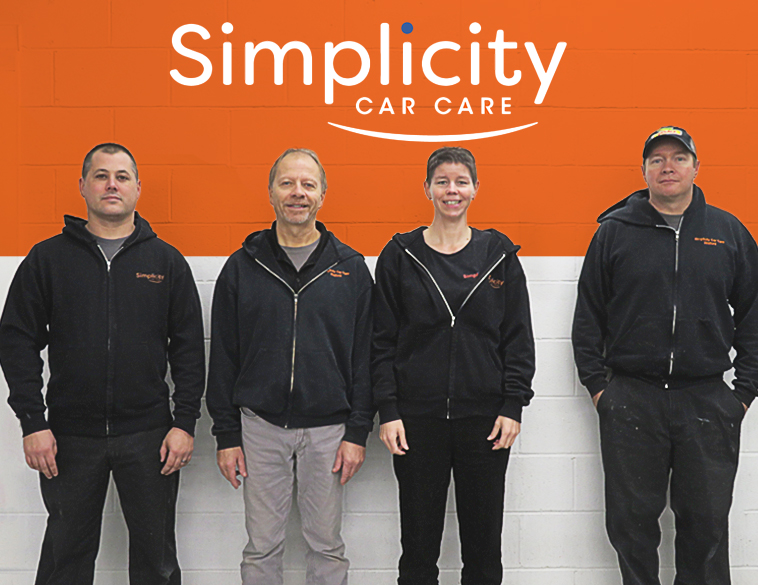 Exclusive Franchisee Support
The support provided to the Simplicity Network is extensive and allows for unique customization options. Franchisee owners receive specific support that aligns best with their unique business and operational goals. Examples of training and supports include:
Performance Management: Helping the Network understand the "levers" that create a top-performing shop.
Claims Management: Helping the Network understand the pillars of performance in a performance-based agreement (PBA) environment, allowing them to maintain a top-of-class status across Canada.
Cost Management: Training the Network on inventory management, vehicle management, scheduling, and quality control to assist in reducing operating costs. Simplicity has reduced the average price of repairs for our clients and insurance partners by 10% or more per region.
Client Experience Management: Training the Network on how to go above and beyond to not just "out service" the marketplace, but create raving fans of their business. This is evident in Simplicity's 90 point Net Promoter Score.
Learning Management System (LMS): Eight audiovisual modules let franchisees and their staff to sharpen their skills in all areas of collision repair. Simplicity will be adding ten more modules in 2022.
Business Development Training: Tutorials and role-playing prepares franchisees to sell their business to dealers, rental companies, and fleet groups in the areas that they serve.
Connecting the Simplicity Network
In 2020 and 2021, Simplicity provided a staggering 500+ hours in webinar training, during a time when Government regulations and regional lockdowns forced Simplifiers to stay apart. Simplicity also hosts monthly performance groups at a regional level and quarterly performance groups at a national level.
Additionally, each franchisee has a dedicated field support person to assist them throughout their conversion. A team of ten people in the operations department help out each franchisee throughout their journey to becoming Simplifiers.
The Simplicity Network continues to grow and strengthen their national connections with the launch of the "Power Hour," a one hour regional zoom call where the Network can discuss a new topic weekly with a Field Conversion Manager and a member of Senior Leadership. A new topic is selected every week such as shop profitability, network performance, network-wide Net Promoter Score, and the path to OEM certifications/accreditations.
Focus on Finances
Simplicity also holds space for a strong focus on shop-specific financials. As a franchisee, you get the tools you need to make better business decisions. Upon joining the Network, you're invited to be a part of Simplicity's specialized platform that lets you access real-time insights on your auto-repair business. Simplicity also hosts a monthly regional call that focuses on each location's Gross Profit Improvement (GPI). The Network is trained on which reports were pulled from their management systems and how to identify excellent levels of Gross Profit in labour, parts, material and sublet work. Additionally, the Simplicity Repair Process (SRP) training and implementation has improved shops' operational and financial metrics. The catalyst to such performance is efficiency that can be gained from utilizing Simplicity's standardized procedures.
Simplicity Network-Wide Training and Support Opportunities
Simplicity also offers various services and programs to help support the nation-wide Simplicity Network. These service offerings help franchisees foster a profitable, innovative, and well-oiled business environment – making it easy to grow their businesses to the next level. Simplicity Network support programs include:
OEM Certifications/Accreditations: Simplicity has hosted over 100+ hours of in-person and virtual training to help the Network fulfill the training and development requirements for franchisees to achieve vehicle manufacturer approval for repairs.
Platform Services Department (PFS): This department is unique to the industry and provides daily support to franchisees. The PFS provides support to the Network in the areas of scheduling estimates, estimate reviews for compliance and OE procedures before repair commitment, and a suite of subscription-based estimating for all shops across the Network.
Process and Shop Layout Design: Our highly trained group of Field Conversion Managers (FCMs) are helping shops improve their capacity – without spending any money on additional staff, tools, or equipment. They are simply utilizing the space that is provided, ensuring that everything has a place and that the franchisees and their team are executing on the 3Rs:

The right things.
Done the right way.
At the right time.
Making Car Care Simple
Simplicity Car Care does collision repair and auto maintenance differently. With a franchisee philosophy rooted in professional development, networking, and individualized support, they focus and care deeply about Simplicity franchisees and give them what they need to grow their business.
Amrit Golhar, Simplicity Car Care Calgary owner explains, "Simplicity Car Care leads the country in customer Net Promoter Score score at 94.5 and has the shortest repair time at 7.1 days nationally. The unique operational training and support from the Senior Leadership Team at Simplicity Car Care is definitely a recipe for success."
With performance metrics like these, it's clear that Simplicity Car Care has reimagined the collision repair industry to create a formula for success and growth for their franchisees across the country.
---
Sponsored content by Simplicity Car Care
Author: Domenic Prochilo, Simplicity Car Care