State-of-the-art collision repair facility emphasizes quality and efficiency.
Located at 6630, 99 Street NW in Edmonton, ProColor South Central Edmonton is a state-of-the-art, 10,000 sq. ft. collision repair facility with longstanding ties to the local community.
Owned and operated by Wheaton Automotive Group, which itself has been a major player in the Edmonton auto retail space since 1961 and currently encompasses 17 locations across Alberta, Saskatchewan, and British Columbia, this collision facility (which in fact, stands on the very same site where Don Wheaton first established the family business), is one of only two I-CAR Gold Class and Platinum-certified shops in Edmonton. It's also one of only a handful across Canada that are General Motors Canada certified Collision Repair Network Centres.
Consistent standard
Herb Wheaton, of Wheaton Automotive Group, says that as vehicle technology advances and customer expectations increase, a consistent standard and "guarantee in repairs" is becoming essential in the collision repair space.
Peter Wilson, Fixed Operations Manager for Don Wheaton Chevrolet-Buick-GMC-Cadillac, who oversees ProColor South Central Edmonton, says that this "warrantable" standard, ensures peace of mind, not only for customers but OEMs, insurers, and every stakeholder involved in the repair process.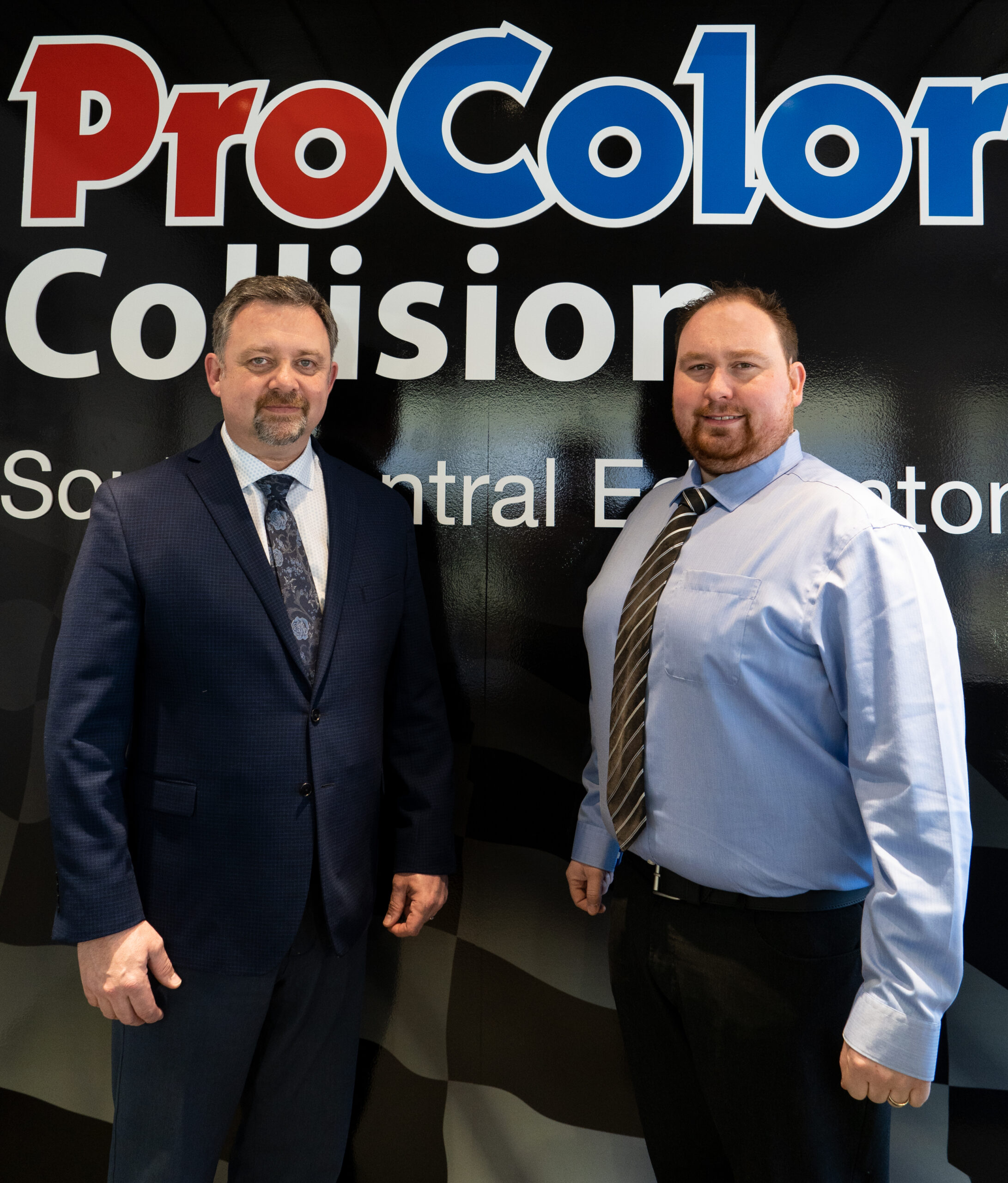 Additionally, over the last few years, Wheaton Automotive Group has actively been seeking to expand its collision repair and aftermarket business operations. In order to drive more volume on the collision side, this also required expanding relationships with private insurers in Alberta. As a result, aligning with a major national collision repair network that could provide the necessary support for both gaining an audience with insurers as well as future training and investment in the business was seen as the logical next step.
According to Wilson, ProColor South Central Edmonton Body Shop Manager Derek Rutter recommended taking a look at Fix Network and in particular, its ProColor banner which was beginning to aggressively expand across Canada and also into the U.S.
A new beginning
In 2021, everything came together. ProColor South Central Edmonton received its GM Collision Repair Network certification and then in the fourth quarter, officially joined the ProColor network along with a sister location in Red Deer.
Like many collision centres; ProColor South Central Edmonton has seen its share of challenges over the last two years, with a decline in repair volumes due to the COVID-19 pandemic, though Wilson says more recently, things have improved.
He says that the most recent winter has witnessed a rejuvenation in work, while the investments in I-CAR and GM Canada Collision Repair Network certification are really starting to pay dividends, especially as vehicle technology continues to advance at a rapid pace.
While, as a dealer-affiliated collision centre, South Central Edmonton continues to handle a solid amount of warranty work, insurer-driven repair volume is really starting to increase.
With two downdraft paint booths on-site and a separate building on the premises dedicated to aluminum repairs, Body Shop Manager Derek Rutter says that efficiency and quality are the name of the game at ProColor South Central Edmonton.
"Our touch time is faster than a lot of collision centres," explains Rutter, noting that recently, there were 10 vehicles that came in the shop that was completely repaired and ready for delivery within 24 hours.
The whole concept is to make the 10 full-time staff and the equipment they utilize, operate as efficiently as possible.
All facets of repair
Peter Wilson explains that in the automotive retail space today, being able to cover all facets of vehicle repair is critical and this extends to collision. As a shop tasked with repairing vehicles sent from the Don Wheaton Chevrolet-Buick-GMC-Cadillac dealership in Edmonton, the highest level of technical repair expertise helps ensure that whether a Chevrolet Spark or Cadillac CT6 needs repairs, ProColor South Central Edmonton is equipped to perform the necessary work and return that vehicle to pre-collision standard.
"Cadillac's latest vehicles, which feature technologies such as Super Cruise and radar systems, require specific equipment and repair procedures," says Wilson, noting that not many collision centres are able to handle these vehicles since GM Certification (which requires considerable time and investment to achieve) is essential to do the job properly.
For ProColor South Central Edmonton, the present and the future look promising, thanks to major investments made into the business over the last few years. Wilson notes that there is more than $25,000 that's been allocated to I-CAR Certification and a further $35,000 towards GM Certification, but as already can be seen, the time and effort have been worth it.
In summarizing, Derek Rutter states that here at ProColor South Central Edmonton, "we want to lead the way in continuing education and training with our staff and want to make sure we perform the most up-to-date repairs." The ultimate goal he says is to not only be able to accommodate multiple different makes and models, but also repair them to the highest standards in the industry. An objective, which if current progress is anything to go by, looks very much achievable in the next few years.