Investing in our staff is critical to ensure the success of our collision centres and the industry.
Our industry is challenging. Not just because of what we do, but because of the many different types of people we serve on a daily basis.
Collision repairers have an obligation to our customers, from the vehicle owner to the insurer [and, if you're part of a network, corporate interests that come into play], and increasingly, the vehicle manufacturer.
Managing the needs of multiple stakeholders is difficult on its own. When you then add the increasing complexity of the actual repair; coordinating your own team, and maintaining profitability to keep the doors open, there is a real need for a level of professionalism and business acumen that is uncommon for what is considered to be a trades sector.
Maximum effort
As collision repairers we don't have time to coast, every day requires maximum effort.
To get our work done we rely heavily on our teams which means the good ones have great leadership. It's this dynamic that attracted me to the industry. The opportunity to collaborate with other departments and industries creates a moving target that requires sharp skills and a clear mind to hit it consistently.
Like many in this industry, I landed in my current role somewhat unconventionally. In high school, I was pushed to get a university degree—the social norms at the time dictated that the trades were somehow beneath office jobs.
Having worked as a technician and a shop manager, I am certain that to properly repair today's vehicle you need a mind that is nothing short of brilliant.
Researching repair procedures, advising other departments, explaining processes to people that don't understand what you're doing or how you're doing it all happens before you even pick up your tools. Collision repairers possess a truly rare set of skills and to be successful in this industry means being committed to learning and developing yourself.
We're often plagued by the constant task of trying to staff our teams with employees that can handle the demands of an industry that is on a rapid upward trajectory.
But we can help ourselves by showing our current staff and any prospects interested in a career in automotive repair where the rewards extend beyond seeing a newly painted vehicle roll over the curb.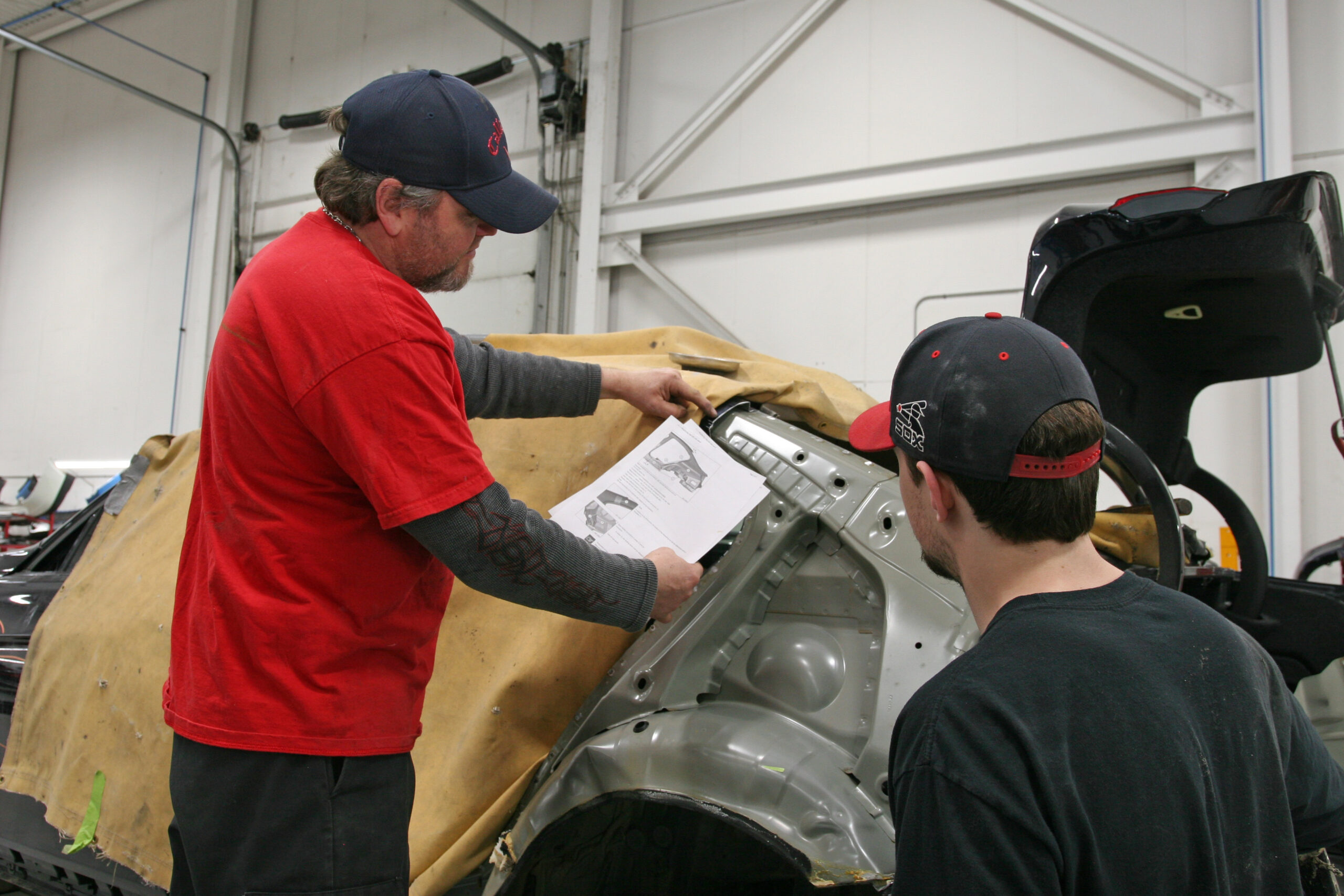 Taking initiative
I myself have benefitted from having amazing mentors who were willing to help me develop my skills, not just as a technician but as a leader and eventually a manager.
I took the initiative to ask questions and learn how my role impacted the overall goals of the shop. With that understanding, I became more valuable. Through that access I was able to find my niche, my reason to keep striving to grow as a professional and my passion for the work we do.
This is what young people today are looking for—a career, not just a paycheque.
We know that we need more educated staff and that as vehicles become more like pieces of technology than modes of transportation, the person who repairs them will need abilities way beyond what was necessary just a few years ago.
As managers, to attract that kind of worker, we have to take ownership of what their path looks like and be willing to offer them chances to develop by shadowing other departments and encouraging them to continue their training.
As technicians, we have to be willing to go outside of our comfort zone and learn how the business works beyond our own day-to-day tasks. That way we increase our value and open doors to our own future. Take it from me, a career in automotive doesn't have to start and end in the shop.
With mentorship and commitment to learning, your path can take you from the shop floor to the corporate board room and anywhere in between if you want it to.
---
Shannon Tardiff is the General Manager of Field Operations, Eastern Canada for CSN Collision Centres. A current member of the AIA's Young Professionals in the Aftermarket group, Shannon is seen as one of the rising stars of the collision repair industry and a valued leader at CSN Collision Centres.