Electric and hybrid vehicles are changing the way vehicles are built in ways that go far beyond drive technology.
Due to the weight of the battery, integral subframes now need a higher load-bearing capacity. The redesign of these axle components is also prompting many vehicle manufacturers to reconsider and reassess their production processes.
One of these processes is the cleaning step to remove impurities such as silicate islands, scale and smoke residues formed during welding; these can cause major quality issues in the subsequent cathodic dip painting process and lead to corrosion damage.
To remove dust and abrasive residues from the parts prior to cathodic dip painting, another cleaning step in a separate machine is required.
Ecoclean's EcoCbooster provides technology to clean weld seams on integral subframes for electric vehicles.
It uses an aqueous cleaning step, a virtually wear-free, fully automated process that removes welding residues from the exterior and interior of parts in a targeted, manner without the need for abrasives.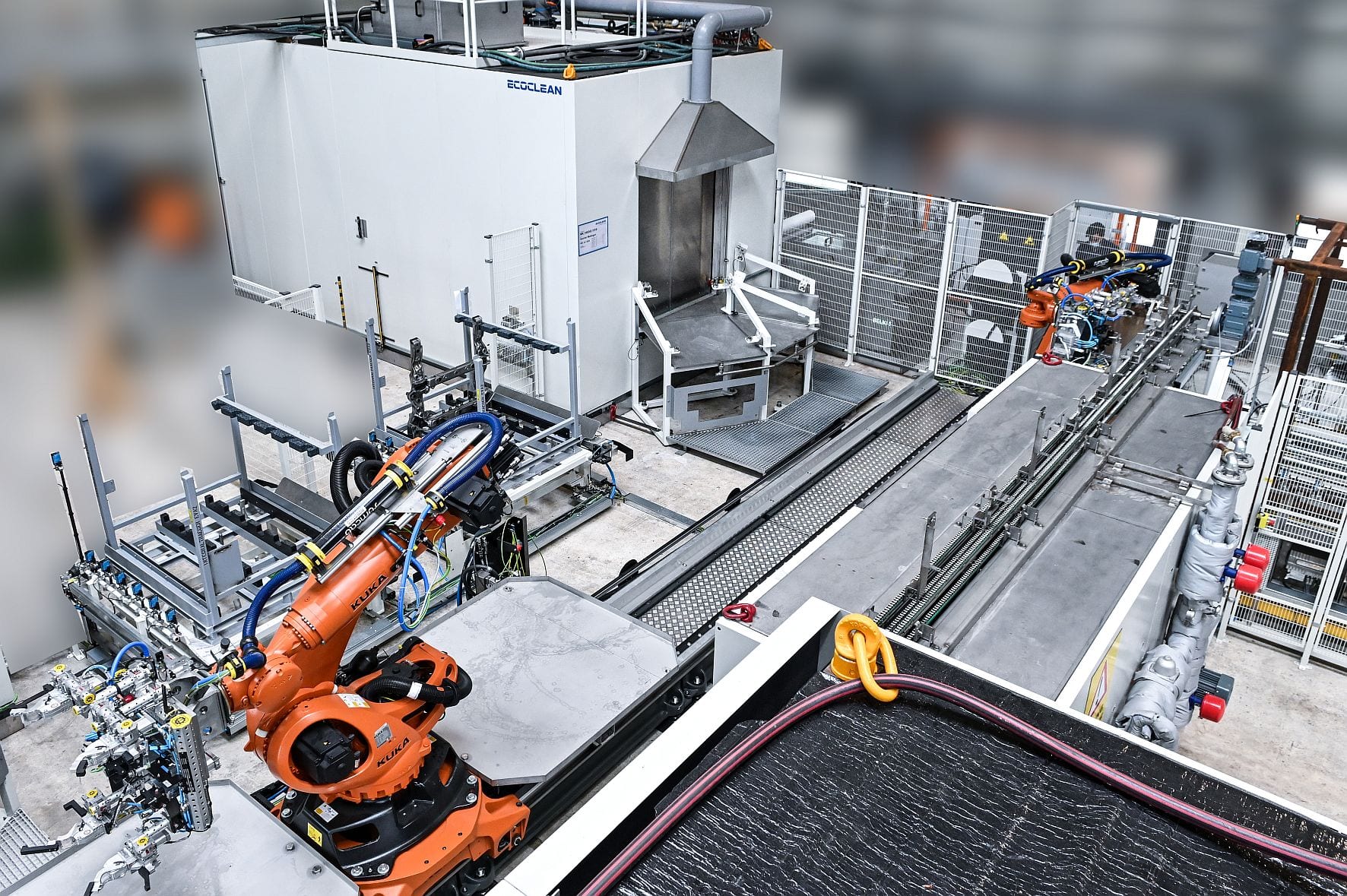 This process is also an effective treatment of the process water, which is mixed with a corrosion protection medium so that it can be recirculated for a long time.
EcoClean's patented process employs medium-pressure water jetting in the range between 300 and 700 bar without the addition of abrasives.
Through the use of ultrasound, the pre-stressed column of water turns into an ultra-high frequency pulsating water jet after exiting the nozzle. Feed rates of up to 800 mm per second are possible, with a robot moving either the workpiece or the nozzle tool.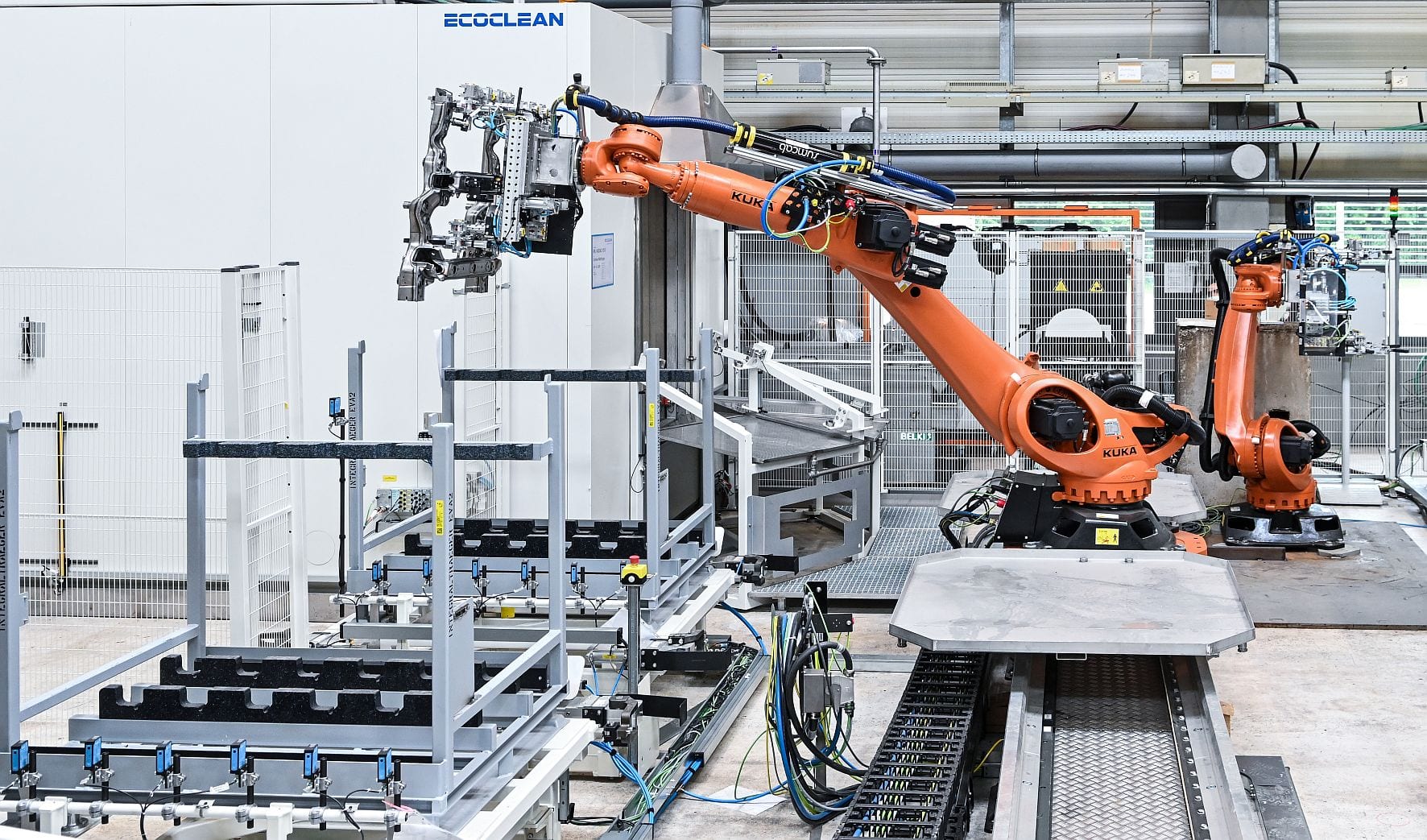 The loading robot places the integral subframes to be processed on the transfer stations of the jet modules. PHOTO EcoClean
The range of the water jet can be precisely adapted to the application by using different nozzle geometries, for example, fan and solid-jet nozzles as well as lances.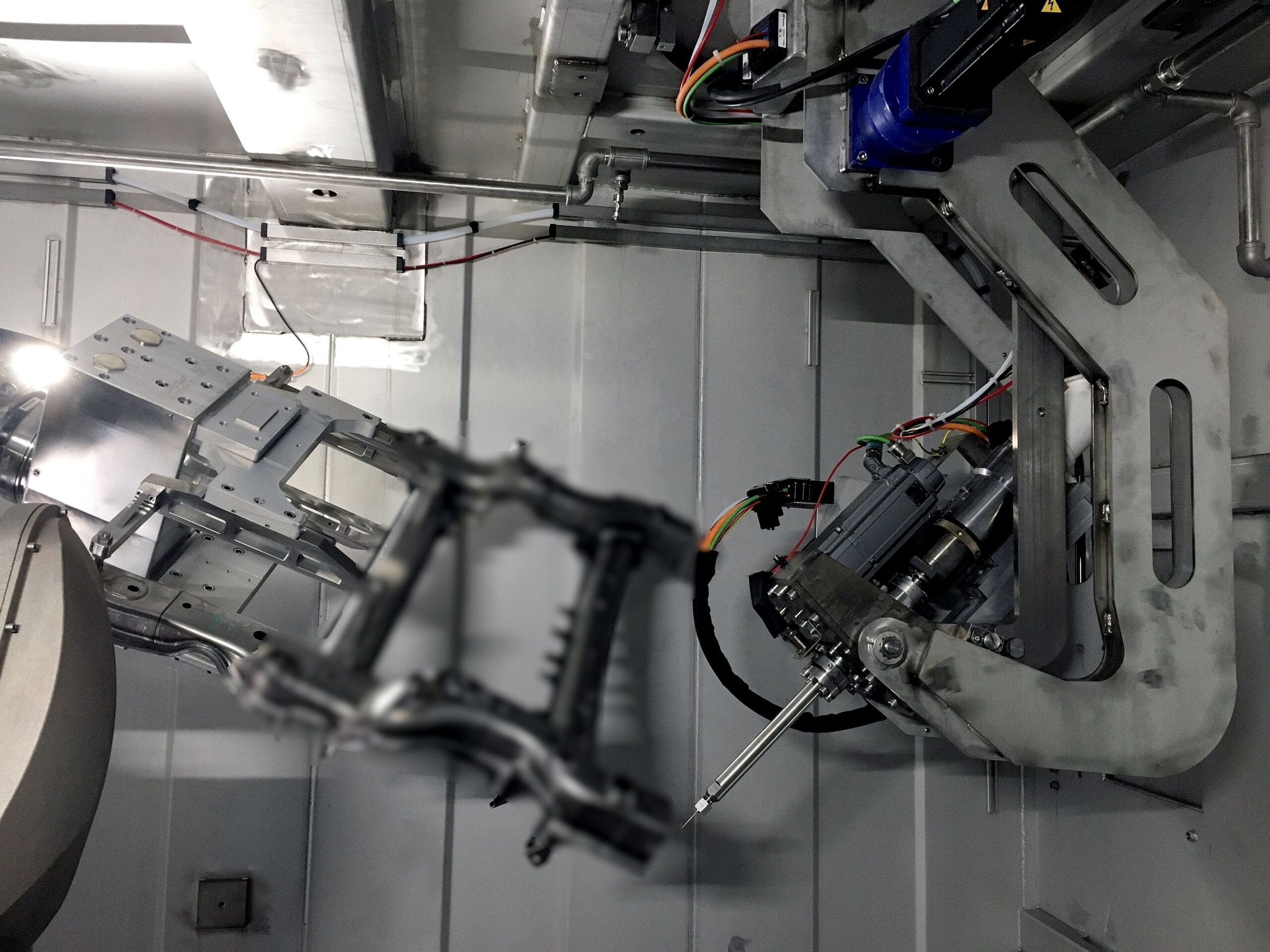 Key Features of the EcoCbooster
3 independently functioning jetting modules with an integrated manipulator
A hot air dryer, one robot each for loading and unloading
A bath treatment unit for the process water
Pallet cages loaded with several integral subframes
A machine loading robot picks up the parts and places them on the transfer stations of the jet modules
The manipulator of the respective module moves in a defined sequence to the jet tool, treating the welding contours in a specific manner
The manipulator places the integral subframe on a clean surface
To eliminate the transport path between the welding and cleaning process, the EcoCbooster can also be connected directly to the welding cell.