Located at 369 St Mary's Street in Fredericton, N.B., CSN Dana's Collision has long been recognized as an industry-leading operation.
Owner Dana Alexander has been involved in the collision repair industry since 1979. With a background in auto repair and prepping vehicles for paint, he made it a mission to learn as much as he could about the industry and apply that knowledge to succeed in business. Joining the Society of Collision Repair Specialists (SCRS) and taking an active role in I-CAR were two factors that helped elevate Alexander's collision repair operation to the next level.
By 1987, Alexander had moved his operation to the current site on Mary Street and since then, things have gone from strength to strength.
A number of "firsts"
When the shop first opened here, a novel feature was a downdraft spray booth. "We were one of only two collision shops in New Brunswick at the time to have one of these," says Alexander.
Other firsts include having the first Mig welding apparatus in the city of Fredericton and also being among the first to operate a fully digital shop. "When we built this facility, we wired it for digital technology," says Alexander.
As the industry continued to advance and evolve, so did CSN Dana's Collision. "About eight years ago, the production area of the shop was updated. "When we first built this facility, we incorporated an anchor pot system to tie the vehicles down," says Alexander.
Later, this evolved to a Wedge Clamp setup for anchoring the vehicles and to improve technician comfort and productivity, hoists were also installed in the same spot as the Wedge Clamp system, allowing the vehicles to be raised, so the technicians didn't have to lie down while trying to work on them.
The layout of the shop area was also reconfigured with a new prep station added. This allowed vehicles to be brought into the shop side by side and enabled CSN Dana's to further reconfigure the floor area.
"The layout provided enough space so that if we later decided to put a side-loading system in, we could load the vehicles from either side."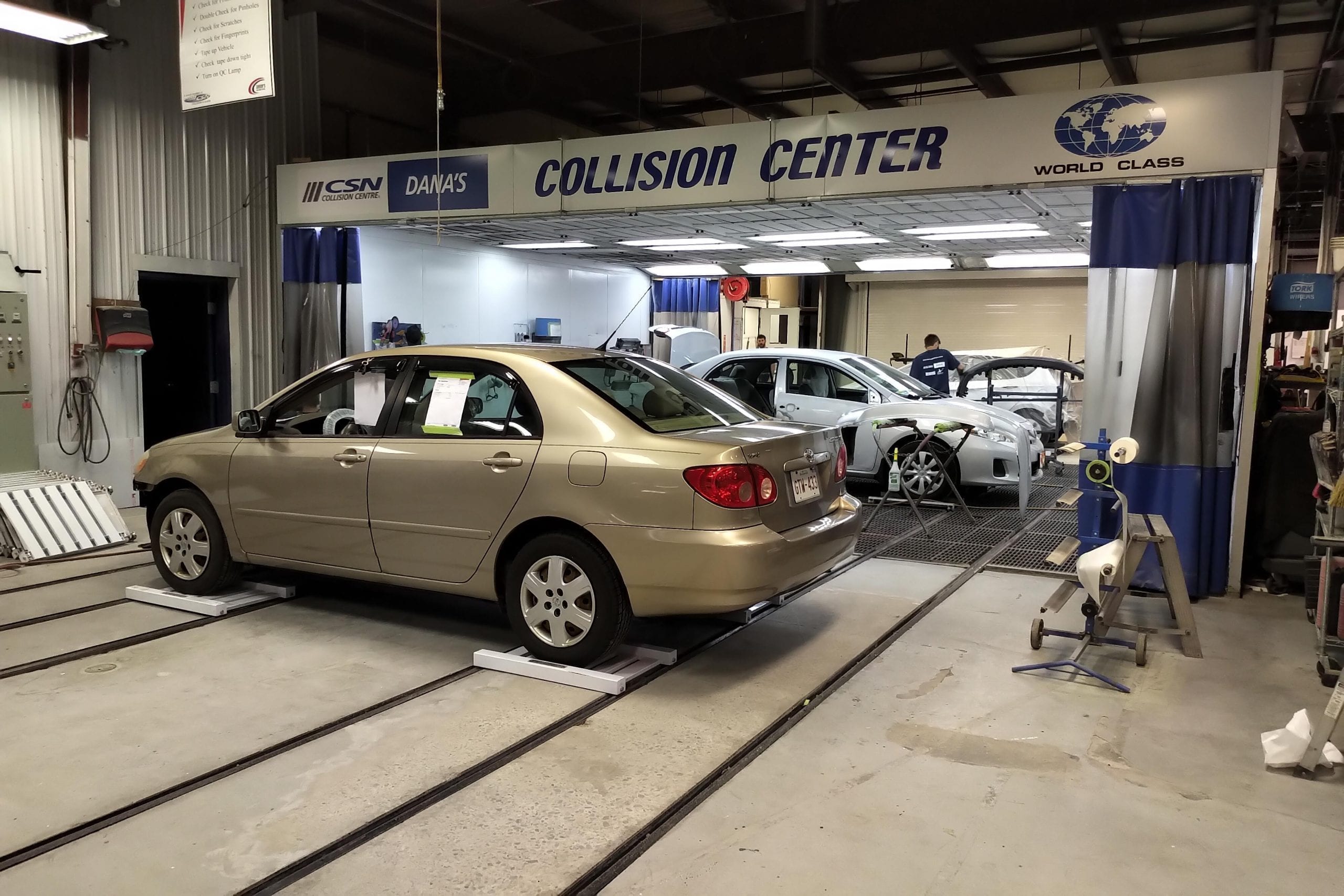 More recently, a rail system was installed–allowing the vehicles to be moved faster and easier from one station to the next. LED lighting was also added to improve illumination for technicians in the shop area while cutting down on energy costs.
Expanded and reconfigured
At the same time, the front reception area of the shop was expanded and reconfigured. This included adding a second-storey area with office space and an on-site boardroom that also serves as a training facility. Since it was completed, Alexander says a lot of training has taken place. "We have had I-CAR training sessions here and we've also seen other facilities bring their staff here for I-CAR training as well."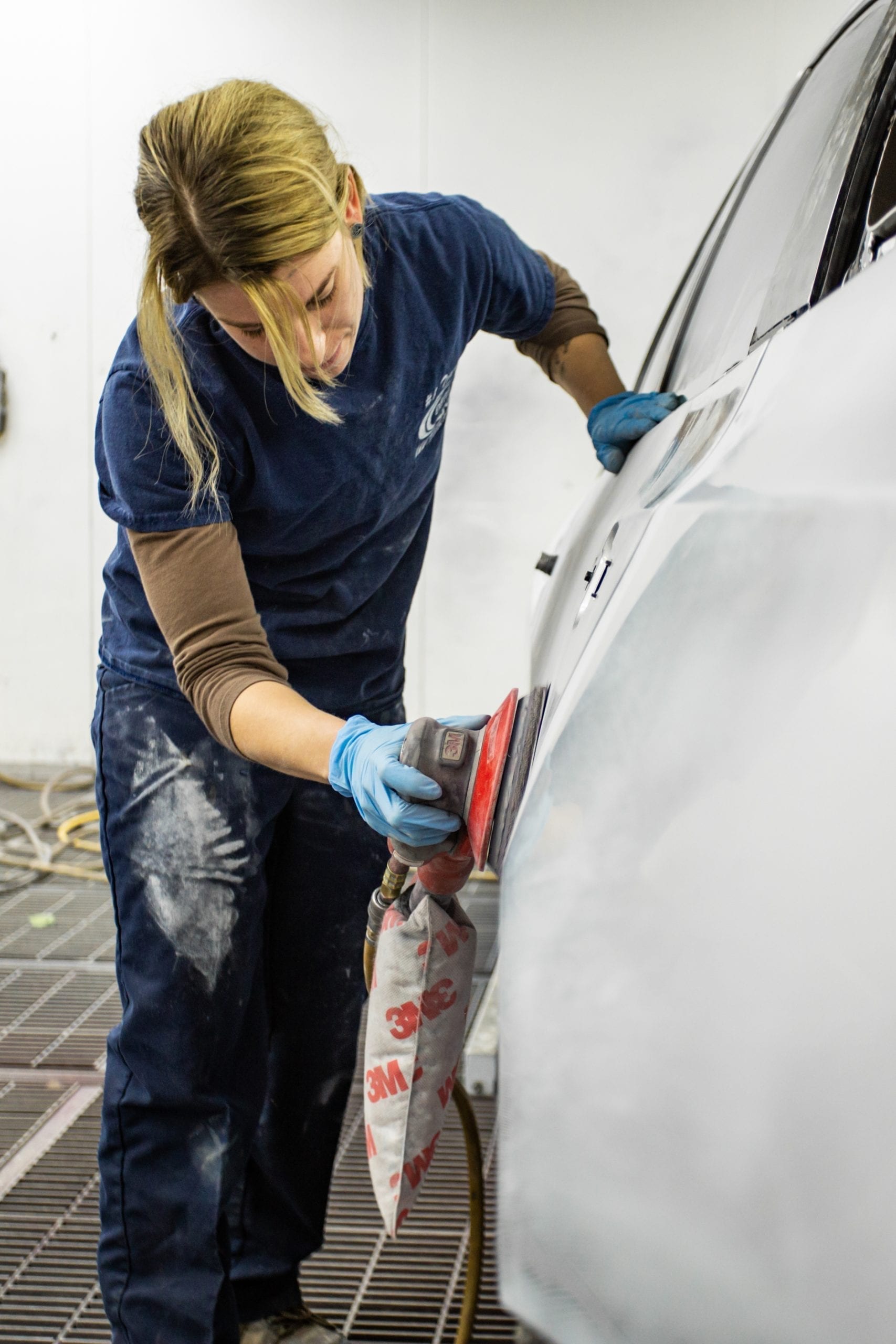 With the office renovations completed in 2019, CSN Dana's expanded to approximately 11,200 sq. ft. in area. "We have about 4500 used for office space," says Alexander. The rest is production space."
In terms of staffing, during our visit, there were six technicians in the body department working on vehicles, with four staff in the paint operation and a full-time detailer. There's also a part-time detailer who brought on when needed and an operations manager with an office located in the shop. "Out of our production staff three are female," says Alexander.
In the front, there's a receptionist, two estimators and an office manager who handles business operations and accounting. There's also an on-site Enterprise Rent-a-Car operation to ensure customers' transition from their own vehicle to a loaner goes as smoothly and as effortlessly as possible.
Scheduled appointments
To ensure the shop remains as productive as possible, Alexander and his team schedule vehicle estimate via appointments. When each vehicle arrives, it is washed, inspected and documented. It then heads to the repair planning stage where it is methodically and meticulously dismantled. "We do this to ensure we document every bit of damage and that we get all the parts we need for the repair," says Alexander.
He notes that once the estimators have ordered the parts, the shop can track where they are coming from and how long they will take to arrive. Based on that information, the vehicle is then scheduled into the repair process.
A key aspect at CSN Dana's is that a different technician is assigned to perform the repair work on the vehicle than at the repair planning stage. For heavier repairs, the shop also has a specific estimator and technicians assigned.
The result is no matter the size and scope of the repairs needed; each vehicle is tackled as efficiently as possible. To maintain quality and consistency, checkpoints are in place at each stage of the repair process—much like an assembly line but one where instead of being manufactured, vehicles are re-made.
Throughout the entire repair process, whether it's measuring, body repair, prep, or painting, the key is to make sure the work is performed as fast and as accurately as possible.
The entire layout of the shop enables each vehicle to follow a U-shaped track through the repair process ensuring that leaves the facility from virtually the same point where it first came in.
COVID-19 protocols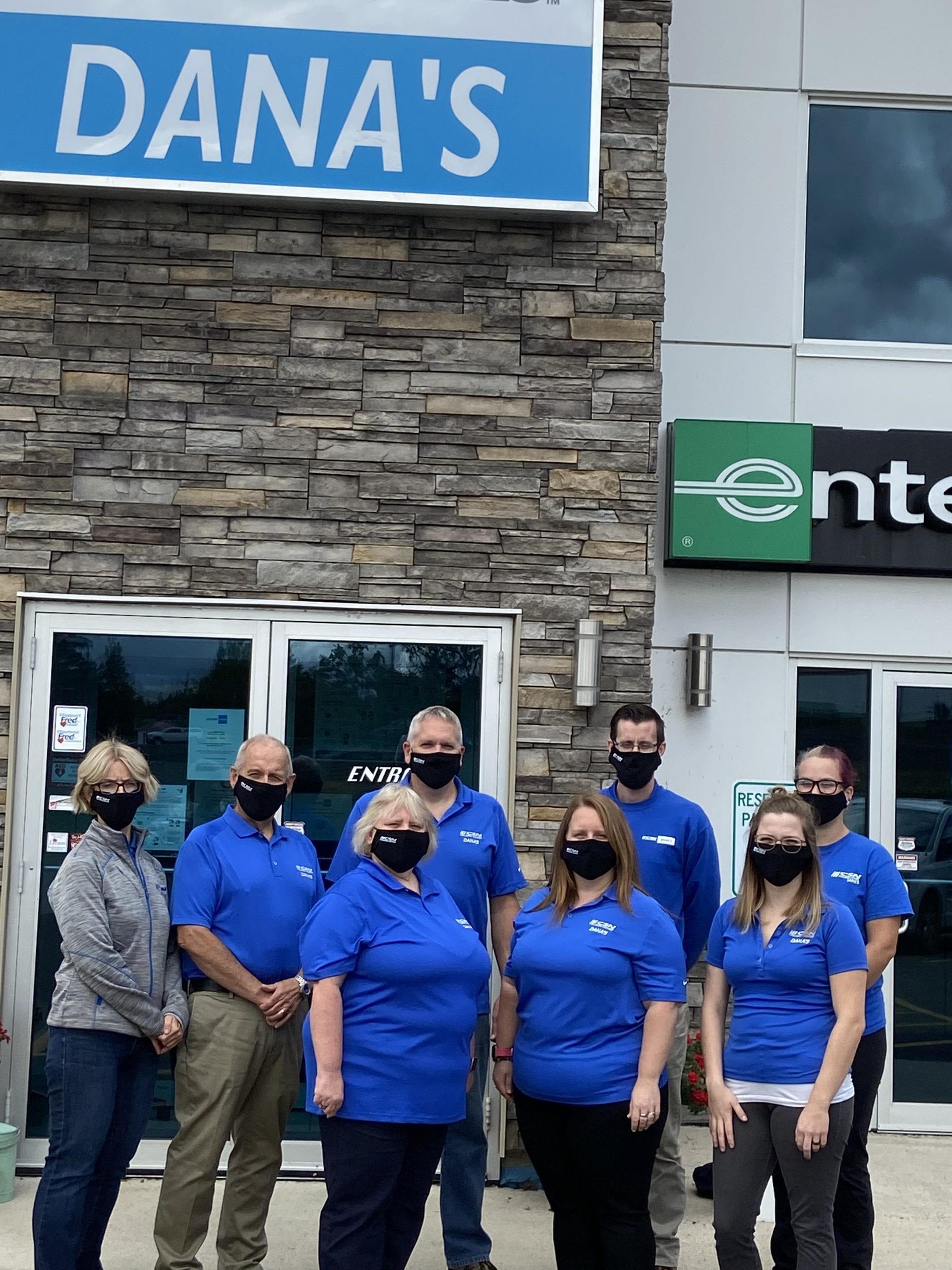 When COVID-19 emerged, CSN Dana's had to pivot. "We had to shift how we do business from safety protocols for our staff and our customers to reduced hours," says Alexander.
"We were forced to reduce our staff for a period of time, some were forced to stay at home due to the lack of childcare, while others volunteered to take some time off.  All in all, our team stepped up to help us through the slow times due to the pandemic."
CSN Dana's also added an easy-to-use photo-based estimating tool on its website—danascollision.com.
Easy to follow instructions provide the necessary information required to receive an estimate promptly by email.
"To protect our customers and staff, this contact-free process can be done from home," says Alexander. "All that's needed is a smartphone to complete the process."
Although production flow varies from month to month, Alexander says that on average, the shop processes around 125 vehicles every month.
CSN Dana's has invested heavily to ensure it has the staff, the equipment and the processes needed to thrive in the competitive 21st-century collision repair environment and this extends not only to extensive staff training and equipment investments but also OEM certification programs through Certified Collison Care, such as FCA, Nissan and Kia, as well as Toyota and Honda's Pro First programs.
Given the growth in demand for aluminum repairs, such as on Ford's current F-series trucks, CSN Dana's has invested in specific aluminum repair equipment. "We're seeing more and more of this," says Alexander, "whether it's a complete body like an F-150 or if it is a vehicle that has an aluminum hood or doors."
Long-term partnerships
As for vendors, Alexander says that the key to success is often finding a good partner and sticking with them. "We've worked with many of the same dealer partners for years," he says.
"We feel if we are loyal to a partner—we get better service and pricing. Our refinish supplier is AkzoNobel, from whom we primarily use the Sikkens brand of refinishing products." CSN Dana's has been partnered with Akzo since 1990 and sees real value in the training and technical support that's provided.
Alexander says that a fundamental aspect in CSN Dana's success has been consistency. "When we first started the business one of the main rules was that a car always left our facility clean and it always had a full windshield washer reservoir."
It's a little detail but when a customer collects a vehicle in the middle of winter, it's one that really makes a difference, much like CSN Dana's does for its customers, community and the collision repair industry.