Since it was established in April 2017, Simplicity Car Care has outlined a clear and defined, National Growth Strategy.
From the Greater Toronto Area to other locations throughout Ontario, the mandate to Make Car Care Simple and Affordable for Every Vehicle Owner in the World, has clearly resonated, with 36 locations now part of  the network.
In 2019, Simplicity Car Care expanded into the Alberta market, as part of its growth strategy for Western Canada. "Alberta is home to some of Canada's most progressive collision operators," says Simplicity Car Care President Domenic Ieraci. "We saw it as a natural and logical step to grow in Alberta as we began our national expansion efforts.
Key market
Within Alberta, Edmonton was identified as a key growth market. "Approximately 23 percent of Albertans live in Edmonton," says Ieraci. The city has seen approximate population growth of 17 percent since 2011—not surprisingly, Simplicity Car Care saw Edmonton as an ideal location to establish a solid footprint in Alberta.
Yet, when it comes to planning growth, the network takes a detailed and calculated look at which collision businesses could become potential franchisees.
"There are many areas that we assess when determining a fit between a prospective franchisee and Simplicity Car Care," says CEO Paul Prochilo. "Franchisee qualification and selection is critically important to the Simplicity brand. We look for individuals that have a high level of willingness to learn and succeed. They must demonstrate the ability to go above and beyond in servicing our customers."
Finding the right "fit" isn't often easy but when the meeting of minds happens between network and franchisee, it can lead to truly great things.
First franchisee
In Edmonton, the first franchisee to join the Simplicity Car Care Network was Tim Robertson. Having trained as a collision repair technician, Robertson saw the future early on and decided to open his own shop in 2001. Committed to performing quality collision repairs, Robertson Bodyworks' reputation grew. The shop was gradually expanded and the business consistently delivered on a good balance of both customer pay and insurance/DRP repairs. By 2015, Robertson could see that the industry was changing and that being part of a network was a logical step for the long-term future of his business.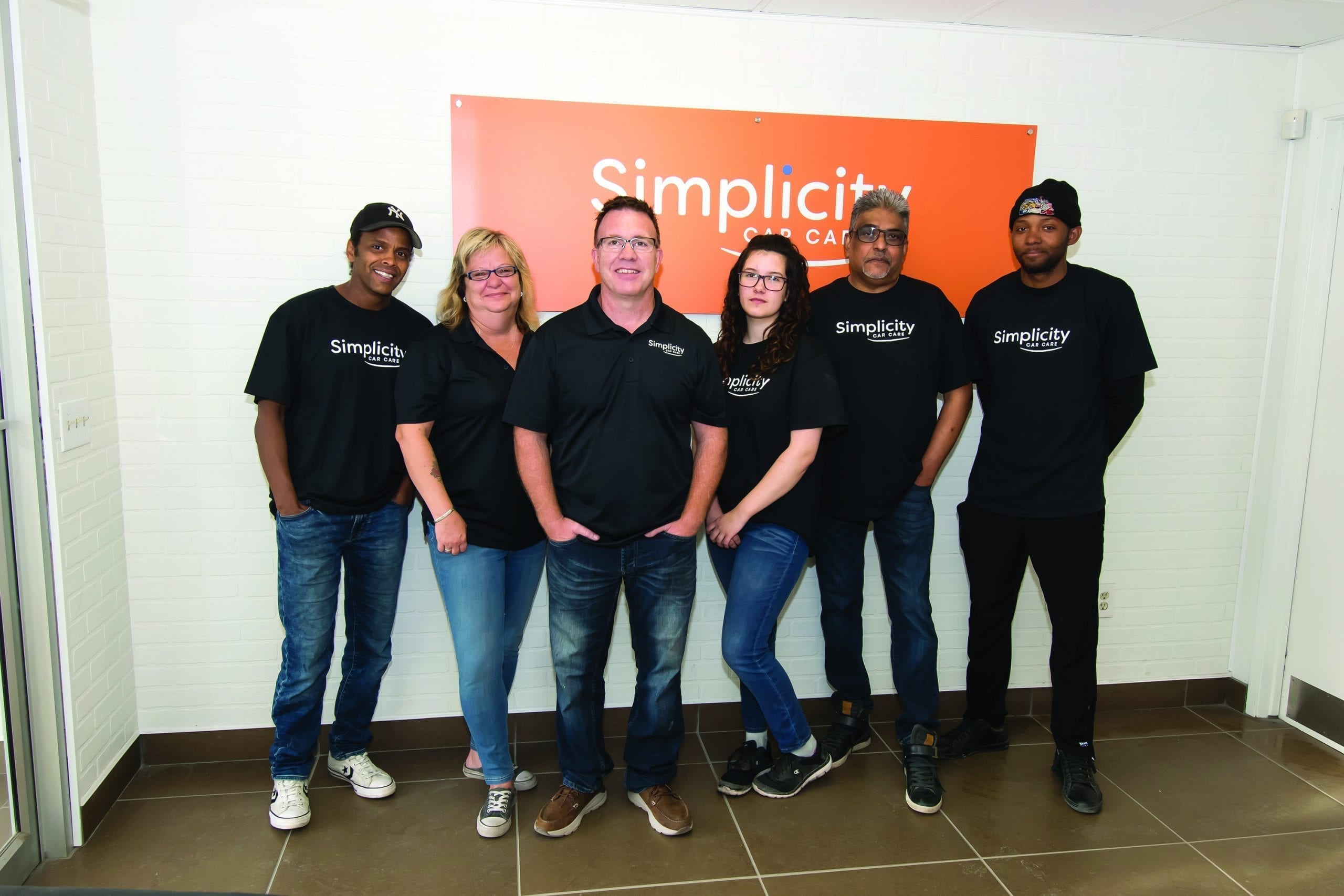 "I first heard about Simplicity Car Care in October 2018," says Robertson who, upon meeting the corporate team, knew it was the right network to partner with. "We just meshed," says Robertson. "We have the same outlook on business and customer service and we bought in to their concept of how to grow."
Since that time, besides the rebranding of his location to Simplicity Car Care Edmonton South, considerable investments in training and processes are positioning Robertson and his team for long term growth and sustainability. "We definitely made the right decision," says Robertson "and now we starting to see those investments pay off."
"Tim Robertson was the first member to join in Edmonton," says Domenic Ieraci. "He carries a positive reputation as an industry advocate and one who is always looking for ways to become better each day. Tim has made a significant investment in training and equipment and is also an OEM certified collision centre."
Ideally placed
Another collision operator in Edmonton that saw the vision of Simplicity Car Care was Bill Johnson. Involved in the industry since the early 1980s, Johnson's decades of experience on both the network and shop side, ideally placed him to see the benefits of joining a network like Simplicity Car Care.
Since taking the reins of what was then Empire Collision (now Simplicity Car Care Edmonton Downtown and Edmonton West) Johnson instigated a number of changes, including expansion to three locations; investments in equipment and staff, creating a mentorship program for younger technicians and becoming certified with a number of OEMs, including Ford and Toyota as well as the OEMs represented through Certified Collision Care at the West location.
He first heard about Simplicity Car Care through a friend and upon meeting the executive team, he knew it was a great fit in terms of the next step for his business. "I really like Simplicity Car Care," says Johnson. "They are bringing a lot of value to our industry. They understand the concept of looking after the customer and engaging with our staff. They have some great systems for monitoring KPIs including X-ray estimating and blueprinting of vehicles."
Living within the industry
Johnson notes that because the executive team are collision repairers as well, they understand the internal workings of the business and what it takes to be successful. "These are guys that live within the industry," says Johnson, "they've got boots on the street and they can see how this industry is evolving."
"Bill Johnson and his team are multi-shop operators who really understand the importance of performance and utilizing technology to make better business decisions," says Domenic Ieraci. "Over the years, Bill has demonstrated consistent operational performance as well as a strong reputation for delivering a positive client experience."
With strong operators like Tim Robertson and Bill Johnson now part of the Simplicity
Car Care Network in Edmonton, a solid foundation is in place to allow both franchisees and the network to grow exponentially in the coming years, delivering on its promise of affordable car care and exceptional customer service, efficient processes and quality of life for its shop owners and staff
I firmly believe that [with Bill Johnson and Tim Robertson], we have selected first class franchisee representation in Edmonton, Alberta," says Domenic Ieraci. "Our strategic franchise partners are motivated to succeed and by doing so, will elevate the concept of both business operation and customer service to new heights."
Franchisees First
At the heart of Simplicity Car Care's success is its philosophy of "Franchisees First."
"Our team understands that every collision centre owner is different and requires a tailored approach based on their unique needs and requirements," says Simplicity Car Care CEO Paul Prochilo. "We strive to build trust-based relationships with our franchisees and their staff when working together."
He notes that the network's franchise partners have access to a full range of training and development support services. "These support services give them the tools they need to confidently grow their business," says Prochilo.
Each franchisee gets assigned a Coach that works directly with them and their staff right from the initial onboarding process.
"Each Coach has extensive training and experience in collision repair and is hands-on to ensure each onboarding is seamless," says Vice President of Operations Domenic Prochilo. "We want our franchisees to feel confident knowing that they have the support of our team along the way."