Local collision repair group donated over 1,300lbs of Food Donated to Eden Food for Change in Mississauga and $1,500 worth of food to Georgetown Bread Basket in Georgetown.
Raising over $1,500, the facilities were able to purchase food from Georgetown Bread Basket's most needed items list. Similarly, in Mississauga, the team was determined to make a substantial difference during a critical time for Eden Food for Change.
We keep hearing that food banks across our province are struggling to keep up with demand, so we wanted to focus our efforts to help the most vulnerable in their time of need.

— Mike Cherneta, Owner, CARSTAR Mississauga 401, CARSTAR Georgetown and CARSTAR Milton
"Supporting the communities we work and live in is a core value of our business and we hope this donation alleviates some of the burden on these organizations," added Cherneta.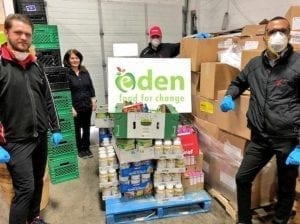 Grateful for the donations, both Georgetown Bread Basket and Eden Food for Change took to social media to express their gratitude for the contributions.
"Our entire team helped make this possible, but I also wanted to extend a special shout out to our General Manager and COO Kapi Komera and business partner Robin Juns. I am grateful to be a part of such a hardworking and dedicated team, and I look forward to continue supporting our community with both their collision repair needs and with future contributions," continues Cherneta.
CARSTAR Mississauga 401, CARSTAR Georgetown and CARSTAR Milton actively give back to their communities while also supporting their charitable cause, Cystic Fibrosis Canada. Having hosted over 15 car washes at CARSTAR Mississauga 401 to raise valuable funds and awareness for cystic fibrosis, this team makes their communities its priority.
For more information, visit CARSTAR.ca.