Dynamic Tire is dedicated to helping their clients achieve their goals. Dynamic Tire's values guide every action they take along the path to growth. Dynamic Tire is responsive and customer-focused, providing tools and expertise required in making global tire logistics simple, safe and profitable.
Dynamic Tire provides tire solutions for the following segments:
Passenger & Light Truck
Medium Radial Truck
Ag/Farming
Construction
Mining
Forestry
Off-the-Road
Container direct capabilities
Dynamic Tire is the leading expert in the Value Tier tire segment. Their longstanding partnership with many brands allows them to provide build-to-order direct container loads to their dealer network. This is supported by industry leading logistics, engineering, information technology, and marketing tools designed to give their clients a competitive advantage in the Canadian tire market.
Warehousing solutions
Dynamic Tire has a strategically located warehouse totaling over 400,000 sq. ft. Their massive warehousing capabilities permit them to stockpile inventory for top-up orders, as well as offer a warehouse fill-in program to their dealer network. Dynamic Tire's warehousing capabilities also allow them to service Canada's independent tire dealers with the non-exclusive product lines that they seek.
Multinational company
Dynamic Tire's sourcing and warehousing capabilities are operated in conjunction with each other to offer the Canadian tire market the best products and services, at the best value. Dynamic Tire has teams at home, and abroad to guarantee that their clients fully benefit from partnering with Canada's only Strategic Sourcing Partner.
Sourcing strengths
Dynamic Tire has over 30 years of global sourcing experience, a proven track record of success with global partners, an extensive product and brand portfolio, and can provide Just-In-Time delivery.
Marketing strengths
Dynamic Tire facilitates territory protection within the Canadian tire market by offering brand exclusivity, and competitive price protection.
Engineering strengths
Dynamic Tire employs a co-managed product development program to ensure that overseas manufacturers are delivering the quality tire solutions sought by Canadian tire consumers. Dynamic Tire's Canadian Engineering team focuses on designing tires for the needs of Canadians. Their engineers work together with overseas manufacturers to improve and create tire solutions specifically for the Canadian market. Their engineering team also prides itself on working with their Canadian partners to ensure that Dynamic delivers the top quality tire solutions that their clients have come to expect.
Once a new product has been created, Dynamic's engineers run a gamut of internal tests using, where possible, accredited third-party test facilities that provide an unbiased performance report. Once a product has been released for external testing, our teams will use real-life environments and scenarios to fully understand the true performance of the product. Test periods can vary from several months to years, with the ultimate goal of providing tires that are reliable, and consistent with their position in the market.
Information technology strengths
Dynamic Tire has developed an industry leading product ordering and delivery tracking system to facilitate our unique build-to-order, multiple product segment availability Container Direct program.
Warehousing strengths
Dynamic Tire has more than 400,000 sq ft of Canadian warehouse space with over 15 years of superior service experience. They offer warehouse fill-in privileges to help manage their clients' inventory needs and provide product liability insurance.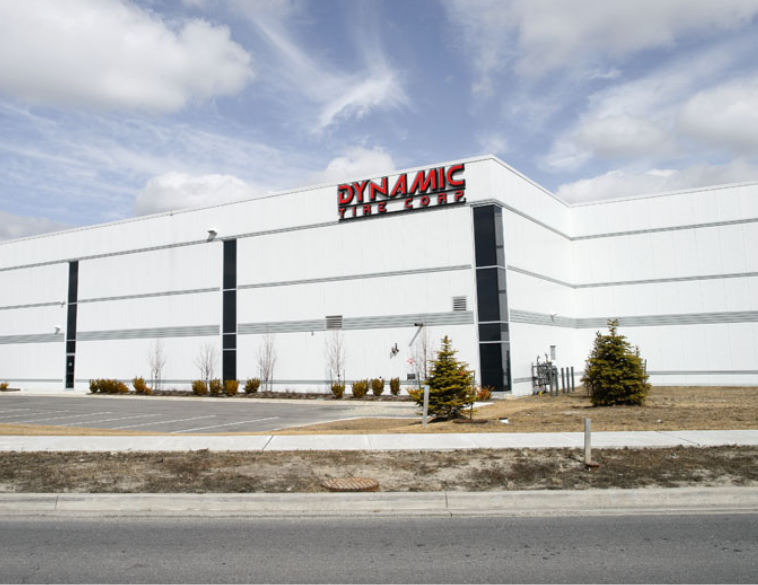 Sales & service support strengths
Dynamic Tire employs an expert national outside sales support team dedicated to delivering quality products and services.
Logistics
Dynamic Tire provides a vital competitive advantage in global tire sourcing. As a Canadian pioneer of globally sourced tires, Dynamic has established a Logistics Support Team in China and Toronto. Around the clock, these teams work to harness the most cost-effective production platforms in the market. Dynamic excels in four key logistical areas, helping deliver a competitive advantage to our dealer network.
Product sourcing
Dynamic Tire offers competitive programs not typically available in the Canadian tire wholesale market. Our customers benefit directly from our decades-long relationships with Asian manufacturers, as we continue to transform and advance global sourcing.
Procurement
Dynamic Tire employs an expert Procurement Team dedicated to ensuring that all orders are handled accurately and delivered on time. In addition, Dynamic Tire strives to provide industry leading fill rates by combining procurement expertise and Information Technologies to anticipate and manage market demand.
Warehousing
Dynamic Tire maintains a strategically located warehouse in Toronto. Spanning over a total of 400,000 sq. ft., it enables Dynamic to offer Warehouse Fill-In Privileges on a wide spectrum of SKUs to our dealer network.
Container-direct
Dynamic Tire offers the ability to create custom containers when purchasing on a container-direct basis enabling our customers to save even more. Our traditional build-to-order process is supported by Dynamic Tire's industry leading online container purchasing system.
Dynamic Tire provides access to on-the-ground inventory held in one of the factory-sponsored warehouses in China. This significantly reduces the time between order entry and delivery compared to traditional container-buying programs.
Information Technology
Information Technology (IT) plays a critical role in Dynamic Tire's competitive advantage, resulting in a simpler and more responsive system for our customers. The development of a unique E-Commerce Customer Portal enables our dealers to check inventory, build container orders, place Factory-Direct orders, and even track container progress online.
Our advanced and consistently updated IT systems allow our customers to better manage their inventory needs, and ultimately result in helping our dealer network achieve their business objectives more effortlessly and efficiently than ever before.
The Dynamic Tire Customer Portal allows users to easily place their orders 24/7 with numerous E-Commerce ordering options. The system also allows these additional features:
Check inventory availability at distribution centers
Shipment tracking of E-Commerce and Factory Direct orders
Document centre which provides invoices, credit memos, shipments & sales orders
Access to quick ordering and replicating prior orders
Warranty claims submission
Download up-to-date PDF catalogues
Generate real time price sheets for Warehouse and Factory Direct pricing
The portal is just another example of how Dynamic Tire continues to evolve and elevate industry standards, while keeping focus on our valued customers.
Sales Support
Dynamic Tire is organized to leverage our expertise and deliver sales support across three channels to serve our customers efficiently and effectively:
Online
Live Order Desk
Outside Sales Representative
Online Support: Dynamic Tire provides a secure e-commerce system to allow our dealer network to access inventory contained in one of our Canadian warehouses. Dynamic Tire also provides a build-to-order container purchasing portal to service customers that want to take advantage of our factory-direct programs. Our container purchasing portal includes the ability to track the progress on a direct-from-factory basis. Both the e-commerce system and the container portal are designed to maximize Dynamic Tire's ability to help our customers manage their inventory in the most efficient manner possible.
Order Desk: Dynamic provides a live multi-lingual order desk staffed by experienced tire consultants to help our customers determine the right tire solution for their tasks. This team is dedicated to assisting your business during ordering process, making the process as frictionless as possible
Sales Representative: Dynamic Tire's Outside Sales Force is comprised of highly experienced tire specialists dedicated to providing our dealer network with the sales support needed to maximize their sales efforts. The sales team works together with each customer to help achieve their business objective.
Marketing
Dynamic Tire provides comprehensive marketing and sales support to our global dealer network. With over 2,000 dealers around the globe, Dynamic Tire exists to help dealers achieve their goals in their market segment. Dynamic strives to build upon the strong brand recognition of our suppliers to ensure that, during critical conversion periods, our dealers are well educated and equipped to keep our brands and product lines top of mind.
Largely due to our outstanding relationships with our suppliers, Dynamic provides feedback to our supply partners in the form of market intelligence, consumer insight and data, enabling them to better serve the needs of their consumers. Dynamic Tire has been recognized as a leader in marketing initiatives. A vast array of marketing initiatives ranging from Social Media, Print, Online and Environmental Graphics have served to promote dealers of varying size, across a variety of business sectors, spanning numerous industries.
---
Sponsored content by Dynamic Tire