The sun came out and the day gradually warmed up on August 29th for another great day of golf at the beautiful Springfield Golf and Country Club in Guelph, Ontario—the 20th such event for CARQUEST and WORLDPAC.
On hand to have a great day of golf and contribute to the charity were 132 enthusiastic CARQUEST and WORLDPAC members and industry friends.
The object of the golf day was to raise money for the company's favourite charity—the Children's Breakfast Club. And to that end, a cheque for $5,000.00 was presented to Rick Gosling of the Children's Breakfast Club before dinner. Rick also gave a summary of the amazing effect the money given is making.
Gosling is a major volunteer for this organization and spends his time helping everywhere he can and has done so for many years—we sincerely congratulate him for his well-intentioned efforts. The program—whose key values are caring, sharing and respect—is driven by volunteers and private donations to help ensure children will not go hungry. In some communities, need goes beyond food so the program also has a drive for winter coats for kids.
In addition, gently used toys and sports equipment such as bikes have also been collected and distributed. CARQUEST Auto Parts and WORLDPAC have assisted in some of these programs providing various equipment and especially winter wear for some years now. The group also raises money for Food Banks and other charities in the markets they operate in.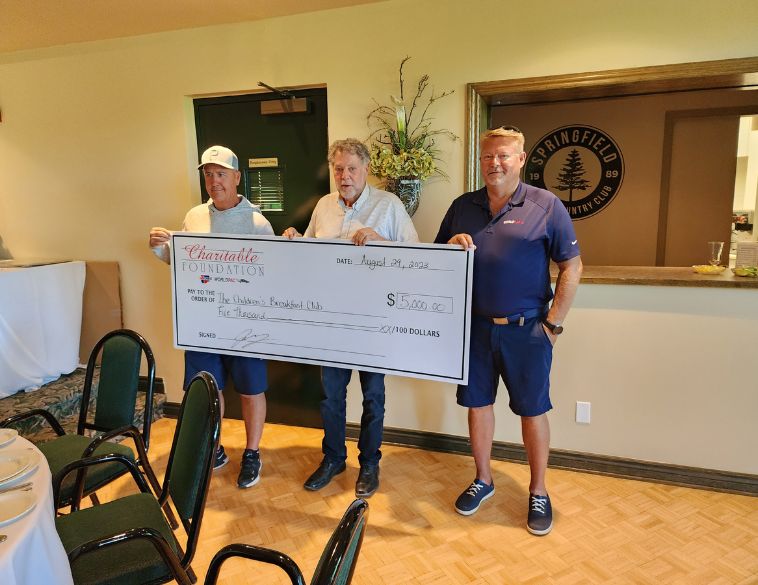 The goal of the CARQUEST-WORLDPAC Charity
As we told you before, the goal of the CARQUEST-WORLDPAC Charity is that 100% of the monies raised goes where it is needed and that cheque presentation was sincerely approved by all golfers plus staff at the event. The Children's Breakfast Club welcomes support and donations of all kinds. You can find them online.
Also at this event were highly coveted products and services—all available to the highest bidder! The considerable 50/50 draw also contributed to the amount given to the Children's Breakfast Club!
In addition, awards were given out for the various golf accomplishments achieved that day on the course.
Needless to say, the prime goal of this great golf day is to aid the Children's Breakfast Club—children in need, children who often go hungry. Giving to this charity is high on CARQUEST's and WORLDPAC's to-do list—they have supported them for years now, helping to ensure that children do not go hungry. The complete management and staff of CARQUEST and WORLDPAC sincerely thank those who contributed to a needy charity and a fun day!