Located in Métabetchouan, an hour west of Saguenay, the Lemaycano workshop under the Bumper to Bumper banner is one of Quebec's leading automotive employers.
Inaugurated in 2014, the family business Station Service Lemaycano has established itself over the years as one of the top employers in the Saguenay Lac-Saint-Jean region. Operated by the Lemay brothers, the workshop has built an excellent reputation for outstanding service and good working conditions for its employees.
"It all started in a garage that my cousin and I rented on Route 162 around Lac-Saint-Jean" says Patrice Lemay, Co-Owner of the Lemaycano service station. "We offered our services there for nearly eight years. Back then, we worked out of a small space, but last year we moved to this new location."
The Lemay cousins made the purchase from Yvon Néron, a recently retired mechanic, inheriting in the process one of the best locations for their business, on Route 169.
Following major renovations, the branch opened its doors in 2022 and the Lemays moved into their brand new workshop, to the delight of their loyal customers since the opening.
"Shortly before the move, we decided to join forces with the Bumper to Bumper banner," recalls Lemay. "Firstly, they offer us parts delivery four to five times a day. Secondly, they have a good visibility programme, regularly buying advertising on the Internet, radio and television. And finally, their three-year warranty programme on parts and labour is very advantageous for our customers."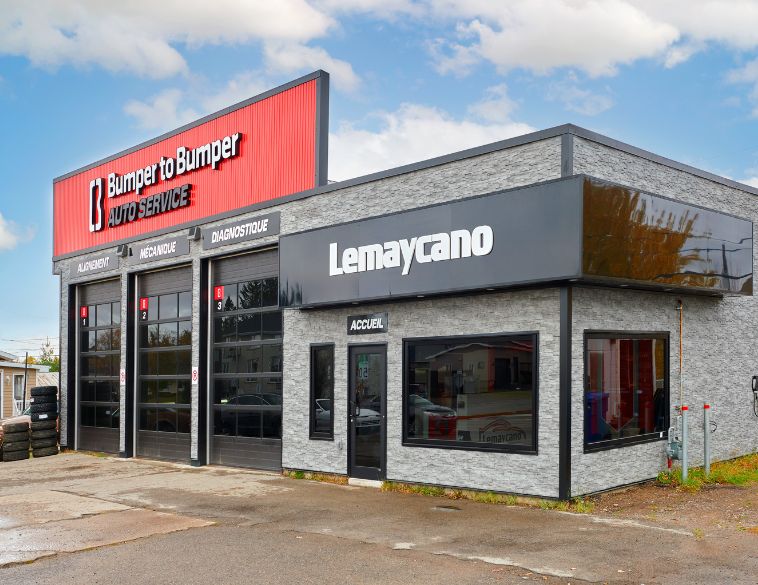 Offering the best working environment
The Lemaycano workshop has grown since its beginnings. It now has four lifts and six mechanics, two more than when it opened its new premises in 2022.
"Our brand new workshop and our new image have attracted many professionals from the region," says Patrice Lemay. "Mr. Néron's garage, which used to be located here, is very well known in the area, situated as it is at the only traffic lights on Route 169 and handling a daily throughput of more than 60,000 vehicles."
To attract labour, the company is also building on their good reputation by emphasising an honest service that local motorists can trust.
The company also offers good benefits, including group insurance, but it's mainly thanks to their good team spirit that the Lemays manage to charm mechanics in the Saguenay-Lac-Saint-Jean region who are looking for a good job.
"We're a really good bunch here at Bumper to Bumper Lemaycano," explains Lemay. "Our employees aren't just numbers! We treat everyone on our team as our friends."
The Lemay cousins are also hoping to attract staff by offering repair services on a wide variety of models, from 1970s muscle cars to 1990s Japanese imports to 2023 vehicles.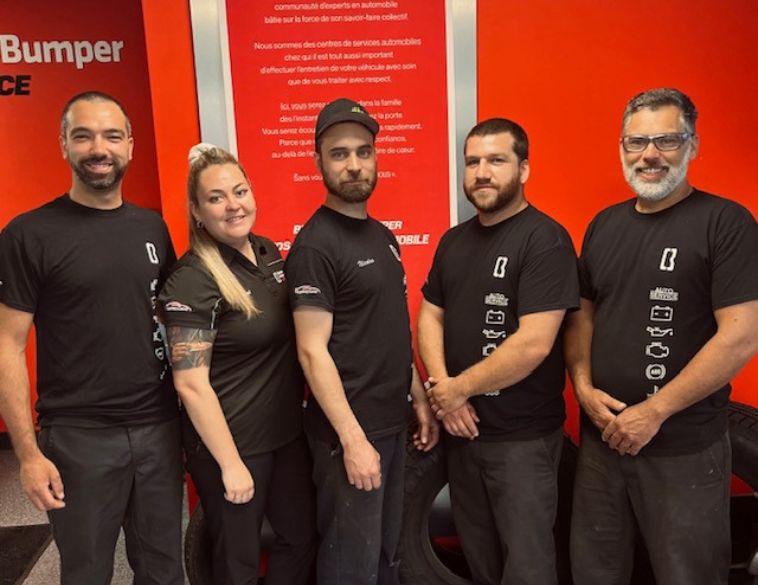 Diversifying and improving services
Despite the popularity of electric vehicles in the media, motorists in the Saguenay-Lac-Saint-Jean region are not as interested in these vehicles as those in metropolitan areas. The colder temperatures in the north and the long distances to be covered in the regions are not ideal for these cars.
"However, it's in our plans to start offering repair and maintenance services for electric vehicles," says Lemay. "What's more, we plan to eventually install a charging station as part of Quebec's Route verte."
When the time comes, the Lemay cousins will be able to count on the programmes offered by Bumper to Bumper to provide their technicians with training in electric vehicle mechanics.
"We also serve many fleets of vehicles belonging to the city, construction companies, transport companies and so on. To do that, we've bought better lifts, but we also have databases to give all our customers better service," says Lemay.
Thanks to these databases, the Lemaycano garage is able to better plan the repairs to be carried out on its customers' vehicles, as well as facilitating communications with their customers.
"We aim to offer our customers a turnkey service. They bring their car, and we take care of the rest! We're also thinking about expansion plans over the next few years. So the family is going to grow," concludes Patrice Lemay.