The Sun Fund for Kids golf tournament is being presented by Manitoba Automotive Aftermarket members on June 8th.
This special tournament was started in 2005 by AIA Manitoba volunteers.
Now the Manitoba Automotive Aftermarket and CFS Westman are pleased to host the 17th annual Sun Fund for Kids charity golf tournament. The 2022 tournament raised over $7,500.00 and sent approximately 75 deserving children to camp. In 16 years, this golf day has raised over $115,000.00 and sent over 1,000 grateful children to camp!
Join the group for a great day of golf, dinner, prizes and best of all… help send more kids to camp! This is your chance to do something for a very deserving child!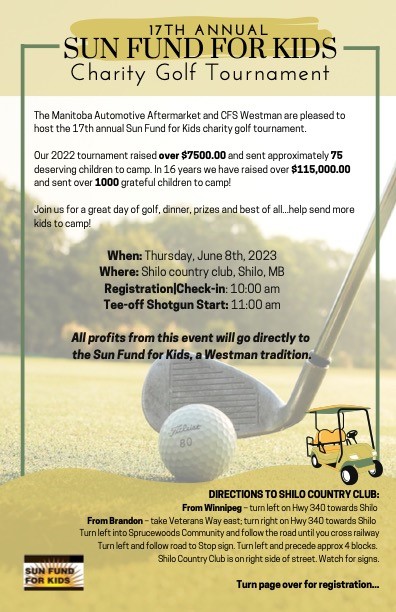 All profits from this event will go directly to the Sun Fund for Kids, a Westman tradition.
Tournament sponsorships are available for $125.00. All sponsors will be recognized with on course signage and at the dinner. Receipts will be available for all registrations and sponsorships.
To register or for further information, please contact:
MARK GILLIS (Brandon)
C.F.S. Westman
800 McTavish Ave Brandon, MB
R7A 7L4
Phone: 204-726-6119
Fax: 204-726-6775
E-Mail: mark.gil[email protected]
BRENT KARR (Winnipeg)
Phone: 204-771-0771
Fax: 204-667-5140
E-Mail: [email protected]
PETE LEPAGE (Brandon)
Phone: 204-726-3782
Fax: 204-726-0107
E-Mail: [email protected]
ART ASHAM (Brandon)
Phone: 204-724-6323
E-Mail: [email protected]